In the modern music age there's no one single 'correct' way to be a DJ. Your DJ setup could involve vinyl turntables and a mixer, CDJs, DJ software and a controller, or just about anything that allows you to blend two or more tracks together. These approaches aren't mutually exclusive either; it's easier than ever to create a setup that lets you blend approaches and formats.
In terms of convenience and affordability though, using one of the best DJ software applications is undoubtedly the most accessible approach to DJing. Turntables, CDJs and mixers are expensive bits of gear whereas – assuming you already own a laptop – it's possible to get started with basic digital DJing for free if you choose the right software.
Add a hardware controller and you've got a setup that feels great and will enable you to do anything that was possible using an old-school setup and a whole lot more.
Best DJ software: MusicRadar's Choice
Although Pioneer DJ's rekordbox is a relative newcomer – at least in terms of being a fully-fledged mixing environment – for our money it has rapidly risen to the top of the pile. This shouldn't come as a huge surprise though.
For one thing, rekordbox's years as a track analysis and organisation tool meant that it had some thoroughly solid foundations to build on – and its library and preparation tools are still some of its strongest assets. For another, Pioneer's CDJs have long been an industry standard, so it always seemed like an obvious move to port features of those players to a cross-platform application.
As impressive as rekordbox is, it's far from being unrivalled. As with Pioneer DJ gear in general, rekordbox is more rooted within the club DJ world, whereas for scratch DJs and turntablists, Serato is still the standard to beat.
The other thing that might put some users off is the fact that some headline features require an ongoing subscription to access them. If you'd rather avoid being drawn into a subscription model, try Traktor, which – for now at least – requires just a single payment for lifetime access.
Alternatively, Mixxx is completely free and open source, which is obviously appealing. The trade off for this, however, is that it lacks integration of streaming services such as Beatport or Soundcloud – something unlikely to change in the near future.
Best DJ software and apps: Product guide
Pioneer DJ's rekordbox has been around since the late-'00s, but for much of that time it existed solely as a tool for organising and preparing digital music ready for use with the company's CDJs. It was only in 2015 that Pioneer expanded the app to become a fully fledged piece of DJ mixing software, but it has quickly become one of the most significant products in the sector.
In terms of mixing functionality, much of rekordbox's toolset is similar to that found in Serato or Traktor. It's all well implemented though, and the feature set is growing with each new update, incorporating things like a sequencer, visual mixing, lighting control and lyric playback alongside obligatory tools such as effects, samplers and DVS control.
Its strongest side is still the track organisation tools though, which have recently been updated to add not only cloud library sharing but cloud-based analysis. This allows the rekordbox library to rapidly access BPM, key and phrasing information from a huge central database of all tracks analysed by the user base.
The slick Edit Mode is an impressive feature too, bringing basic DAW-like features that let users make rough, quick edits of tracks.
Although the DVS control is as good a quality as you'll find with any rival, rekordbox's primary appeal is with club DJs. The major selling point here is the way that both mixing skills and your library of tracks can be easily transferred from a small home setup – focused around something like the DDJ-400 – to a pro-level CDJ rig in a club, or top-end controller.
The feature set of rekordbox is accessible in a variety of different tiers, some of which require a monthly or yearly subscription. The basic features, track prep and export tools are available for free, and many mixing features can be unlocked by using a Pioneer DJ controller. Full cloud capabilities will set you back around $20/£20 per month though.
Read the full Pioneer DJ rekordbox DJ review (version 1)
Serato spearheaded the birth of digital vinyl systems back in the early '00s and has remained one of the major players in digital DJing ever since. Its various software applications have gone through a host of iterations and name changes over the years, but in recent times the range has been simplified around a single flagship app, Serato DJ Pro, and its free counterpart, Serato DJ Lite.
Although you'll find Serato DJ users in all corners of the DJ realm, it's most entrenched among scratch DJs and turntablists. The reason for this comes down, in part, to the company's heritage, but also its more varied approach to controller compatibility. Serato itself doesn't produce any hardware, meaning that – unlike Traktor or rekordbox, where all official controllers are produced by the same brand – Serato can be used with a broad range of officially endorsed gear from the likes of Rane, Denon, Numark, Pioneer DJ and more. This naturally results in a more diverse range of setup options, particularly for digital vinyl users.
Although the base software offering is pretty simple at first glance, many advanced features like DVS support, remix effects and visual mixing control require an additional subscription or hardware unlock, so it's not quite the 'one price for all' it might initially appear to be.
Having first launched in 2000, Traktor is one of the longest serving DJ applications on the market. Much like its long term competitor Serato, NI's DJ software has been through a whole host of different iterations over the years, the latest being Traktor Pro 3 (which is, confusingly, entirely unrelated to the previous Traktor 3 that was released way back in 2007).
While Traktor still holds its own against rekordbox and Serato in 2022, its parent company Native Instruments has been through some notable changes in the past few years, and from the point of view of an outside observer it feels like NI is less focused on its DJ products than it once was. The software itself is still fully supported and regularly updated (with native Apple M1 support coming later in 2022, for example), but the last new piece of Traktor hardware we saw from the company was the S4 Mk3 – way back in 2018.
That being said, there's still a lot to like about Traktor Pro. Even if NI itself is being slow delivering new 'plug and play' official controllers, there's still an extensive list of devices that are 'Traktor ready', and flexible MIDI routing means it's possible to use Traktor with any number of tools.
Its interface is clean and well-laid out too, particularly in this latest iteration, and it offers all the depth needed for pro DJ use whilst still feeling uncluttered and approachable. It's also good value, at just $99/£89 for the fully featured, DVS-equipped version – with none of the additional subscription options common amongst its rivals.

Read the full Native Instruments Traktor Pro review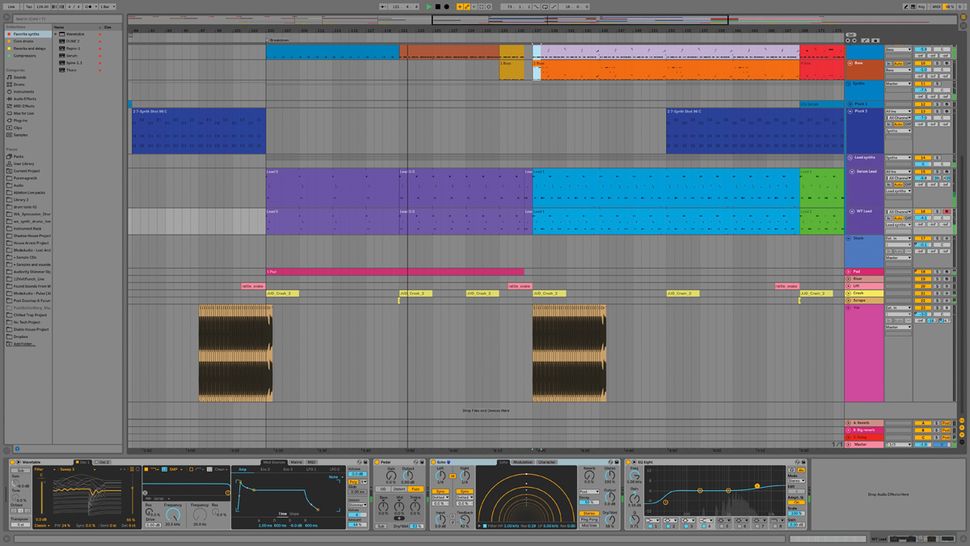 Ableton Live is something of an anomaly in this list, due to the fact that it's not really a true DJ software application - or at least it wasn't originally imagined as such. Still, while it may have been first envisioned as a loop-focused performance and production tool, in the years since its inception Live has become a favourite of DJs across the world.
Key to its popularity with DJs is the Session View - a brilliantly implemented and cleanly designed window for launching synced audio samples, MIDI clips and tracks. It's this view, along with the intuitive way that Live handles retiming audio, that makes the DAW a fantastic tool for blurring the lines between DJing and live performance.
With the added bonus of a heap of built-in instruments and effects, the ability to host plugins and an intuitive MIDI learn function, Live makes an unbeatable one-stop-shop for electronic musicians. What's more, you can choose from any number of controllers that can work with it.
Ableton's Link technology adds to its appeal as a performance tool. This is an open software tool that allows developers to add wireless sync to their applications. You can find Link as part of a host of DJing apps, iOS tools, DAWs and plugins, making it easier than ever to jam with multiple laptops or tablet devices.
Read our full Ableton Live 11 Suite review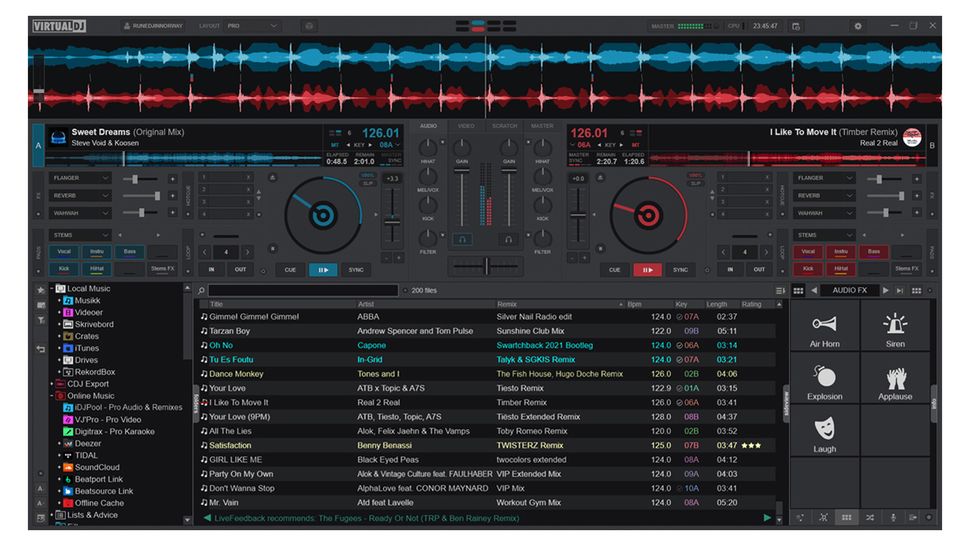 VirtualDJ claims to be the world's 'number one most popular DJ software', which is likely due to the fact that it can be downloaded and used at home for free, in a limited but still very much functional capacity. This makes it a great option for beginners, as does the fact that its interface and workflow is generally quite user-friendly.
Even in this free format, VirtualDJ boasts some impressive features. Its interface is highly customisable and can be configured with anywhere between 2 and 99 decks (not that we'd recommend you attempt to blend 99 tracks at once).
The latest incarnation has also added an ambitious stem separation tool, which lets users isolate and individually EQ track elements such as kicks, vocal lines or bass. As with other plugins that aim to separate fully mixed tracks – Audionamix's Xtrax Stems, for example – the results can be impressive in the right context but are far from flawless.
The main restrictions on using the free version of VirtualDJ are that you're not licensed to use it in any professional settings – ie. any paid DJ gigs, streams, etc – and that it can't be used with any hardware such as controllers, analogue mixers or DVS systems.
It's here that VirtualDJ jumps from an appealing bargain to a fairly pricey option. A Pro licence will set you back $299 or $19 per month as a subscription. It is possible to buy a controller-specific licence for cheaper than a full Pro one – starting at $49 – but these are only available for home use with certain entry-level controllers, and you're locked into using a specific piece of hardware.
One of the most appealing things about Algoriddim's djay Pro is how well it works across Apple's different platforms. Users can make use of a single app across Mac, iPhone, iPad and even on their Apple Watch. There are versions available for Windows and Android too, although these aren't as up-to-date as their Mac/iOS counterparts, feature-wise.
The latest incarnation of djay has picked up the 'AI' tag at the end of its name, as a result of the intelligent Neural Mix Pro tech that's been added in recent updates. This is essentially a rival to VirtualDJ's stem extraction, once again aiming to allow DJs to mix with the individual elements of a commercial track. As in the case of VirtualDJ, the quality of the results is variable, but in the throes of a DJ mix it's fairly easy to mask any flaws.
Another appealing feature of djay Pro AI is that it offers DVS support not only on Mac, but iOS too, meaning you can hook a compatible scratch mixer up to your phone and away you go.
There's not a ton of dedicated hardware designed for djay – although Reloop make a few officially-branded controllers – but algoriddim offers mappings for a lot of devices from major brands.
Beatport DJ and Beatsource DJ are slightly different to the other applications in our guide. As opposed to being regular mixing applications, both are browser-based DJ tools that can be used as part of their respective company's track streaming services.
Both Beatport and Beatsource offer users access to a large catalogue of streamable music to use in DJ sets. Both libraries offer integration into most major DJ applications, but they can also be used directly from a web browser via these surprisingly well equipped DJ tools.
Although Beatport and Beatsource are separate streaming services, both use identical underlying technology, hence why we're lumping them together here. The key difference between the two comes down to their catalogue of tracks – speaking very broadly, Beatport is better for club DJs and Beatsource more gear toward event or pop DJs.
Their browser-based DJ apps are identical. Both feature two decks with EQs, a filter, hot cues, a looper and XY effect pad. They're MIDI equipped too, so you can even hook up a controller. The main appeal, however, is the ability to quickly grab tracks directly from the libraries' playlists and charts to test out the latest tracks.
Both DJ applications are free to use, however unless you subscribe you'll only be able to access 2-minute previews of any song.
Mixxx is a free and open-source music making application: not only can you download it for nothing, but the more adventurous can also delve into the code and adapt its feature set.
Mixxx has been around for some time and in 2022 it's a mature piece of DJ software equipped with all the core tools you need to get mixing. These include control over four decks, EQs and effects, loops, hot cues and control over a track's pitch and key.
Arguably most handy is its open controller integration – a large number of devices already have pre-existing mappings, and the setup is entirely open, meaning you can use any controller however you see fit. What's more, Mixxx comes with DVS capabilities included, meaning it's a great option if you want to try out digital vinyl/timecode control without having to invest upfront.
Due to its community-powered nature, Mixxx doesn't keep up with the big name applications when it comes to flashy new features. That's not to say it's not regularly evolving though. Recent updates have added new methods to mark track sections as well as improved key detection.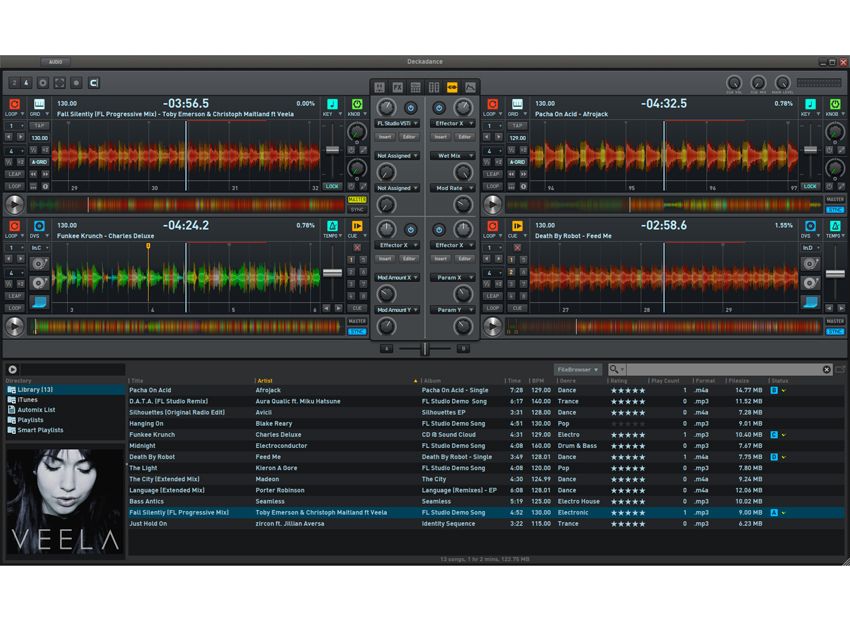 Traktor DJ might look a lot like NI's flagship Traktor Pro, but in reality it's very much its own application. Unlike Traktor Pro, which is desktop only, Traktor DJ is designed for both desktop and iOS. It's also completely free to download.
Where the main version of Traktor offers depth and flexibility, its iOS-compatible counterpart is all about ease-of-use, with a straightforward interface that makes it easy to browse and play tracks, as well as mix using faders, EQ and simple effects.
That's not to say you can't do some interesting things with Traktor DJ, though; it still features an adjustable looper, cue points and a freeze mode. You can mix with tracks streamed directly from a Soundcloud Go+ account.
Traktor DJ suffers from a lack of hardware integration – there are only two controllers that work with it, NI's S2 and Z1, and the latter now only works in desktop mode. It's a shame that, due to running on a different code base to Traktor Pro, there's little compatibility between the two. Although skills learnt in the free Traktor DJ are largely applicable to Traktor Pro, you can't, for example, import your library of prepared tracks from one application to the other.
Read the full Native Instruments Traktor DJ review (previous version)
Best DJ software: Buying advice
The core elements of most DJ software tends to be pretty similar – aside from Ableton Live, as discussed above. All offer at least two (and usually four or more) decks, plus EQs, filters, effects, some form of sampling and looping, and likely much more besides. Points of difference often come down to more advanced features – such as lighting or visual control, or fancy new algorithmic processes.
Library management
MusicRadar's got your back Our team of expert musicians and producers spends hours testing products to help you choose the best music-making gear for you. Find out more about how we test.
The secret to being a good DJ is admin. Having your library of tracks correctly named, labelled and tagged, with any cue points assigned ahead of time, will make any DJ set far easier.
All DJ software will feature some form of library for organising and browsing your tracks, but not all are created equal. Some allow you to transfer data to other machines, such as a tablet or CDJ, others might let you back-up data to the cloud.
Many applications also let you integrate or import music from elsewhere, such as importing playlists from Apple Music or Spotify or integrating streaming services.
Controllers
It's perfectly possible to DJ without a MIDI controller, using your mouse and keyboard shortcuts to play and sync tracks, change levels and browse music. This is neither a very precise nor fun way to interact with DJ software though. Without some level of hands-on control it can be difficult to achieve things like rapid EQ changes, quick cuts, or nudging tracks into sync.
DJ controllers are available in a whole host of shapes and sizes, and the model that suits you best will come down to DJ style, budget and space. However, your choice of controller and DJ software is inherently linked. Some devices are designed to work specifically with one application, others can be used effectively across multiple apps.
There are two ways to approach this – your choice of DJ software could be guided by having a specific controller you already own, or like the look of, or you could experiment with several applications and then choose a controller based on which application you get on best with.
What is DVS?
DVS stands for 'digital vinyl system', but it's used as a bit of a catch-all term to refer to any system that allows a user to control DJ software with timecode CDs or vinyl records. Essentially, this lets you hook a traditional set of turntables or CDJs up to your DJ software and control them with the use of special CDs or records.
These sorts of setup are of particular interest to 'scratch' DJs and turntablists, who rely on the authentic feel and behaviour of vinyl to finesse their skills. There are other reasons to consider this sort of setup though – for one, it allows you to 'digitise' an existing DJ setup, should you wish to make the move from all vinyl or CDJ mixing to the convenience of software.
A note on DJ software subscriptions
Subscription models are popping up with increasing frequency across the music software realm, but they're especially prevalent within the DJ sector.
DJ subscriptions come in two forms. First, there are software applications themselves. As you'll see in this guide, an increasing number of mixing applications either offer or require a subscription in order to access their full feature sets.
If we're being honest, these subscriptions often feel designed to benefit the companies selling them more than the users. Yes, you'll likely get something along the lines of cloud storage or live service features in exchange for your monthly payment, but it's hard to shake the feeling that they're often a cynical way to regularly monetise something that many pro users rely on for their regular gigs.
Fortunately, subscriptions are still avoidable, for home or semi-pro users in particular. First and foremost, you could opt to use an application that offers a single licence purchase – or even one that's entirely free. Alternatively, some applications, such as rekordbox, let you bypass a subscription – at least for some 'pro' features – by connecting a branded controller.
The second form of subscription is one that offers access to a streamable library of music. These are essentially the same as something like a Spotify or Apple Music subscription, but integrated into your DJ software. The most notable DJ streaming services out there right now come from Beatport, Beatsource and SoundCloud. Tidal can also integrate into some DJ applications, albeit with some legal restrictions. We've delved into all these options in more depth in our guide to DJ streaming services.
Find out more about how we test music gear and services at MusicRadar.
Related buyer's guides