As we look toward a summer packed full of heatwaves and record-breaking temperatures here in the UK, the forecast just got that little bit hotter thanks to the freshly unveiled Andertons Summer Sale. With some incredible discounts on huge brand names like PRS, ESP, Blackstar, Fender, Marshall, and loads more, the UK-based retail outfit is making it incredibly difficult to keep to those promises not to buy any more gear this year.
With it being Andertons, things are pretty guitar-centric with lots of the big guitar brands represented in the sale. If you're looking for a hefty saving on an electric guitar, guitar pedal, or new tube amplifier then you'll be well covered here. That said, there are still some great deals on recording gear, stage pianos, synthesizers, and even some select drum kit and accessory deals if you're not a guitar player, so it's well worth exploring the sale to see what bargains you can pick up.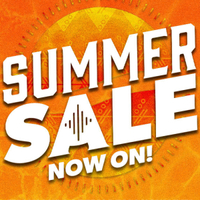 Andertons: Summer Sale
With huge savings on all the biggest music brands, the Andertons Summer Sale is now in full swing. You can save up to £1,800 on ESP Guitars, get yourself a healthy £500 off PRS CE 24 guitars, and land up to £330 off a range of Chapman Guitars. If you're not a guitarist don't worry, there are still some great savings on studio essentials, keys, drum accessories, and PA gear.
We've had an in-depth look at the sale and picked out some of the best deals that are currently available. For us, the Squier FSR Classic Vibe Bass VI is a must-have, with a £70 chunk knocked off its regular price. Blurring the line between bass and guitar, the Bass VI will add a totally unique sound to your tonal arsenal, and look incredible while doing so thanks to that metallic purple finish.
The highly rated Blackstar HT Club 40 has got a frankly insane £400 off at the moment, that's nearly half of the regular retail price which is incredible value for a full-fledged tube amplifier. It's an amp with a fantastic feature set, so much so that we gave it five stars out of five in our review. It's also sitting in the top ten of our best tube amps guide if you needed any more convincing.
For the non-guitar players out there, you should check out the Aston Spirit condenser microphone in its 5-year anniversary limited edition finish and a tempting £41 off the regular price. For those looking for a serious studio upgrade, you can also get your hands on the Universal Audio 4-710D 4-channel mic preamp with a massive £400 discount, the perfect way to increase the quality of your recordings.
Looking for more advice? Have a look at our buying guides for more great gear