Arturia is a leading force in the world of synthesizers. Whether it's their physical analogue units or their masterfully recreated virtual soft synths, Arturia makes some of the finest instruments around, and it's easy to see why so many producers rate them so highly. So if you fancy discovering what the fuss is about yourself, now might be the best time, as Thomann has just slashed 50% off three popular Arturia plugin bundles. This epic sale includes the beloved Arturia V Collection 9, Analog Lab V and FX Collection.
Scoring an impressive 4.5 stars out of 5 in our review, the Arturia V Collection 9 gives you all the classic keyboard sounds you'll ever need - 33, to be exact. It features lovingly emulated software versions of synths from the likes of Roland, Yamaha, Moog, Oberheim and many more, and for us, the MS-20 and SQ80 are spot on. In addition, Thomann has slashed the price to a ridiculous £268, so there's never been a better time to buy and bring some serious synth power to your DAW.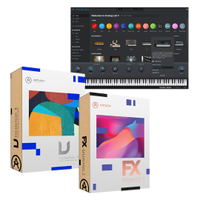 Arturia Bundles: 50% off at Thomann
Score three insanely popular - and powerful - synth and effects bundles from music production pioneers Arturia for half price at Thomann. You have until 14 May to get the Arturia V Collection 9, Analog Lab V and FX Collection 3 at this unbeatable price - so don't hang about!
FX Collection 3, meanwhile, takes a similar approach to effects, giving you plugin takes on vintage reverbs, compressors, modulation effects and more. For us, this collection is a no-brainer at the regular price, but at £178, it's an absolute steal. In our tests, we found the Culture Vulture emulation to be brilliant for enhancing drums and busses, and we genuinely feel that FX Collection 3 is one of the best effect bundles on the market right now.
Arturia Analog Lab V is the most affordable option in this epic sale at only £88 and may offer the best value overall. This easy-to-use preset synthesizer delivers around 2000 sounds from the Arturia V-Collection with 33 different synthesizers and keyboards, ranging from analogue legends to modern digital workstations and more.
This sale runs until 14 May, so if you fancy seriously bolstering your soft synth and effects collection for a whole lot less, then you better be quick!
Looking for more music production staples? Our expert buyer's guides are here to help