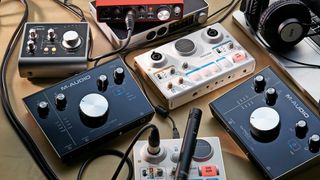 In/out issues
It almost goes without saying that if you want to achieve the best possible computer recording and playback quality, you're going to have to spend a significant amount of money on your audio interface.
However, it's equally true to say that you can also get pretty good results without shelling out anywhere near as much: a reasonable quality interface can now be yours for well under £200/$250.
You'll find evidence of this on the following list. For this kind of money you can expect at least a couple of inputs and outputs (perhaps even more) and 24-bit quality. MIDI I/O is another feature to look for if you're planning on hooking up a controller or external synth.
Before you buy an interface, make sure that it has the input and output types that you require. All of our recommendations operate over USB and are Mac/PC compatible - some will work with your iOS device, too.
Here, then, is our regularly updated guide to the best budget audio interfaces that you can buy right now. We've quoted the approximate street prices at the time of writing (the interfaces are listed in ascending price order) to give you an idea of what you can expect to pay for each model.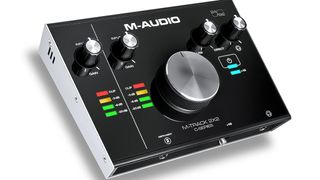 M-Audio M-Track 2x2
M-Audio's C Series 2x2 comes in both MIDI and non MIDI versions and supports bus-powering via USB 2.0 and USB-C. Shared features include zero latency monitoring via the USB/ direct control, independent level controls for the headphone output and main outputs, and 24-bit/ 192kHz operation.
In addition to MIDI In and Out, the MIDI version also gets mic, line and instrument options for both input channels, rather than one of each on the basic model. Bundled software includes Cubase LE and Air Music Tech plug-in effects/software instruments.
Given its low price, the M-Track 2x2 is an excellent performer.
4.5 out of 5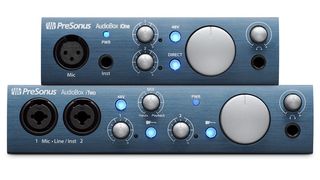 PreSonus AudioBox iOne and iTwo
PreSonus's AudioBox iSeries features two interfaces, both of which are compatible with PC, Mac and iPad.
The iOne is the entry-level model, offering one instrument input and one mic input. The iTwo ups with ante with two combo mic and switchable line/instrument inputs. Both feature Class A mic preamplifiers with phantom power and 24-bit, up to 96 kHz converters with 105 dB of dynamic range.
Round the back there are 1/4-inch line-level outputs, while the headphone output has an independent level control. The AudioBox iTwo also includes MIDI In and Out. Each interface has an internal analogue mixer with zero-latency monitoring.
3.5 out of 5
Read PreSonus AudioBox iTwo review
BUY: PreSonus AudioBox iOne currently available from:
UK: Andertons Music | Thomann | Gear4Music
US: Sweetwater | Full Compass
BUY: PreSonus AudioBox iTwo currently available from:
UK: Andertons Music | Thomann | Gear4Music
US: Sweetwater | Full Compass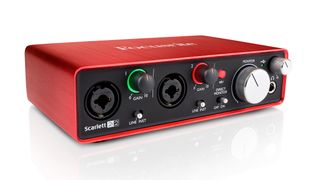 Focusrite Scarlett range
The original Scarlett interfaces gave you plenty of bang for your buck, and the second-generation models look to be even better.
There are six models in the range, and three of them - the Scarlett Solo, 2i2 (pictured above), 2i4 and 6i6 - can be had for less than our £200/$250 price threshold. Whatever your budget or I/O requirements, there should be a Scarlett interface that fits the bill.
In comparison to the previous models, the new Scarletts feature improved mic preamps with more accurate level setting and an enhanced instrument input that offers increased headroom for hotter signals. There's also lower latency and support for sample rates up to 192kHz.
4.5 out of 5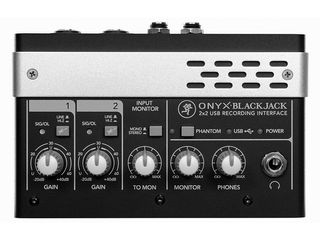 Mackie Onyx Blackjack
'Rugged' is the word that springs to mind when describing the 2-in/2-out Blackjack - it's got a sturdy metal chassis and feels like a proper piece of studio gear. Given that it comes from Mackie - a company with quite a reputation in the music technology market - this is no great surprise.
Mackie's experience has also been brought to bear on the two high-quality preamps. You can plug in mics and instruments, and a handy monitoring dial means that you can record with zero-latency by sending the signal straight to your speakers.
What's more, the USB-powered Blackjack is a joy to use: it sits nicely on your desk and angles its controls towards you. A quality product.
4.5 out of 5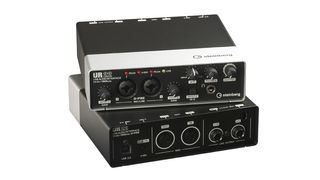 Steinberg UR22 and UR12
Created in collaboration with Steinberg's parent company Yamaha, the UR22 is a rugged-looking 2-in/2-out interface that operates over USB 2.0 and offers up to 24-bit/192 kHz performance.
It comes with a pair of preamps with +48v phantom power, while inputs are of the XLR/TRS combo variety, with Input 2 having a Hi-Z switch that you can engage when you're recording guitar. The two outputs are on TRS jacks, while additional connectivity includes MIDI I/O and a headphones output with its own level control. Zero-latency monitoring can be achieved by using the Mix Balance knob.
With a metal chassis and a copy of Cubase AI in the box, the UR22 is a high-value option, and would make an excellent first interface. You might also consider the UR12, which is cut from similar cloth but has just a single preamp.
Find out more about Steinberg UR22
See the best Steinberg UR22 deals
BUY: Steinberg UR22 currently available from:
UK: Andertons Music | Thomann | Gear4Music | DV247
US: Sweetwater | Full Compass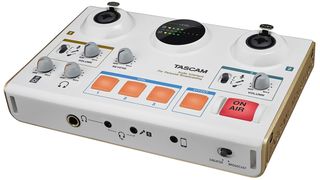 Tascam MiniStudio Personal US-32 and MiniStudio Creator US-42
The MiniStudio Personal US-32 and MiniStudio Creator US-42 (pictured above) interfaces are primarily designed for podcasting duties and work on desktop over USB and on iOS. You can combine hardware inputs (mic and line) and your computer audio, and then - using the included desktop app - also add spot effects, reverb and processing. The resulting mix is then routed back to your computer using the 'On Air' button.
The US-42 also includes a regular 'creator' mode, and thanks to its two rather than one mic/line/instrument inputs and separate monitor outputs, it can be used as a straightforward 2x2 interface. Plenty of backlit buttons mean both units also look great.
4 out of 5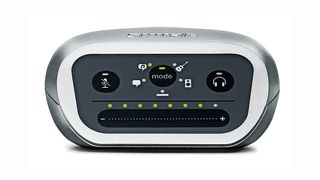 Shure Motiv MVi
An iOS, Android, PC and Mac audio interface, the MVi gives you XLR and 1/4-inch instrument inputs. You can use the touch panel to adjust the volume, gain, mode selection and five DSP presets (Speech, Singing, Flat, Acoustic Instrument, Loud).
Simple yet flexible, the MVi is a strong performer in its price range.
4.5 out of 5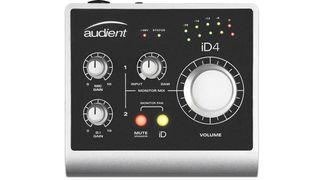 Audient iD4
The iD4 is a USB 2.0 bus-powered 24-bit/96kHz interface with one mic/line and one DI input. It features Audient's well-respected class A console mic pre, and a J-FET based DI.
You get stereo monitor outputs on the back and twin headphone outs on the front. Zero latency monitoring is via a simple input/DAW balance knob, and the inputs can be stereo spread or mono'd to aid your headphones blend. The main volume knob includes a push action for monitor dim, and also doubles as a software scroll wheel when the iD button is engaged.
With a straightforward design allied to excellent build quality and audio fidelity, the iD4 represents great value for money.
4.5 out of 5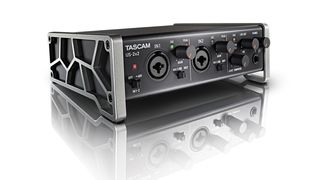 Tascam US-2x2 and US-4x4
If you want your interface to look rugged and utilitarian, either the US-2x2 or US-4x4 could fit the bill. These are 2-in/2-out and 2-in/4-out options respectively; both models have aluminium cases and comes with removable side panels that angle the controls towards you.
The US-2x2 sports a couple of mic preamps, while the US-4x4 adds two more preamps, plus two extra line outs.
4 out of 5
See the best Tascam US-2x2 and US-4x4 deals
BUY: Tascam US-4x4 currently available from:
UK: Thomann | Gear4Music
US: Sweetwater | Full Compass
BUY: Tascam US-2x2 currently available from:
UK: Thomann | Gear4Music
US: Sweetwater | Full Compass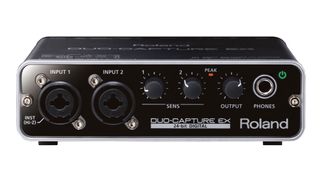 Roland Duo Capture EX
Roland's 2-in/2-out offering features two VS preamps, which are the same those installed in Roland's more expensive Quad-Capture and Octa-Capture interfaces. Its inputs, meanwhile, accommodate both XLR and 1/4-inch jack connections, with phantom power available via the XLRs and a Hi-Z setting on Input 1 for directly connecting a guitar or bass.
Around the back there are balanced 1/4-inch jack outputs and MIDI in and out ports. There's also a front panel headphone output, with independent volume control.
Offering decent build and sound quality, the Duo Capture EX can be powered by USB, an AC adapter (not included) or batteries. All told, it does its job pretty well.
4.5 out of 5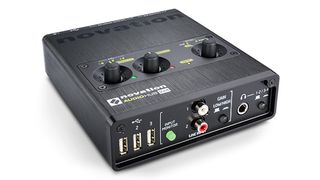 Novation Audiohub 2x4
Novation's singular audio interface carves its own niche with the inclusion of a three-port USB 2 hub, thus boosting the number of ports on the host computer by two (it requires one for itself, of course, hooked up with the included high-vis green cable).
The reason for such modernist connectivity is that it's squarely aimed at 'electronic' musicians, rather than instrumentalists, a fact made even clearer by its two phono inputs - you won't be plugging your guitar or mic into this one without an intermediary device of some sort.
At the other end of the signal flow are four phono outputs (1/2, 3/4), two balanced 1/4" outs (1/2) and a 1/4" headphone socket with cue switching between outputs 1/2 and 3/4.
The Audiohub 2x4's combination of ease-of-use, clear usage proposition, USB hubbery and stellar audio quality make it a great bet if its I/O configuration suits your requirements.
4.5 out of 5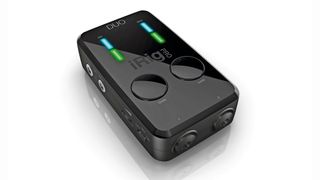 IK Multimedia iRig Pro Duo
This, as its name implies, is a dual input mobile recording interface that enables simultaneous 2-track 24-bit recording. As with other iRigs it's small and compact, and houses two identical XLR/TRS combo input jacks that feed a pair of "studio quality" preamps.
Each input has its own gain control and a 48V phantom power option, while the device itself can be battery-, device- or mains-powered.
On the output side you get dual 1/4-inch switchable TRS balanced outs, and a mini headphones output with level control. There's also MIDI I/O, while connection to your device is via mini-DIN to Lightning, Micro USB OTG or standard USB cable, all of which are supplied.
If you want a take-anywhere interface that works with all your devices, look no further.
5 out of 5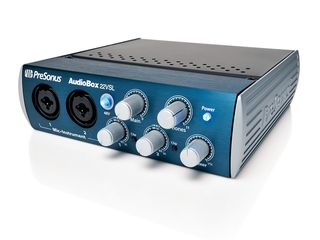 PreSonus AudioBox 22VSL
The AudioBox 22VSL from PreSonus is a simple two input/output USB 2.0 interface with MIDI I/O and the promise of ultra-low latency if you use it with the supplied Studio One Artist DAW.
The two mic/instrument inputs each have their own level controls, while you also get main and headphone output controls. A further dial can be used to blend the input and computer output signals when you're recording.
With an impressively focused stereo image and quiet preamps, the AudioBox 22VSL is a fine buy.
4 out of 5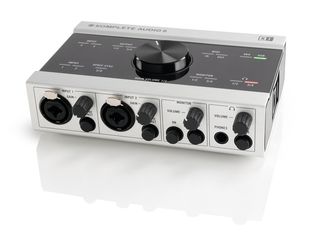 Native Instruments Komplete Audio 6
The Komplete Audio 6 is an entry-level to mid-range interface that gives you four analogue inputs/outputs, digital I/O and MIDI In and Out.
The KA6 can record both mics and instruments and feels like it's built to last. If you're planning to take your music making setup on the road, this is a good option. We like the look of the thing, too - particularly the big volume knob on the top.
This being an NI product, it's no surprise that it ships with a great software bundle. This comprises Komplete Elements, which gives you 3GB worth of instruments and effects; the Cubase LE 6 DAW; and - for DJs - Traktor LE 2.
4.5 out of 5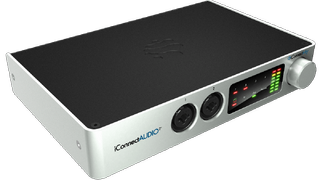 iConnectivity iConnectAudio2+
iConnectAudio2+ is a slick 2-in/6-out 24-bit/96kHz audio and MIDI interface. Designed for Mac, PC and iOS, the unit can be USB 2.0 bus-powered, or powered externally.
The front display has touch capabilities for switching inputs, activating 48V phantom etc. The real power here, however, lies in the iConfig app (desktop and iOS), which provides extensive audio routing (via its audio patchbay and mixer) and MIDI port filtering.
4 out of 5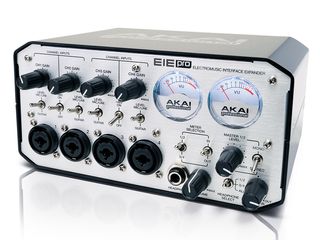 Akai EIE Pro
Looking desirably 'vintage', this 4-in/4-out interface feels solid and also sports four inserts so that you can add hardware effects to the signal path.
Other useful features include three bonus USB ports - meaning that this interface can also serve as a hub - and MIDI I/O. Rocker switches enable you to change input types between Mic/Line and Guitar sources, while phantom power can be switched on in pairs.
The analogue VU meters are both useful and nice to look at, while the sound is open and bright. If you're looking for a couple more inputs but don't want to spend a whole lot more cash, the EIE Pro could be the answer.
4.5 out of 5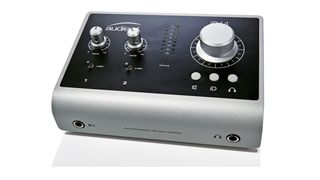 Audient iD14
The iD14 is a small but robust desktop interface with an uncluttered upper surface. This provides phantom power rocker switches and gain controls for the unit's twin preamps while, to the right, a silver dial can be configured in a variety of ways.
Most physical connections are made at the rear, though an instrument DI port features at the front. Round the back, you'll find microphone/line inputs for the twin preamps, while the main outputs are covered by 1/4-inch jacks. There's also digital connectivity, while the iD software enables you to configure the iD14 exactly how you want it.
This is a fine-sounding interface that's also extremely well designed.
5 out of 5