Sweetwater's early Black Friday sale has unlocked some seriously tempting deals on the impressive UAFX pedal range. And with U2's the Edge recently confirming that he's made the switch from amps to using a handful of UAFX pedals live, there couldn't be a better stamp of approval. In the sale, we've found discounts ranging from $50 for the newer single-effect models, up to $80 off the top-of-the-line reverbs, modulators, delays and more.
Despite being relatively new to the pedal world, studio folk will know all about Universal Audio thanks to its high-grade audio interfaces and production tools. With the launch of the UAFX pedal range, we've now got access to some genuinely sensational audio processing tools in a small, affordable footprint. And they're even more affordable now, thanks to Sweetwater's early Black Friday sale.
With big savings to be found right across the Sweetwater site, now is the ideal time to treat yourself this Black Friday.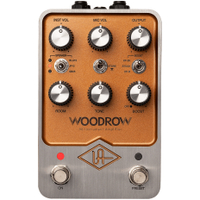 UAFX pedals: Up to $80 off Universal Audio pedals
Bag amazing savings on almost the entire range of UAFX guitar pedals, with prices slashed by between $50 and $80 on our top picks and more, right through until November 16.
The buzz around Universal Audio's UAFX pedal range was immense, and as soon as they landed in 2022, we knew we were in for a treat. Initially, the range saw the introduction of a small line-up of guitar amp simulators, including pedals based on guitar staples like the Vox AC30 and the Fender Twin, before the range then expanded out to include reverbs, delays, modulators and a superb dual compressor. This last one is top of our list of recommendations to producers, beatmakers and performers alike.
The UAFX Max Preamp and Dual Compressor (was $349, now $299), brings the ability to double up compression on synths, guitars, grooveboxes and anything else, adding a layer of elite studio sparkle to anything. The UAFX pedal offers top-quality studio capabilities in a single pedal with a superb quality preamp included as well to ensure clean headroom and a pristine signal reaching your DAW.
We also love the UAFX Galaxy '74 Tape Echo & Reverb, which is down to just $299 now, especially its ability to add warble and mystery to everything from guitars to synths. A variety of secondary functions meant there's lots of additional functionality wrapped up in a small pedal footprint, and this expands further when you take Bluetooth connectivity into account for arranging presets and more.
Finally, the UAFX Heavenly Plate reverb (was $219, now $169) is one of those sweet reverbs you can leave towards the end of your chain and happily never turn off, such is the quality and cleanliness of the sonic profile on offer.
Keep your eyes on our Sweetwater Black Friday deals page for even more great offers between now and Black Friday itself.