Hendrix's Fire Guitar Sells For $575,000
The first guitar rock icon Jimi Hendrix ever set fire to onstage, his legendary 1965 Fender Stratocaster, fetched $575,000 (around £285,000) at auction this week.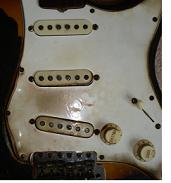 Jimi set fire to the one-off Strat at the London Astoria in March 1967. It was recently rediscovered by Hendrix's close friend and press officer Tony Garland.