The 13 best new iOS apps and hardware of 2018
10. Klevgrand Kleverb
The Future Music/Computer Music/MusicRadar Best in music tech 2018 polls received thousands of votes, and we're now ready to roll out the winners.
The nominees were what we considered to be the personalities and gear that have excelled in 2018. Here, we present the best new iOS apps and hardware of 2018.
Taking up positions 13 to 11 are:
13. AmpTrack Technologies HumBeatz
12. iceWorks Kronecker
11. Auxy Studio
Kicking off the top 10 we have the Klevgrand Kleverb...
We say: Kleverb features three different room size setups; Small, Medium, Large and a selectable filter on early and late reflections. The plugin is also capable of modulation, damping, diffusion and much more, meaning that, theoretically, any kind of room can be simulated.
9. Bram Bos Kosmonaut
We say: Features include a tape looper with variable sound-on-sound decay level, a 4-tap delay, low-pass/high-pass filters with LFO, an auto-panner and an ambience generator. There's also a Haas Effect processor.
All of these features are demonstrated in the factory presets, and you can save your own (these will be available whichever AU host you're currently using). Tempo is automatically synced to host, and you can use the Random feature for instant inspiration.
8. IK Multimedia iRig Keys I/O 49
We say: A solid production setup, combining MIDI control and audio interfacing with a knockout software bundle.
Read the review: IK Multimedia iRig Keys I/O 49 review
7. Propellerhead Reason Compact
We say: An iOS version of Reason has been on many people's wish list for some years now, so the announcement of Reason Compact, billed as "a slice of Reason on your phone," was always going to generate considerable excitement.
6. KV331 Audio SynthMaster One
We say: With dual wavetable oscillators, stunning filters and fast-paced interface, SynthMaster One sounds fantastic and stays out of your way while you work!
Read the review: KV331 Audio SynthMaster One review
5. Korg Electribe Wave
We say: Korg's Electribes have been doing their groovebox thing for the best part of 20 years now. The latest iteration, the Electribe Wave iPad app, is designed to bring the sonics of the device right up to date with the inclusion of a wavetable synth engine.
4. iZotope Spire Studio
We say: Spire acts as a conduit between the creative spark and polished product. Pro-level recording on iOS has never been easier.
Read the review: iZotope Spire Studio review
3. AudioKit Digital D1
We say: Fans of the D-50, JD-990, 01/W, Wavestation, plus numerous other digital 'boards and modules from the '80s and '90s rejoice, for AudioKit has answered your prayers with the release of the Digital D1 synth for iOS.
It comes loaded with over 300 presets crafted by the likes of Brice Beasley, Matthew Fecher, Red Sky Lullaby and many more. Plus, there's 1GB of samples recorded from original analogue and FM synthesizers and amazingly, AudioKit has managed to compress the entire app down to just 150 MB.
2. AudioKit Synth One
We say: A completely free and open-source full-featured professional iOS synthesizer app. This one is a labour of love that everyone can enjoy.
Winner: Moog Model D for iOS
We say: Compared to existing emulations, this official app doesn't bring many new features, but it sounds great and is well implemented. The Bender effect, in particular, is great for adding width and weight.
Read the review: Moog Model D for iOS review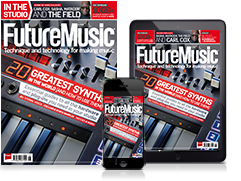 All-access artist interviews, in-depth gear reviews, essential production tutorials and much more.
Get the latest issue now!