NAMM 2019: Fender leaves Parallel Universe, enters Alternate Reality with five new weirdos
Fender Alternate Reality Series
NAMM 2019: Following the success of the firm's weird and wonderful limited edition Parallel Universe in 2018, Fender has announced the similar-but-different Alternate Reality range, featuring five new guitars among them a reborn Electric XII 12-string, a Powercaster and a four-string Tenor Tele.
Browse the gallery to view the full line-up, plus their price points and release dates
Powercaster
Seemingly capitalising on the ever-increasing trend for a humbucker/P-90 'best of both' pickup approach, the Powercaster pairs an Atomic humbucker and single-coil soapbar pickup.
The neck is made from roasted maple, while an offset alder body, hardtail bridge and simple switching add to its 'function with flair' feel.
Sixty-Six
At a casual glance you might dismiss the Sixty-Six for another Strat variant, but that's actually a Jazz Bass shape, albeit in a reduced footprint.
There is a Player Series humbucker and two Player Series Tele single-coils mounted on the ash body and its topped off with five-way switching (with Jazz Bass-style control knobs) and a vibrato.
The Meteora HH
The Meteora body shape was first unveiled as part of last year's Parallel Universe series.
Here it gets an HH pickup configuration (as opposed to the single-coil bridge/Tele neck combo of the original) and an unusual control system, that uses push-pull tone pots to for coil-splitting tones, plus a push-push switch that allows you to swap the volume control between pickups.
Electric XII
The original Fender Electric XII was launched in 1965 to cash in on the post-Byrds folk rock boom, but was discontinued in 1969 after disappointing sales.
Here it gets a second shot at stardom, reprising the dual split-coil pickup configuration and three position pickup selector. Fun fact: Jimmy Page (who's Fender links are all over the show this year) used one of these on Stairway To Heaven and Beck's Bolero.
Tenor Tele
Yes, you probably don't "need" it, but is there any guitar here that you want to try more than this tiny Tenor Tele?
Tuned to the top four strings of a guitar, Fender reports that the sound readily exceeds the instrument's size. It's equipped with custom four-string Tele pickups and three-way switch, while the neck offers a 22.75" scale-length and 9.5" radius fretboard.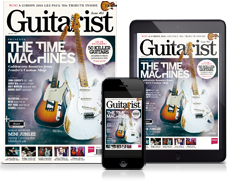 The magazine for serious players
Subscribe and save today!