Well, this epic sale from Guitar Center isn't for the faint of heart, it's for those who like their guitars detuned, their riffs heavy and their amps loud! From now until the 2nd of August, you can score significant savings across a wide range of metal-ready instruments, including electric guitars, basses, drum sets, tube amps and effects pedals, in the aptly named Metal Mayhem Sale.
With brands such as Jackson, Strandberg, Schecter and Ibanez all seeing sizable discounts, there is something here for every type of player - regardless of the metal sub-genre you subscribe to.
Our favourite offering from the sale has to be the Fishman Fluence loaded Strandberg Boden Prog NX 7. We believe that if you are in the market for a seven-string guitar, you'll be hard-pressed to find a better axe than this - especially since there is an impressive $499 slashed off the price.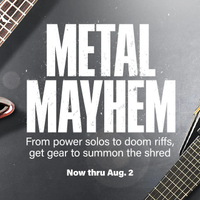 Guitar Center Metal Mayhem Sale
Score massive savings on everything you need to bring the doom with Guitar Center's ultimate metal sale. Top brands such as Jackson, Strandberg, Schecter, Kemper, Ibanez, EVH, Boss and many more are all available at seriously low prices – but be quick, as you only have until August 2 to take advantage of this wicked deal.
We also have to give a shout-out to the head-turning Jackson X Series Dinky DK2XR which is now $449.99. This limited-edition X Series Dinky is an outstanding '80s throwback designed for speed and high-performance playing – and the Jackson-branded Floyd Rose means it's ready for as many dive bombs as you can throw at it.
Elsewhere you'll find a sizable $300 off the evil Schecter CR-6 in Black Cherry Burst, $350 off the white variant of the Kemper Profiling amplifier and $100 off the Schecter Omen Elite-4 bass guitar.
Browse the full Metal Mayhem sale below