Nick Augusto's Trivium drum setup in pictures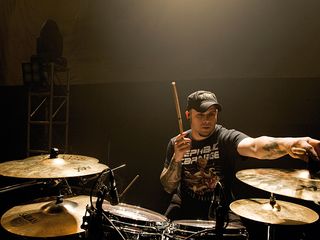 Nick Augusto's Trivium drum setup in pictures
Nick Augusto was an unknown quantity when he took over the Trivium drum stool in 2010. To the outside world, the new guy seemed to have materialised out of nowhere.
However, Nick had previously been working with Trivium behind the scenes as a drum tech, although his connection to the band ran much deeper than that.
Nick and bassist Paulo Gregoletto were old friends who grew up playing in bands together since they were teenagers. After his baptism by fire on the road, Nick cut his first album with his new band-mates, In Waves.
Nick has the power and the double-kick chops to handle Trivium's demanding music but, as he explained when Rhythm caught up with him at Brixton Academy on the Defenders Of The Faith tour, the deciding factor in getting him the seal of approval was that he knows how to jam.
Here we bring you pictures and details of Nick's drum setup, plus extracts from that interview, which you can read in full in Rhythm 201. Or you can subscribe to Rhythm Magazine to read interviews with the world's top drummers each month.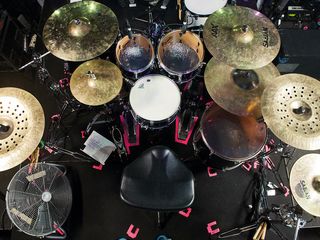 The kit
Pearl Reference Pure Series: 22x18-inch kick drum (x2); 10x8-inch tom; 12x9-inch tom; 16x16-inch floor tom; 18x16-inch floor tom; 14x61⁄2-inch snare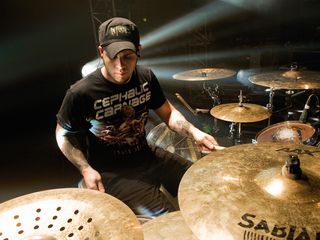 Cymbals
Sabian: 19-inch Chad Smith Holy China (x2); 19-inch AAX crash; 20-inch AAX crash; 13-inch Paragon hi-hats; 14-inch AAX hi-hats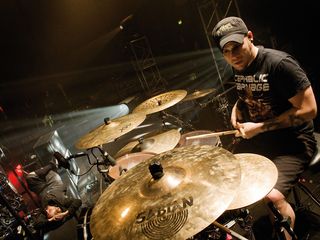 Plus...
DW9000 double-pedal; Pearl hardware and stands; Pro-Mark Nylon Tip 5B sticks; Evans G2 heads (toms/kick), Remo Emperor X on snare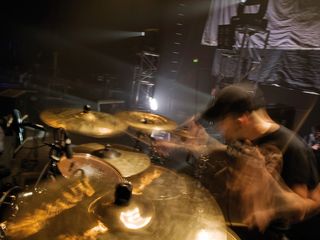 In the studio...
Nick's approach for getting a good drum sound starts with his gear. "Have good equipment, because that is the biggest thing," he says.
One of Nick's tricks to cut through the wall of guitars is using nylon-tipped sticks. "They are louder and I think the bounce back is better too," he says. "I've tried wood tip sticks before and I can play with them but they don't sound the same to me."
For tracking the drums on In Waves, Nick played solo to a scratch track. "Matt recorded all the guitars to a click, no solos, just rhythm," explains Nick, who is not intimidated by the oft-dreaded click.
"I found it easy. I did an EP with an old band of mine, three songs. That was my first time with a click and I didn't have a problem with it and it was even easier the second time around."
Now check out Rhythm's current Issue 203 for interviews with Butch Vig and former G N'R sticksmen Steven Adler & Matt Sorum. Or subscribe to Rhythm here for a monthly dose of new gear reviews, kit buying guides, pro drum lessons and all-star interviews.
Liked this? Now read: Drum kits of the pros: stars' live and studio drum setups in pictures
Connect with MusicRadar: via Twitter, Facebook and YouTube
Get MusicRadar straight to your inbox: Sign up for the free weekly newsletter