Dave Grohl's drum setup revealed: Them Crooked Vultures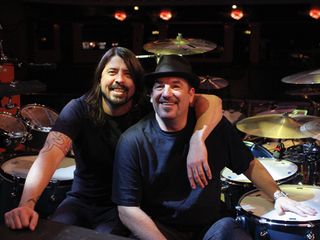 Dave Grohl and Gersh
When Foo Fighters mainman Dave Grohl returned to the drum throne behind Queens Of the Stone Age's Josh Homme and Led Zeppelin's John Paul Jones in his new band Them Crooked Vultures, the drumming world rocked in collective appreciation. Still revered for his raw stick prowess in Nirvana (and later Nine Inch Nails and QOTSA), Dave Grohl is, as his drum tech Gersh puts it, "an animal" behind the kit.
Following our preview of Rhythm Magazine's exclusive TCV drumming interview with Dave Grohl (special issue on newsstands for one more week only!), here his tech of seven years (and founder of classic kit rental company Drum Fetish) Gersh provides a rare insight into Dave Grohl's exact live and studio drum setup: from kits, snares and cymbals to toy drums and painted two-by-fours…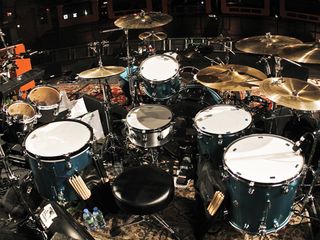 The live setup
When the Vultures first talked about touring, Dave didn't have a kit to take out on the road, did he?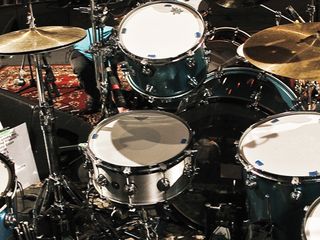 The snare drum
"When it came to the final tour set-up, I opted for the 13" tom-tom instead of the 14". We had a lot of big drums and the way Dave plays he sets up a lot of sections with that first rack, so I wanted a fundamentally higher note."
"Dave's live snare is a DW 14"x6 1/2" aluminium, and it basically sits in between the Acrolite and Bell Brass models we used in the studio. It has die-cast hoops, a 'Bonham-y' character and a whole lot of crack."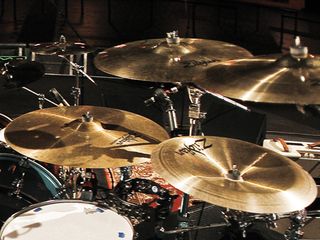 Cymbals
"Live we're using Zildjian cymbals and they did an incredible job of duplicating a very specific-sounding old bell ride for us. We also have a great, specially made, 20" Effects crash, which sounds really good because of my theory of things exploding and dissipating really fast."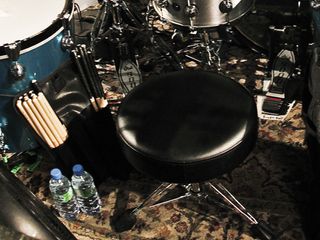 The throne
"Dave sits really low - he gets more velocity, power and volume that way, especially with his bass drum technique - and he's using DW's lowest seat, all the way down. On the percussive front we've got a tambourine and a Ching Ring; an old Bonham thing."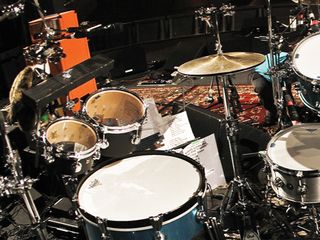 Toy drums and a two-by-four woode block!
You also had to recreate some 'toy drums' into the set-up...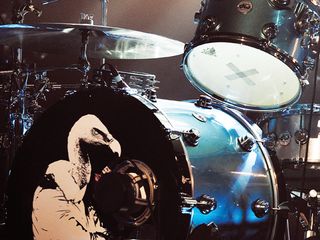 Tuning
Can you tell us a bit about how you're tuning the kit?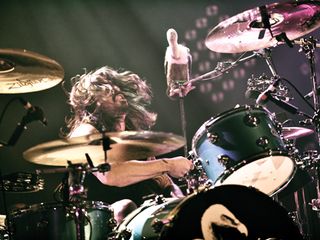 Teching for Dave Grohl
The Vultures gig at the Metro in Chicago was actually the first time that you had teched live for Dave wasn't it?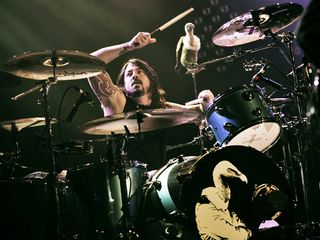 Technique, style and sandbags
"He's also got really good technique - he's not a 'basher' - and his foot technique is unbelievable. He doesn't pit heads, he's got a great 'snap up' and his dynamic - the way he mixes himself - is incredible. And he hits all his drums with the same velocity that he hits his snare and bass drum. With most guys there is a drop."
"I have 200 pounds of sandbags on that kit to stop it crawling! If I could chain things down I would, but Dave actually likes the way the sandbags look…"
"During a show I have got to be on it the whole time, watching Dave's body language. The gear is my deal and I do not want Dave's attention to deviate from the drumming and the music. Live is the moment and there is no turning back."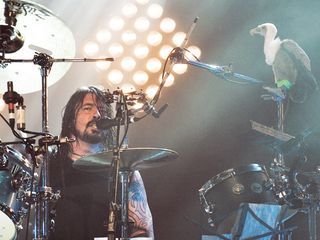 Miczilla and The Pig
Tell us about 'The Pig' and 'Miczilla'…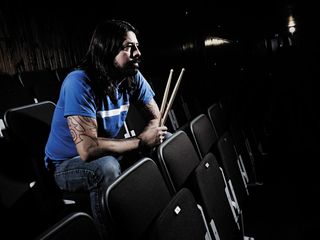 The Them Crooked vultures studio setup
Can you tell us a bit about the drum set-up in the studio for Them Crooked Vultures?