Receiving plenty of critical acclaim from guitarists all over the globe, Fender's Player and Player Plus Series guitars have been smash hits over the past few years, mixing pro-quality features with reasonable prices. In the Fender Spring Sale, you can now get up to $180 off Player and Player Plus guitars when bundled with various Fender accessories including straps, cables, guitar pedals, and loads more. Just add any qualifying guitar to your cart and Fender will automatically add your bundled accessories and apply the discount.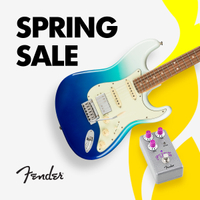 Fender Spring Sale: Up to $180 off Player bundles
In the Fender Spring Sale, you can now get up to $180 off Player and Player Plus guitar bundles. These come with a range of straps, cables, and loads more awesome accessories including Fender's Hammertone pedals when bundled with selected Player Plus instruments. Player Series guitars are incredibly highly regarded, so it's a deal worth taking advantage of.
Topping many best-of lists when it comes to value-for-money guitars, Fender Player and Player Plus guitars give you a lot of bang for your hard-earned bucks. As the owner of a Fender Player Plus Telecaster, we can personally attest to the excellent quality of these instruments, especially when you consider the price point. Premium features like rolled fingerboard edges and locking tuners work alongside excellently voiced pickups and some incredible finishes to make for some brilliant, gig-worthy guitars.
There's a nice selection of Fender guitars available with these bundle deals, including some offset options with the Jazzmaster and Jaguar, as well as the ever-versatile HSS Strat and Nashville Telecaster. If you select a Player Series guitar, you'll have a FE610 gig bag, Super Soft guitar strap, and an Original Fender guitar tuner as part of your bundle, giving you everything you need to hit the ground running.
The Player Plus Series guitars come bundled with a Right Height Rayon guitar strap, Professional Series guitar cable, and your choice of Fender Hammertone pedal. You can choose from any of the 9 guitar pedals available, with overdrive, chorus, delay, reverb, and much more available. The Hammertone series covers pretty much every effect going, so there will be something here for every guitar player.
These offers are only available until March 26th, so you'll need to move quickly to take advantage. Just choose any qualifying Player or Player Plus guitar, add it to your basket and Fender will do the rest, adding your bundled accessories and applying the discount automatically.
Related buyer's guides