Acoustic guitar lessons: tutorials and gear-buying guides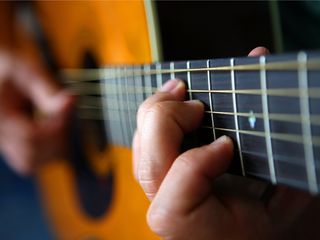 Acoustic guitar lessons: tutorials and gear-buying guides
This is a constantly updated hub of all our acoustic guitar tuition videos and step-by-step guides. From artist lessons and playing tips to essential gear buying galleries - everything the acoustic guitarist needs to start and improve.
Our dedicated Acoustic Guitars channel is the latest addition to MusicRadar so you can expect this page to grow fast during the coming weeks. Keep it locked here for regular updates and scroll through the thumbnails below to find a tutorial to suit your skill level or need.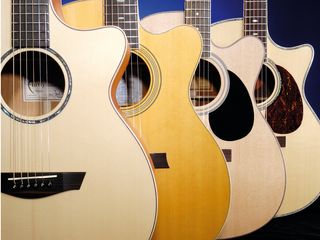 Round-up: 4 folk electro acoustic guitars under £500
Despite the fact that Martin, for example, has been making folk-size acoustics for over a century, it's only in relatively recent years that this kind of medium-bodied flat-top has become a mainstream product for most manufacturers, in particular those in the sub-£500 bracket we're dealing with here.
Historically, cheaper examples have tended to be sidelined as beginner or young players' instruments, not to be taken terribly seriously. If, as in this test, you then factor in a cutaway and an electro system, their increasing availability is an even more recent trend.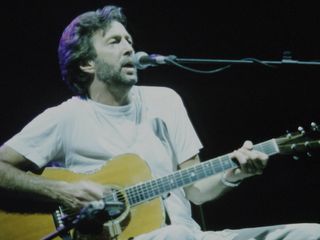 Play acoustic like Eric Clapton
While not using a technically demanding style, Eric Clapton always manages to let you know it's him playing the acoustic guitar. And with such a limited palette in this style, that takes some doing. It's hard to say whether it's note choice, tone or what, but the 'one note from Eric' chestnut is certainly true.
Here we take the medium-paced shuffle of a song like Before You Accuse Me (from Clapton's Unplugged album) and changed the turnaround so it has a C9 and a B7#9 in bar 10 and the classic C9 to B9 as the very last change in bar 12 of each verse.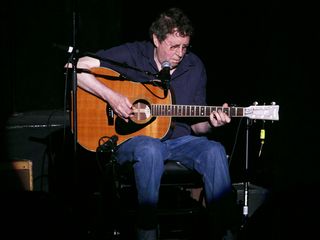 Play acoustic like Bert Jansch
Scottish guitarist Bert Jansch was a seminal figure in the 1960s folk revival, spearheading the movement alongside Pentangle bandmate John Renbourn, and Martin Carthy.
Influenced in equal measure by the guitar of Big Bill Broonzy and the songs of Anne Briggs, Jansch's folk and blues playing style is unmistakable. This acoustic piece has a slight ragtime/blues feel with some characteristically bluesy, lazy string bends, reminiscent of Bert Jansch.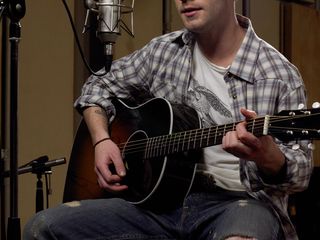 How to record acoustic guitars
Recording acoustic guitars differs hugely from recording electric guitars in one vital respect. In the latter, the amp is essentially the instrument. Also, the space in which you're recording is not so critical, as most of the tonality is achieved through very close mic adjustments and processing.
Acoustic guitars, on the other hand, provide most of their own character, in conjunction with their immediate space. And people know what they're meant to sound like, so a bad recording of a guitar will simply sound unnatural. Find out how to do it like the pros…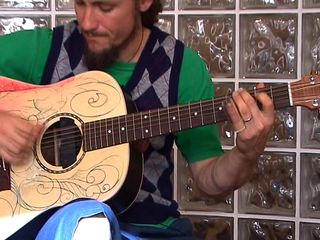 John Butler on grooves, playing Pick A Part and modern acoustic guitar
Since taking up guitar at the age of 16 and starting out busking, John Butler and his trio have gone on to take the music world by storm, combining reggae, folk, funk, rock, hip-hop beats and more.
In this video lesson, John demonstrates his unique approach to modern acoustic guitar.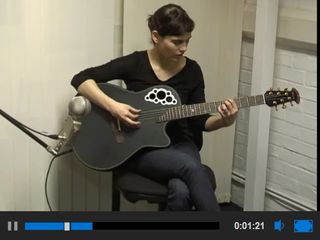 Kaki King on the acoustic guitar
As well as the success of her most recent album Dreaming Of Revenge, Kaki has guested on the Foo Fighters album Echoes, Silence, Patience And Grace and received a Golden Globe Award nomination for the music she wrote for the film Into The Wild.
In this video we chat to Kaki about guitars, tunings and technique.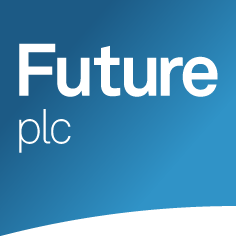 Play acoustic like Paul McCartney
Although Paul McCartney is better known for his melodic bass playing, his acoustic guitar talents should never be overlooked.
Some of his finest Beatles songs such as Yesterday and Blackbird are underpinned by a unique style that is dissected here by Guitar Techniques editor Neville Marten.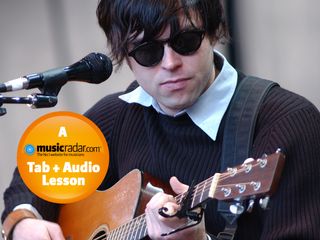 Play acoustic like Ryan Adams
Ryan Adams is one of America's best alternative songwriters with a sound that is constantly evolving and increasingly incorporating elements of country music.
As with many songwriters, Adams' guitar style is in service to his vocals and songwriting so you won't find any virtuoso histrionics here. However, there are many well chosen chord voicings and strong rhythm skills to work on.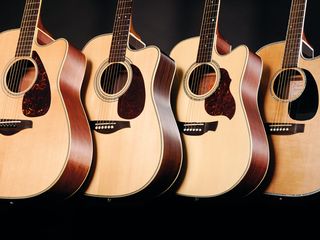 Round-up: 4 affordable cutaway dreadnought acoustic guitars
Over the last few years smaller-bodied electro acoustic guitars, notably folk-derived OMs and 000s, have seen an upsurge in popularity, not least for their versatility and relatively compact handling comfort. However, when it comes to performance muscle - both acoustically and powered - it's still the big-bodied dreadnought (and its cutaway variants) that rules the roost.
Pick a price, any price, and there's a plentiful choice of cutaway dreadnought electros available from a host of brand names. One of the most significant areas is instruments hovering under £500. This is what our four big-name contenders aim to prove, all priced, coincidentally, at £419, allowing direct comparisons as far as value is concerned.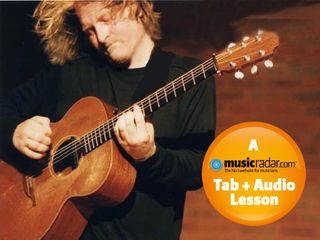 Play acoustic like Eric Roche
Classically trained and initially influenced by guitarists such as Michael Hedges and Preston Reed, Eric Roche developed a very personal guitar style which featured driving percussion and 'extended' techniques such as two-handed tapping (still quite unusual on acoustic guitar at the time when he was pioneering his style) and the use of artificial harmonics.
It's best to view this piece as three lessons in one: the first part examines the tapping as an accompaniment approach; the next section combines fretting hand tapping and percussion and picking hand slapped and tapped harmonics; and finally, there's a simpler section where you maintain a hammer-on and pull-off sequence whilst tapping out a rhythm on the upper bout of the guitar.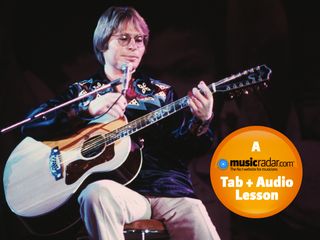 Play acoustic like John Denver
The late John Denver was one of the great American songwriters and performers.
Denver's pastoral style is reflected in his guitar playing, which is full of gently strummed chords and arpeggiated open chord patterns. As with many singer songwriters, Denver's guitar was primarily there to accompany his vocals so his guitar parts were always tasteful and suited to the song. He would often use short fills to make a chord sequence more interesting and also leave some space if strumming patterns got too busy.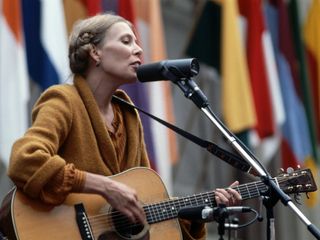 Play acoustic like Joni Mitchell
Canadian folk legend Joni Mitchell certainly loves altered tunings. She utilises so many, in fact, that she's devised a system to remember which is which.
Try out this acoustic piece, modelled on some of the songs found on her classic Blue album. It uses a gorgeous open G tuning (DGDGBD), or rather D57543 in 'Joni' tuning.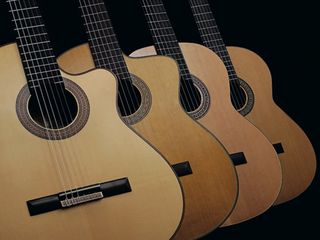 Round-up: 4 nylon-string electro acoustic guitars
Too long overlooked, the nylon-strung 'classical' instrument seems set to make a comeback, due in no small way to the current popularity of world, latin and jazz. With its mellow tones and lyrical voice, it offers an intimate, quieter, more reflective sonic character, in contrast to the wild, musical mood swings of its steel-string acoustic and electric counterpart.
We've sampled a cross section of what is available to the serious player in the lower to middle price range and come up with four current electros: two full-bodied and two cutaways.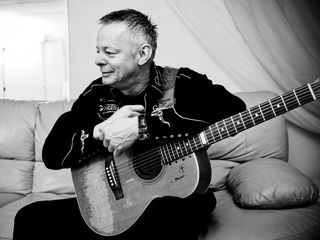 Play acoustic like Tommy Emmanuel
Influenced and endorsed by the great Chet Atkins (he was awarded the title of Certified Guitar Player by the great man), Tommy's huge gamut of guitar pyrotechnics includes delicate harmonic passages, thumping basslines and jaw dropping open-string runs, and all with a warm smile and tapping foot.
This piece should be played with a thumbpick to accurately replicate Tommy's muted basslines. His sense of rhythm is flawless, so start slowly, and don't forget to practice with a metronome.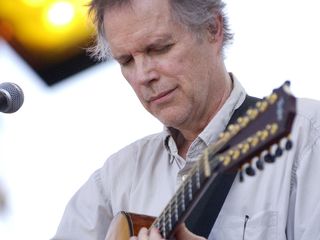 Play acoustic like Leo Kottke
Born in 1945 in Athens, Georgia, Leo Kottke played the trombone before taking up guitar at age 11. He was inspired as much by the finger picking of Mississippi John Hurt and Merle Travis as the compositions of JS Bach and Igor Stravinski.
Using a thumb-pick and fingers (although he's become as nimble with just fingers), his playing is based on driving banjo-like rolls embellished with quirky melodies, aided sometimes by a bottleneck. Have a go at this tune, which is in G tuning (low to high: DGDGBD). It's at a typical Kottke tempo - pretty fast!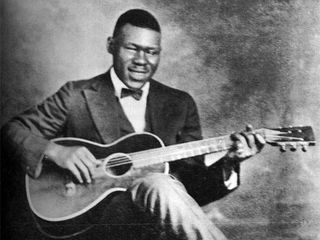 Play acoustic like Blind Blake
The Florida-born ragtime and blues guitarist, Blind Blake, made a name for himself in the 1920s along with early blues greats such as Blind Lemon Jefferson and Robert Johnson.
A well-studied player with a flawless sense of rhythm, Blind Blake never had to shout to be heard, such was the warmth of his vocals and the tightness of his guitar playing. He amazed his contemporaries with his piano-like syncopated style, which has been copied by many ragtime players since, such as Rev Gary Davis and Stefan Grossman.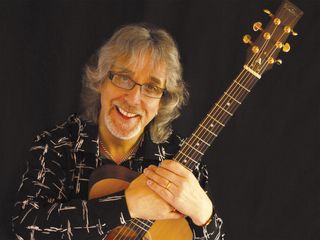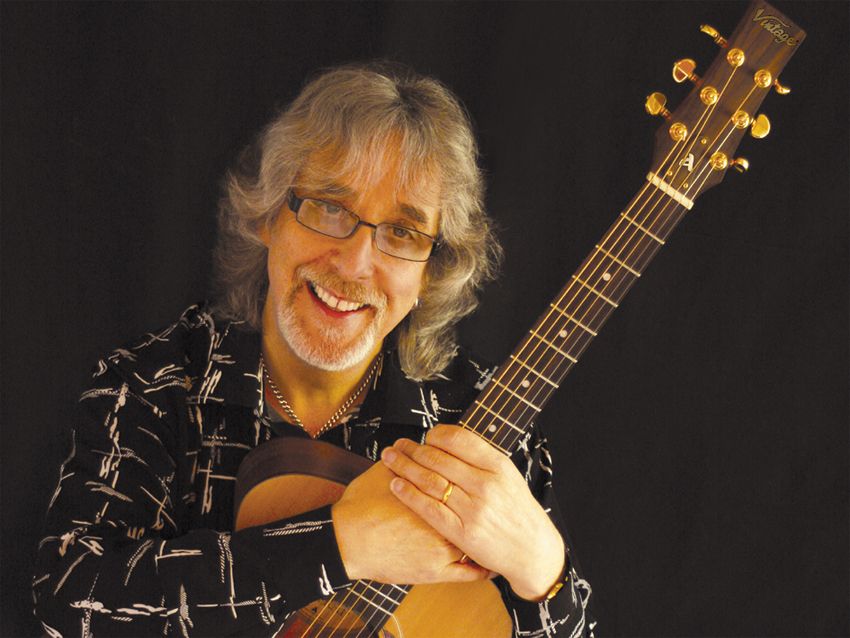 Play acoustic like Gordon Giltrap
Gordon Giltrap is one of the UK's most enduring pioneers of instrumental acoustic guitar music with his best known piece, Heartsong, even gaining chart success.
This piece reflects Gordon's sensitive side, using a technique known as 'harping'. It involves alternating conventional notes with picking-hand created harmonics. Standard notes are plucked with the third finger while harmonics are achieved by lightly touching the string with the picking hand's first finger 12 frets higher than where fretted, and plucked with the thumb.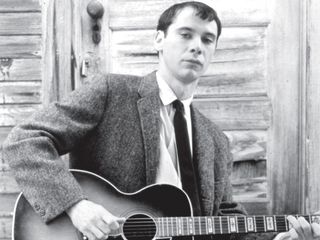 Play acoustic like John Fahey
In a time when guitarists' repertoires were mainly constructed from a catalogue of country and folk music, American guitarist John Fahey was determined to compose original work that broke new ground.
The tune in this tutorial uses open G tuning (DGDGBD), but is in the key of D. It uses characteristic drive mixed with reflective harmonics and chordal sections, as heard in such pieces as Night Train to Valhalla from Fahey's album, Days Have Gone By.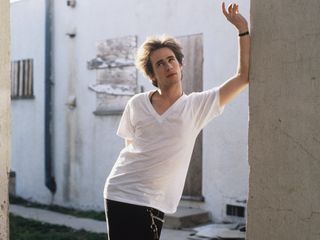 Play acoustic like Jeff Buckley
From the angst-ridden strumming on the anthemic Grace, to the intricate fretwork on tender numbers, Jeff Buckley was a deeply charismatic guitarist.
Although most commonly pictured with a blonde Telecaster, he also played a Yamaha FG-470S for the acoustic moments, which we have tried to capture in this dropped-D tuned example.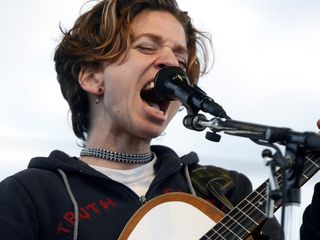 Play acoustic like Ani DiFranco
Born in Buffalo, New York, singer-songwriter and feminist icon Ani DiFranco's music defies easy categorisation. Drawing on folk, rock and hip-hop influences her songs have gained her a large and loyal fanbase.
Despite her extensive palette of open tunings, we'll remain in standard tuning for this example of her playing, that features strumming in 6/8 time and tasty hammer-on figures. Remember: play with plenty of attitude!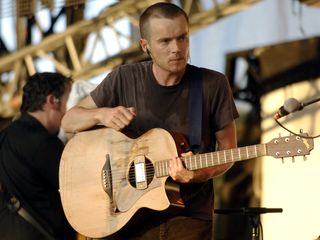 Play acoustic like Damien Rice
Damien Rice's songwriting is honest, and his guitar-playing sensitive, blending gentle strumming with subtle hammer-ons and pull-offs to create catchy acoustic riffs.
This piece is inspired by beautiful songs such as Cannonball and I Remember. You will need to put a capo at the fourth fret, to get that bell-like tone.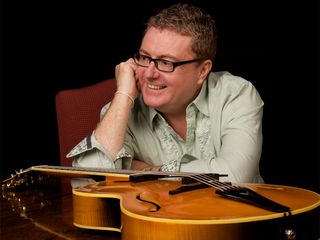 Play acoustic like Martin Taylor
With commercial success in Europe, North America and Asia, jazz maestro Martin Taylor is widely considered one of the finest guitarists of modern times.
This study piece is a reflective tune that combines melody and chords in Taylor-esque style. Some chords may be new, so take time to familiarise yourself with the shapes first. Oh, and keep it laid back.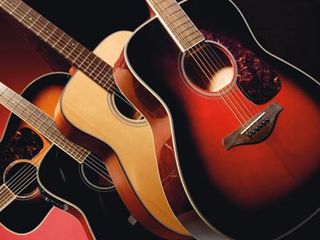 10 best acoustic guitars under £300
Buying an acoustic guitar can be a daunting prospect. Playability, tone and build quality must all be taken into consideration but (particularly with the relatively modest budget of £300) all too often a rushed, and ultimately wrong purchase is made. Until now…
This, the second guitar instalment of the Ask MusicRadar series, is a gallery of the top 10 acoustic guitars as voted for by you - the music-making, guitar-buying public.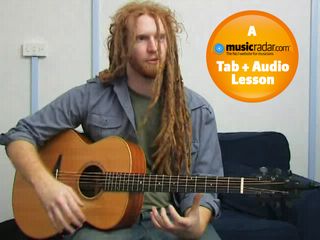 Newton Faulkner on percussive acoustic and 'double-note' tapping
Here, Newton's pick hand plays one rhythm pattern (of triplet-based percussive strikes on the guitar body) while his fret hand creates another pattern (hammered-on eighth notes). The contrast between the triplets and the eighth notes creates the cross-rhythm.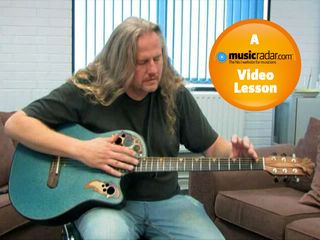 Preston Reed on percussive acoustic
Preston's first improvised piece for us demonstrates how he adds chords to a simple bass and snare drum style groove.
He establishes this basic groove in the first four bars and keeps it running as the piece becomes more complex. Preston adds some offbeat percussive strikes to his groove in bar 5 (played over the neck with his fret hand) but follow the bass and snare groove to help you keep in time.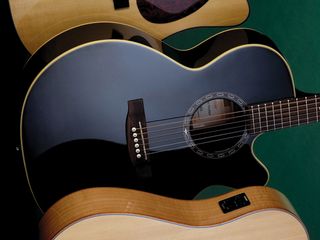 Round-up: 8 electro acoustic guitars under £500
Electro-acoustics are everywhere. Almost every luthier makes them, and as a result prices are competitive. Here's a selection of eight worthy models ranging in price from £199 to £499, kicking-off with Washburn's WD32SCE.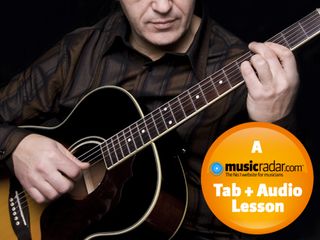 How to play fingerstyle blues guitar
In this series of tab and audio lessons, Guitar Techniques magazine's Stuart Ryan takes you through a gigantic acoustic method for playing fingerstyle blues.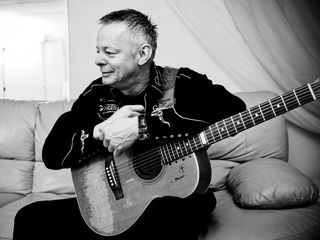 Tommy Emmanuel's harmonics masterclass
There can be no doubt that Tommy Emmanuel is one of the world's finest fingerstyle acoustic players, and his career has encompassed appearances with such luminaries as John Denver and Chet Atkins.
In this video tutorial, see how one of the true masters utilises harmonics and harping techniques to beautiful effect.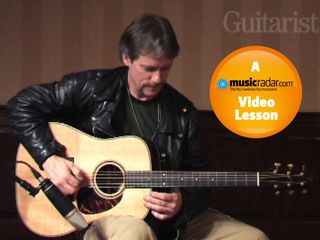 Brad Davis on 'double-down up' picking and Bluegrass guitar
In this video, Brad Davis demonstrates his flat-picking technique, which he calls the 'double-down up'. The technique is a big step away from traditional acoustic playing and was in fact conceived when Brad was trying to emulate Eddie Van Halen's fretboard tapping.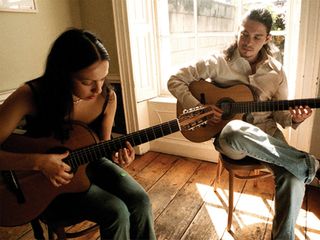 Rodrigo Y Gabriela on building picking speed, rhythm playing and right-hand technique
It's easy to see that Rodrigo has been schooled in the electric guitar style of bands such as Metallica when you witness his blurringly fast style. Whereas his partner in crime Gabriela has a more traditional Spanish fingerstyle, Rodrigo picks everything, treating the acoustic more like an out and out electric.
In this video lesson, Rodrigo takes you through some Al Di Meola-style alternate picking runs and explains his method for reaching his frightening speeds.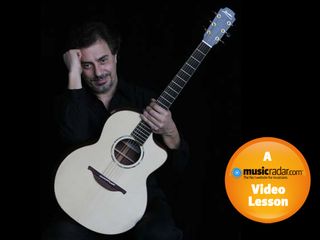 How to play DADGAD like Pierre Bensusan
Without a shadow of a doubt, Pierre Bensusan is a 24-carat gold master on the world fingerstyle scene. Pierre is now so adept at DADGAD tuning that he has adopted it as an 'alternate standard tuning', basing his playing and composing style completely around it.
If you're getting into DADGAD or looking to expand your DADGAD playing further, then time spent with Bensusan's pieces and recordings will really give you a sense of what can be achieved in this tuning.