GEAR EXPO 2023: Audio interfaces are the essential devices you need to get sound into and out of your computer. And a mixer enables you to mix multiple channels of this audio together and record it or play it back simultaneously. Here we round up the best new interfaces and mixers on the market, so you can get the best quality sound wherever you need it, and fast!
If you are recording any audio, the chances are you will need some type of interface to get that signal into your computer. Audio interfaces like this are many and varied and often come with mixers built in, so you can record multiple channels. Some even have digital recorders.
We've gathered the most exciting and best-spec'd new mixers and interfaces so you can learn what's coming out this year. It's the perfect mix of devices for you to plug in, play and record into your computer.
Apogee JamX
Announced at the NAMM show this year, the Jam X will have guitarists experiencing their instruments in a whole new way, so says Apogee. The diminutive interface features a built-in compressor with three levels of gain and more tone-shaping than you should really expect from an interface of this size.
Apogee's original Jam was, can you believe it, released as long ago as 2010, but so successful that the company has released several updates and additions to the Jam line. Jam X is the latest and still manages to include something not done by its predecessors or, Apogee claims, anyone else.
Jam X squeezes an analogue compressor into its compact form which, after guitarists plug it into their iOS device or computer, will enable them to shape their tone. However, it also adds three presets – Smooth Leveler, Purple Squeeze, and Vintage Blue Stomp – to dictate how much you drive the input gain, from subtle to extreme.
This flexibility for the input signal gives you extra shaping power over your sound before it's even reached any virtual amp sims you might be sending it too. Apogee says that with this at the front of the signal chain, guitarists will experience added sustain and dynamics, or can use Jam X to fatten up weaker source sounds.
It's a layer of extra flexibility that should make Jam X stand out from quite a crowded sector of the market - the iOS and computer interface market is certainly a bustling place to be. And other features like Blend mode, which cuts out latency when recording, plus sample rates up to 96kHz and "ample headroom" – not to mention those cool, gold looks – should keep Jam line going strong.
Jam X works with PCs, Macs and iOS devices with type C ports. And you don't have to use it just to record guitars. Plug in your bass, keyboard, synth, or any acoustic instrument with a pickup.
It retails for £/$199 and you can get more information from the Apogee website.
Behringer XENYX 802 S and 805S
The Behringer 802S and Behringer 502S are the latest updates to two small format mixers in the company's XENYX range. This kind of mini mixer has become ridiculously popular over recent years thanks to the boom in podcasting and YouTube gaming/streaming, but is equally as useful in the studio if you have a smaller singer-songwriter setup.
The 502S and 802S are geared up for all of these disciplines, acting as both USB interfaces and mixers with five and eight input channels respectively. There's a built-in EQ for simple tone shaping, and both units employ Behringer's 'ultra-low noise' XENYX preamps.
Behringer says that the mixers cater for performers, presenters, and podcasters. There's no official word on the price yet, but they look like being as low as $69 for the 502S and $89 for the 802S. A steal, then.
You can get more information at the Behringer website.
Bastl Bestie
Bastl announced the Bestie at this year's NAMM show, but it's by no means the company's first foray into the mini mixer market – it released the popular Dude mixer in 2017. Bestie is a revamped version of that, and offers flexible stereo connectivity and has been built with portable USB setups in mind.
But there's more. Bestie has a dirty little secret - namely, that channel 3 is pre-routed as a feedback channel that can be used to add a pinch of distortion. When used in this manner, levels before 12 o'clock add distortion and gain, and you can move into self-oscillation territory if you go beyond this. Push it to the max and you'll hear tremolo-like effects.
There are five channels in all, and if you choose not to use the feedback feature Bestie promises to be a clean mixer that offers up to +20dB per channel and "carefully crafted" saturation characteristics.
The real fun comes when you take the levels beyond their '12 o'clock' positions and start boosting, at which point Bestie is said to turn into a beast.
Each channel on Bestie has a mute switch, and there's a dedicated headphone output with a loudness control and a pre/post mute switch for pre-listening to all your channels. Channels 1 and 5 have two 3.5mm jacks which means they can accept dual jack stereo or mono signals.
Bestie has a full metal enclosure, and 'rigid pots', while power can be drawn via USB-C or four AA batteries.
Bestie is €180 and should be shipping right about now. Find out more on the Bastl website.
IK Multimedia AXE I/O One
IK Multimedia's AXE I/O One could be the guitar interface your wallet's been waiting for. Launched at this year's NAMM show, AXE I/O One is the most affordable model to IK's AXE range of tone-shaping guitar audio interfaces.
The AXE range has always had guitar and bass recordists in mind but is not the cheapest – at least by IK's famous budget standards. However, AXE I/O One is a 1-in/3-out interface that looks set to change this. It delivers a lot of what the AXE range is noted for - easy recording, tone shaping and fast workflow - but does it at an almost silly price.
For €129.99 (plus tax), you start with IK's Z-TONE impedance control which gets the tone shaping going right away: from tight and sharp to a warm and mellow. A Class A JFET control enables you to add tube warmth; you can see we're already shaping our tones and we haven't even hit the inevitable software bundle yet.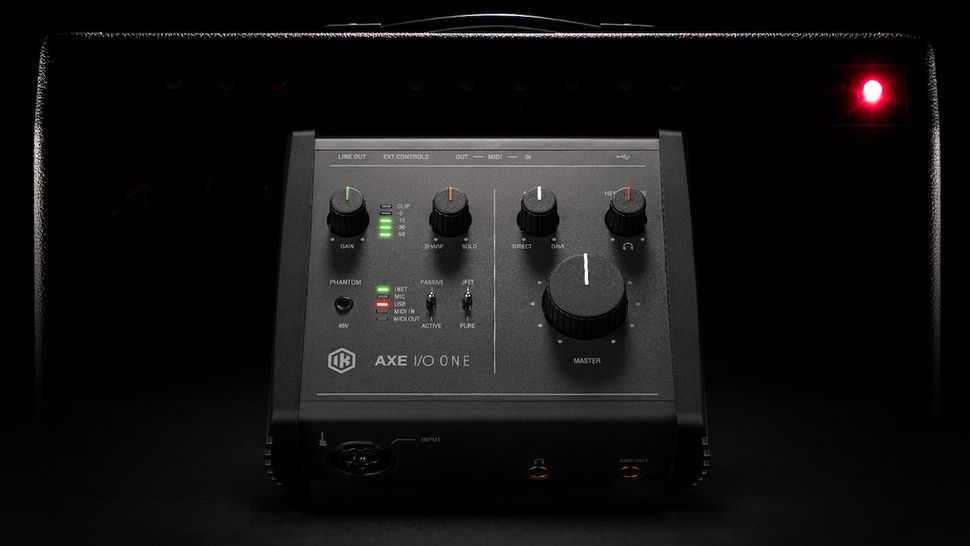 Inputs and outputs include an Amp out option so you can plug into and mix in your existing amps, or just use your existing guitar effects on a dry recorded signal. External controller inputs let you slot in pedals and switches to the setup so you can control your software hands-free.
With the software bundle, you get AmpliTube 5 SE, and while this is a cut down version, you still get access to 80 pieces of virtual gear (pedals, effects, amps, cabs and more).
Meanwhile, TONEX SE lets you experience the new world of AI modelling where any real guitar rig can be modelled and made into a virtual one. Add in 6,000 AmpliTube presets and 10,000 TONEX tone models and there's a lot to explore in the virtual realm.
And that seems to be the message: AXE I/O One is attempting to marry both real and virtual guitar worlds, making it easy to mix and match the two and use whatever you want of each.
AXE I/O ONE is USB-C bus powered, and also features a MIDI I/O, an XLR mic input, Class-A mic preamp and (up to) 192kHz recording. As we mentioned, you get all of this for a shade under €130 which seems very reasonable indeed.
There's more information at the IK Multimedia website.
Audient iD24
If input audio fidelity is important to you, Audient's latest analogue-inspired desktop interface, iD24, could be exactly what you need.
The iD24 is a 10in/14out 24bit/96kHz capable USB 3.0 powered audio interface. It features two of Audient's highly respected 8024 Class-A mic preamps via combi connectors on the back, and one front-mounted JFET-based instrument input.
For outputs, you have two stereo pairs which can be assigned as Main and Alt monitors if you wish. There's also one headphone output but with two sockets (1/4-inch and 1/8-inch) that you can use simultaneously.
The iD24 is solidly built with a hardy metal case. It has an improved signal to noise ratio, better dynamic range (now 122dB ADC and 126dB DAC) and improved headphone output. It's also USB-powered.
iD24 offers an attractive balance of features, with heavy focus on a genuinely audiophile front end – which we love – and well-designed software handling additional features such as cue mixes and signal routing.
The bottom line is that iD24 is a flexible interface delivering good value for money. But the audiophile front end really marks it out and that's why we've given it full marks in our review here.
iD24 costs £299.99 and you can get more information about it at the Audient website.
Yamaha AG08
Of course, many of the mixers and interfaces in this roundup can be used by podcasters and streamers as well as musicians. Some, like this new Yamaha AG08, have many innovations built in for all of these uses.
Building on the blueprint laid-out by the existing second-generation Yamaha AG mixers, AG08 offers eight channels of live streaming action and several new features.
These include the addition of six pads that can be used to trigger your favourite sound effects, and there's also a voice changer with the usual gender-switching, robot and other effects. In fact, there are five DSP effects in total, and you can switch between effect presets on channel 1 with the dedicated buttons.
A priority ducker is here, too - this ensures that channels 1 and 2 are always audible by attenuating other signals relative to their input levels. The Maximizer, meanwhile, is designed to boost the gain on the entire mix.
Elsewhere on the AG08, the signals from multiple computer apps or analogue line inputs can be assigned to three faders (for Channel 3/4, 5/6, or 7/8) so you can control their levels in real time during recording or broadcast sessions.
Connections include two phantom-powerable inputs for condenser mics and 4-pole mini I/O for Android devices. Two independent headphone monitor channels are included, too, and power can be drawn via the supplied adapter or USB.
Available in black or white, the Yamaha AG08 costs $630/$615. Find out more on the Yamaha website.
IK Multimedia iRig Stream Mic Pro
IK Multimedia's iRig devices are many and varied audio interfaces for every occasion. However, iRig Stream Mic Pro features both a microphone and interface; in fact, IK claims that this is pretty much "an entire studio setup in one elegant, compact design".
iRig Stream Mic Pro has a condenser microphone with dual mic capsules and a choice of cardioid, figure 8, omnidirectional and stereo pickup patterns. Between them, these are designed to cover everything from recording podcasts and interviews to instruments and musical ensembles. There's adjustable gain and a selectable high-pass filter.
The audio interface bit of the iRig Stream Mic Pro offers a 3.5mm stereo input for plugging in synths, mixers or anything else, while the monitoring mix control enables you to blend the direct and recorded signal going to the headphone output.
iRig Stream Mic Pro operates at 24-bit/96kHz, and all of its features are controlled by a single knob. Holding this down temporarily mutes the microphone, and there are LED indicators for visual level monitoring.
There are two modes of operation in iRig Stream Mic Pro: stereo and multichannel. By default, iRig Stream operates in stereo mode, in which all inputs (plus loopback) are mixed to - you guessed it - stereo. But in multichannel mode the two capsules are routed to channels 3 and 4, giving you four channels of audio to send to your DAW.
iRig Stream Mic Pro ships with both mini-DIN to iOS Lightning and mini-DIN to USB-C cables, so can be easily connected to iOS, Android, PC and Mac hardware. If you use the optional DC power supply, you can also charge your Lightning-connected device while you're recording.
Supplied software includes iRig Recorder 3 LE (iPhone/iPad/Android), an audio and video recording app, and also MixBox CS (iPad) and MixBox SE (Mac/PC), an FX suite that includes dynamics, EQ, reverb processors. You get a 5/8-inch to 1/4-inch thread adapter in the box, too.
iRig Stream Mic Pro is available now priced at $170/€170. Find out more on the IK Multimedia website.
Tascam Portacapture X6
We've had pretty much every combination of mixer and interface in this round-up so far, so what about a recorder, too? Yes, Tascam's Portacapture X6 is both a compact and versatile multitrack recorder and an audio interface in one unit.
Portacapture X6 offers multitrack recording of up to four individual tracks and a stereo mix (six tracks in total), sampling rates up to 96kHz and a 2.4-inch high-contrast colour touchscreen. An app-like interface is said to make operation intuitive, and if you want to take actual app control, you can use the optional AK-BT1 Bluetooth adapter and drive the X6 from your phone.
A total of six recording modes is included, reflecting the X6's versatility. Just select the appropriate app for making multitrack, voice, podcast, music, field and ASMR recordings.
The Portacapture X6 includes two built-in microphones that can be used in both AB and XY configurations, while two XLR inputs can accept mic and line-level signals up to +24dBu. There's switchable 24/48V phantom power, along with an aux input, line output and camera I/O connectivity.
On the DSP side, you get a low-cut filter and noise gate for reducing background noise and taming unwanted frequencies. Dynamics processors include a limiter and a compressor, and there's also a four-band EQ that offers presets for various different scenarios.
If you want to prevent noise problems rather than fix them later, you might also consider the new WS-86 windscreen. This is compatible with not only the Portacapture X6, but also the X8, the DR-40X and other Tascam portable recorders.
The Portacapture X6 can also be employed as a plug and play 6-in/2-out USB audio interface/mixer, giving you the option to use the built-in mics for live streaming or to record into your DAW.
Portacapture X6 retails for around £350. Find out more on the Tascam website.
Boss Gigcaster 8 and 5
Boss' Gigcaster 8 and 5 are the newest kids on our mixing block - audio mixers for anyone who wants to stream to the likes of YouTube, Facebook or Twitch, or to prepare content offline for uploading later.
What's more, thanks to their audio interfacing capabilities, they can also be used as recording front-ends for your DAW.
In fact, Boss says they're "all-in-one command centres". Each model offers multiple input channels for plugging in XLR mics and instruments, along with Bluetooth connectivity so you can mix in audio from a mobile or other device.
Given that these are Boss products, you'd expect the Gigcasters to have some guitarist/bassist-specific features, and indeed they do. Amp and effect emulations from the company's GT-1000 guitar effects processor, to be precise.
There are also vocal effects - compression, pitch correction, delay, reverb and the like - that are derived from Boss's VE series, and you can dial in harmonies that follow a particular key.
Each Gigacaster comes with a colour touch display and plenty of hands-on controls. Audio sources can be mixed with faders and mute buttons, signal levels can be viewed on screen, and we're promised easy access to routing options. The assignable pads, meanwhile, can be used for triggering sounds and tweaking the effects.
The Gigcaster 8 is the more capable of the two, offering eight channels, a direct guitar/bass input, four XLR/TRS combo inputs, an onboard stereo mic and eight sound/effect pads. It also functions as a 20x14 USB audio interface and offers support for onboard multitrack recording to a microSD card.
The more compact Gigcaster 5 drops the channel count to five and gives you a direct guitar/bass input, two XLR inputs, stereo line input, eight virtual sound/effect pads and 16x12 USB audio interfacing.
When hooked up to a PC or Mac you can also use a dedicated app to set up the sound pads, back up your projects, convert audio files and more.
Gigcaster 5 and Gigcaster 8 should be available now priced at $479 and $699 respectively. Find out more on the Boss website.
RØDE RØDECaster Pro II
We'll finish with a mixer/interface that has also been designed for the hugely popular podcast market but could even be used in the music studio.
The original RØDECaster Pro has become one of the most successful podcast consoles thanks to its flexible routing and features, allowing you to take and mix multiple sources, add effects and broadcast your casts with ease.
The follow up, RØDECaster Pro II, is aimed at the same audience of podcasters, streamers, gamers, musicians and all other types of content creators. It has four Neutrik combo inputs, each of which is equipped with one of RØDE's Revolution preamps. These deliver an input noise rating -131.5dBV and 76dB of gain, so high-quality sound should be a given, no matter what you plug into them.
The preamps are backed up by Aphex audio processing, which gives you customisable DSP and plenty of tone-crafting effects.
A full-colour touchscreen and rotary encoder help with workflow and there's plenty of flexibility built into the unit for all sorts of streaming and mixing applications.
Any of the nine channels can be assigned to six physical faders and three virtual faders, and you can use the eight Smart Pads to trigger sound and effects. These pads can also be configured to send MIDI commands and activate automated mixer actions such as fade-ins and fade-outs.
There's plenty of connectivity too, including four analogue inputs, four headphone outputs and 1/4-inch balanced line outputs. Dual USB-C ports mean that you can connect up to two computers or mobile devices simultaneously, while Bluetooth audio support gives you wireless connectivity.
RØDECaster Pro II costs around £649 and there's more info on the RØDE website.
---
Looking for more great new gear? Get all our roundup, news, features, tutorials, tips and more at our Gear Expo hub page.