The 14 best metal drummers in the world right now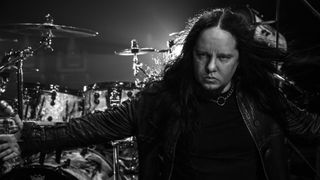 10. Joey Jordison (Sinsaenum)
The Rhythm Best in drums 2018 polls received an astonishing 100,000 votes, and we're now ready to roll out the winners. The nominees were what we considered to be the drummers and gear that have excelled in 2018. Here, we present the best metal drummers of 2018.
Taking up positions 14 to 11 are:
14. Mat Nicholls (Bring Me The Horizon)
13. Daray (Dimmu Borgir)
12. Dave McClain (Machine Head)
11. Adrian Erlandsson (At The Gates)
Kicking off the top 10 we have Joey Jordison of Sinsaenum...
2018 highlight: Simply being able to include Joey in this list feels good considering the rollercoaster ride the drummer has endured in recent years since leaving Slipknot and falling ill. Those dark days are now behind him thanks to two epic new bands, Vimic and Sinsaenum; but it's the latter that really made its mark this year. New album Repulsion For Humanity features classic Jordison kit work. Not only are the songs deliciously heavy, but Joey is clearly back to full strength behind the kit. Welcome back!
The MusicRadar Best in drums awards are brought to you in association with Allianz Musical Insurance - the UK's Number 1 Specialist Instrument Insurer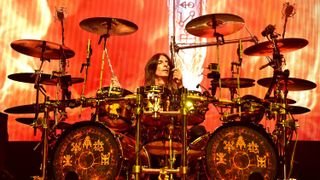 9. Scott Travis (Judas Priest)
2018 highlight: He might be 29 years into driving one of the UK's best metal bands, but Scott Travis shows no signs of slowing down. 2018's Firepower was the band's 18th studio album and it scored them their highest US chart position to date. As always, Travis commanded his giant DW rig in the studio, powering through some fantastic metal cuts for the album. Such was the reception to Firepower that the band received multiple accolades this year, including Best British Band at the Metal Hammer Golden Gods awards.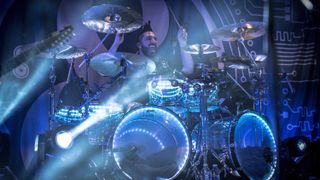 8. Valentino Arteaga (Of Mice & Men)
2018 highlight: This year Of Mice & Men released their first album without long-time vocalist Austin Carlile. A frontman's departure would derail most bands, but Valentino and Co. forged ahead and wrote an album that proved they had lost none of their fire. The drumming on Defy is groove-heavy and finely-crafted, more than earning Valentino his place in this poll.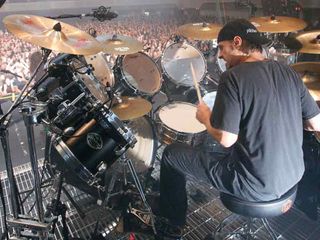 7. Dave Lombardo (Suicidal Tendencies)
2018 highlight: Just because he's not doing the farewell rounds with Slayer doesn't mean that Lombardo isn't still killing it behind the kit. He joined punk metallers Suicidal Tendencies in 2016 and hasn't looked back. The band's newest album Still Cyco Punk After All These Years see Lombardo revisiting his punk roots on high-octane tracks like F.U.B.A.R. and Nothin' To Lose.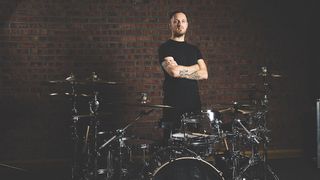 6. Dan Searle (Architects)
2018 highlight: 2018 is Dan Searle's year. Following the tragic loss of his brother and Architects mastermind Tom in 2016, Dan made the brave decision to take the reins of a new Architects album. Holy Hell was the result of two years of hard graft and tumultuous emotions for Dan, but it paid off. The music is hard hitting and, true to his usual form, the drumming is crushing.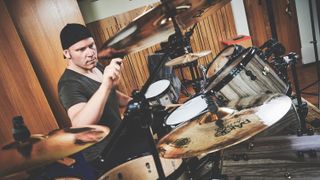 5. Jason Bowld (Bullet For My Valentine)
2018 highlight: Jason had been touring with Welsh arena metallers Bullet For My Valentine for a while, but was ushered in as an official member at the start of 2017. The band quickly got to work on a new album, Gravity, which saw them venture into unchartered musical territory. Jason's rhythmic contribution to the new Bullet album was a breath of fresh air and the band has never sounded tighter or more assured.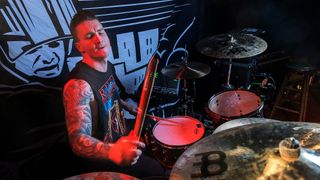 4. Craig Reynolds (Stray From The Path)
2018 highlight: Aside from his hilarious Twitter banter, Craig Reynolds is an absolute beast behind the drum kit. Now a full-time member of Stray From The Path, Craig laid down some of his finest work on the band's eighth album Only Death Is Real and this year brought those tracks to mosh pits around the world. In addition, Craig also aced his first ever drum clinic in 2018 and we're hoping for more in 2019!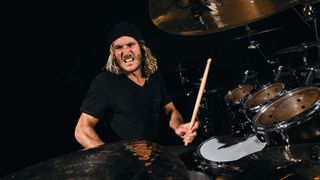 3. Ben Gordon (Parkway Drive)
2018 highlight: Aussie metalcore torchbearers Parkway Drive have been steadily climbing the ranks ever since their incendiary 2005 debut Killing With A Smile. New album Reverence takes the band a few rungs higher up the ladder. Equal parts heavy metal and grooving melodic rock, drummer Ben Gordon navigates the band's music with style and power. If you've caught the band live recently you'll know that Gordon is firing on all cylinders on stage, too.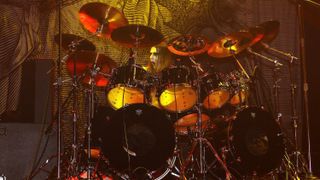 2. Zbigniew "Inferno" Promiński (Behemoth)
2018 highlight: It doesn't take a genius to realise that Inferno sits at the top table when it comes to brutal, technical metal drumming. His playing on 2018 album I Loved You At Your Darkest is a lesson in ferocious, meticulously placed drum parts. His cymbal swells and tom runs on opening track Solve set the mood for what is a stunning album of old-school death metal drumming, mixed with a powerful groove and a gunshot snare sound.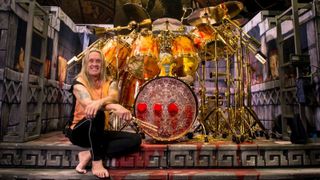 Winner: Nicko McBrain (Iron Maiden)
2018 highlight: Iron Maiden have proven themselves unstoppable in 2018, playing monumental shows across the planet to rabid fans as part of their career-spanning Legacy Of The Beast tour. Nicko returned to Sonor Drums in 2016, and his kit has never sounded better. Our personal Nicko McBrain highlight was the launch of Nicko's Drum One drum shop in Manchester, England, at the start of the year. Not only is it great to see the legendary drummer immersing himself in the drum community but, despite a busy tour schedule, the great man has even found the time to make personal appearances at the store. Bravo!