Just when you thought the savings couldn't get any more outlandish for Cyber Weekend, Sweetwater has only gone and launched their Black Friday sale in full, offering savings of up to 75% on select music gear. From guitar amps to studio monitors there's a massive selection of gear on offer at the moment, with some of the biggest discounts we've seen this year.
We've already had a look through the sale to see what's on offer and two guitar amp deals immediately caught our eye. You can get yourself up to 25% off select Mesa/Boogie amps, with a saving of $630 on a Mark Five 90-watt tube head. If you prefer your amps with the British sound then don't worry, there's a selection of four Marshall tube amp heads all with a massive $1,000 reduction. There are also hefty discounts on Marshall cabs and some of their excellent CODE modelling amps.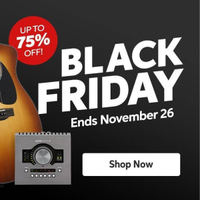 Sweetwater's Black Friday sale: Up to 75% off
Black Friday is officially here, and Sweetwater is currently offering some incredible deals on guitars, studio gear, electronic drums, and more. You'll find eye-catching deals on Universal Audio, Lewitt, Roland, Elektron, and more, until November 26 with reductions of over 70%.
Don't worry if you're not a guitarist, however, there are still plenty of great deals for the non-six stringers out there. If you record at home or you're lucky enough to have your own studio, there's a hefty discount on some highly rated condensers with up to $200 off Lewitt mics. We reviewed both the Lewitt 540 S and the Lewitt 640 TS, awarding each four and a half stars out of five. Both have gotten a huge $200 in the Sweetwater sale, making them even better value for money.
There's also a whopping discount of up to $1,620 on Prism Sound audio interfaces and converters if you're looking for professional-grade recording quality for less. If you want to get your monitoring in order, there are some tasty discounts of up to $100 off JBL powered studio monitors and a 10-inch subwoofer.
You can fetch yourself up to $100 off select Korg synthesizers and digital pianos, a whopping $300 off Roland's brilliant SPD-SX sample pad, and $200 off a Roland RP30 upright piano with a piano stool included. We're just scratching the surface here with the deals, as there are many more over on the Sweetwater site.
If you want to cut to the chase and filter out the very best deals, go and have a look at our Sweetwater Black Friday deals page, where our expert authors have handpicked the very best deals to save you time and money.