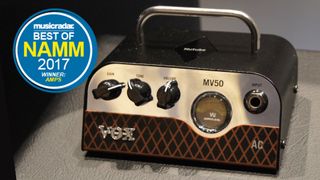 Winner: Vox MV50
NAMM 2017: As the dust settled on our adventures in Anaheim, we picked up on several trends in the guitar amp world: most notably, moves towards smaller heads and a focus on pedalboard-friendly combos.
That said, traditional amps are still alive and well, as you'll see in the pages ahead. But first, let's kick off with our best in show winner: Vox's MV50 heads.
With Vox celebrating its 60th anniversary this year, the Brit amp legend could be forgiven for resting on its laurels, but instead, it took the opportunity to showcase the first commercially available use of its Nutube technology in three MV50 heads.
Divided into Clean, AC and Rock options, the MV50 heads may be tiny, but thanks to a Class D power amp, they deliver a 50W output that's capable of gig volumes, and indeed, cutting through a crowded NAMM show floor.
What's all the more remarkable is that each amp carries a price tag of just $199 - quite an achievement given the amount of R&D that's gone into the Nutube, which operates at a lower voltage than regular valves, providing power saving and performance enhancements. We can't wait to see what's next for the technology.
More info: Vox launches 3 'revolutionary' Nutube MV50 guitar amps
Don't Miss
The best new guitars of NAMM 2017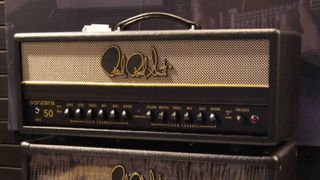 PRS Sonzera
Besides John Mayer's uber-expensive J-MOD 100, PRS also launched an all-new twin-channel amp series, the Sonzera.
Consisting of a 50W combo, 50W head and 20W combo, the amps offer independent controls and three-spring reverb, and promise supreme versatility. We're very keen to check these out.
More info: PRS launches Sonzera guitar amp line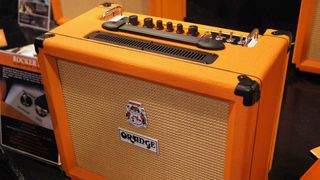 Orange Rocker 15/32
These pedalboard-orientated combos are all-valve with a single-knob clean channel and three-band EQ-enabled dirty channel.
Power switching is onboard, while the 32 features a pair of 10" speakers with stereo effects loop, for a true stereo rig from a relatively portable combo.
More info: Orange launches lightweight, all-valve Rocker 15 & 32 guitar amps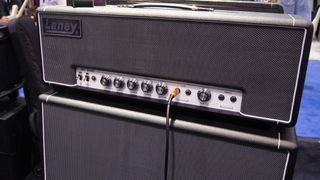 Laney LA100BL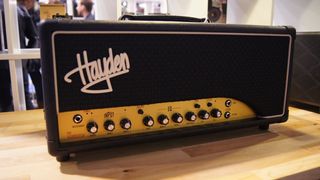 Hayden Vanquish
The UK manufacturer is making a real push for dominance in 2017, launching a wave of new heads and combos, including the 30W EL84-based Vanquish.
Notable features include a 'cascade' button to increase front-end gain to allow earlier or later break-up, while the EQ stack can be switched from a UK to American voicing.
More info: Hayden announces Vanquish, Vantage, DB12 and MF amp heads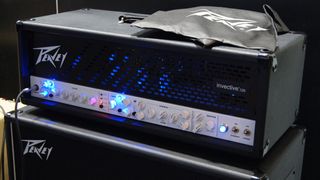 Peavey invective.120
Three years of development with Misha Mansoor have resulted in this monstrous 120W head, which many are already hailing as the spiritual successor to the 6505.
As well as three channels, the amp boasts an MSDI-XLR direct out, MIDI control, noise gate, plus twin remote-switchable effects loops and 9V power outputs for pedals.
It's an innovative, well-considered package, but the invective.120 is also pricey, at $2,499.
More info: Misha Mansoor and Peavey's invective.120 amp brings the heavy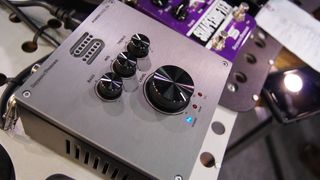 Seymour Duncan PowerStage 170
The pickup manufacturer launched two "revolutionary" power amps at the show, and the pedalboard-based PowerStage 170 was our pick of the pair.
A three-band EQ is married to a master volume knob big enough to sweep with your foot, and SD is promising a "beautiful" clean tone without any pedals engaged - certainly, we were impressed by the natural sound from their demos on the show floor.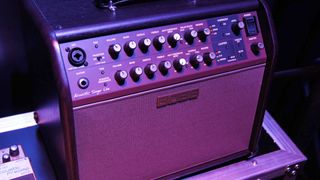 Boss Acoustic Singer Live
It was a fairly quiet year for Boss, but don't let its new acoustic amps go under your radar: based on the technology behind the excellent VE-8 Acoustic Singer multi-effects, the Acoustic Singer Live offers a 60W bi-amp design with a host of extra features.
The amp's guitar channel features Acoustic Resonance tech to improve the sound of piezo pickups, and chorus and delay effects are onboard, as is a harmony function for the mic channel, which utilises real-time chord analysis of the guitar input.
Add in a looper and anti-feedback controls, and this looks to be a serious companion for gigging troubadours.
More info: Boss unveils 40th anniversary DS-1, acoustic amps and compact expression pedal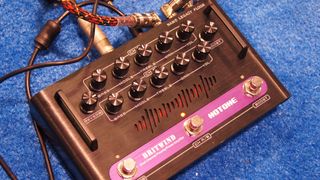 Hotone BritWind
Okay, the name is a little, erm, flatulent, but the features aboard this floor-pedal amp are no joke: two channels, plus a footswitchable reverb and boost.
Hotone has been very quiet on the details here, but the name is a combination of its Vox-based British Invasion and Plexi-inspired Purple Wind, so we're expecting serious versatility.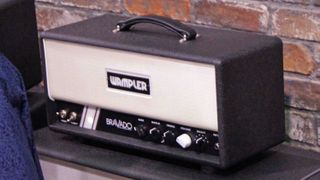 Wampler Bravado
Brian Wampler was showcasing the Bravado for the first time at NAMM, which is touted as "the ultimate high-headroom clean pedal platform".
With a 40W 6L6-enabled output, the Bravado is designed to complement any pedal type, and features a wide-range EQ plus a Friedman-designed buffered effects loop, as well as fat and bright switches.
Don't Miss
The best new guitars of NAMM 2017