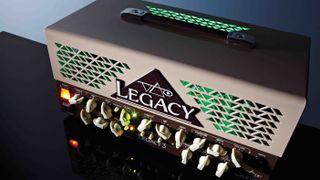 Introduction
It seems these days that the boundaries of the electric guitar are expanding almost daily, yet many guitarists have invested the time and dedication needed to excel at more than one style. In today's competitive world, guitarists want to be able to make their stamp across a wider range of genres, but still have the same need for an individualised platform that allows them to express themselves to the fullest.
Perhaps you play in a couple of different originals bands; take on deps or the occasional recording session on a relatively ad-hoc basis; or even teach in a number of styles. Perhaps you'll need a great spanky clean for your pop/soul function bands, a raunchy Marshall attack for your vibey originals project, and you enjoy shredding some prog or eight-string industrial metal in your spare time!
Whatever your personal tastes may be, it's now possible to come across convincingly in a range of styles without the need for a spaceship-sized pedalboard or a rack the size of a fridge. Yes, digital modelling offers a more than viable solution - and an awful lot can be achieved with some of the pedals on offer today. Some of us are just 'amp guys', though, and these days, we are spoiled for choice!
Read on for some serious temptation...
Don Stick is an online session guitarist and writes for music agency Bands for Hire.
Don't have quite enough cash for the options ahead? Take a look at the best guitar amps under £1,000/$1,300.
Feeling flush? The best high-end guitar amps over £1,000/$1,500 might be more your scene.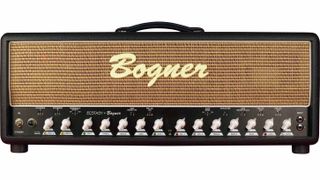 Bogner Ecstasy 101B
After more than two decades, this is probably still the world's greatest all-round channel-switching amplifier.
It delivers a still-underrated clean channel that could cut crystal, in conjunction with a range of addictively idealised British tones from the legendary blue channel. Its red channel will then carry you seamlessly from '80s hair metal through modern progressive metal and on to one of the greatest singing lead sounds ever devised.
With partially shared controls and only a few channel-assignable switches/boosts, the scope and musicality this amp manages to summon is truly remarkable. Even more impressive is its comfortable, buttery playing feel and its ability to slot satisfyingly into almost any conceivable style.
Thanks to its 50W and triode settings it can provide a performance sweet enough for almost any playing situation. Assignable Plexi mode is simply the icing on the cake.
Pros:
Cons:
Relatively darker and chewier feel isn't for everyone.
Also consider:
Bogner Ecstasy 20th Anniversary for a firmer, squarer feel and a boost-able Plexi mode. At a price...
Elmwood Modena M90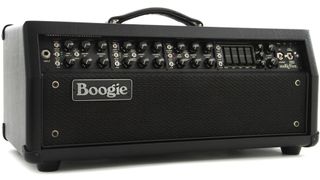 Mesa/Boogie Mark V
The sheer scope of this amp is almost limitless. In classic Boogie Mark Series style, the channels each have their own pre-gain EQ controls, allowing the user to tailor the amp's gain structure, dynamic response and attack envelope almost infinitely. The five-band graphic EQ or its preset equivalent can then be assigned on a channel-by-channel basis.
Each of the amp's nine modes requires a clean-sheet approach; it really does behave like nine amps in one box. All of this before flicking any of the voicing or Multi-Watt switches, channel-assigning the tube rectification, or experimenting with the near-legendary Lonestar-spec reverb.
In short, this is an amp for people who know amps. For more flexibility, you would need a modelling amp or at least two or three of the other channel-switchers on this list. Behind the intimidating (yet intuitive) control layout, though, is one of the most fundamentally musical, fluid and addictive guitar amps money can buy.
Cleans are bouncy, shimmery and they glisten with layer upon layer of three-dimensional musicality. Break-up tones range from a criminally addictive SRV spank to a gut-wrenchingly raunchy Bassman crunch.
The entire history of Mark Series tones lives in Mark I, IIC+ and IV modes, with almost every drop of the originals' molten midrange, rubber-mallet low-end chunk, and blowtorch highs available to the experienced user.
Breaking with Mark Series tradition, Crunch mode finds itself squarely in 'modded Marshall' territory with a perfectly judged tonality that can even give Bogner's Blue channel a run for its money. Every feature on this amp is simply a joy to use and Mesa's build quality is still up there with the best.
Pros:
Tone, feel, build, incredible functionality.
Cons:
About as far from idiot-proof as an amp can be.
Also consider:
The Mesa/Boogie JP-2C gets even closer to those hallowed Mark IIC+ tones while leaving much of the flexibility intact.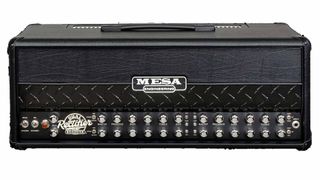 Mesa/Boogie Dual Rectifier Roadster
The 'other' Mesa is, of course, the Rectifier, and the range has been expanded through the first three-channel amps of the early 2000s, to the all-encompassing Road King I, and then finally into the revised three-channel 'Rectifier Reborn' and Roadster/Road King II amps.
This last group of amps features the same incredible clean channel design found in the Lonestar and Mark V, coupled with Brit mode (informed by the successful Stiletto amps), and subsequently moves onto the more traditional Recto noises on channels three and four.
The Roadster is arguably the sweetest of the bunch - omitting only the channel-assignable output tube 'tracking' of the Road King II, yielding a slightly purer signal path.
Its dark-chocolate voicing on channels three and four brings it into line with some of the infamous earlier Rectos of the early-to-mid-90s; the subtly classy midrange voice is perfectly balanced, with all the grit and brashness we expect from a Recto.
Modern mode is simply the biggest, boldest, most aggressive voice in metal - a long way from the tightest, but still untouchable in terms of sheer physical force. Vintage mode has a lot in common with an SLO circuit (although darker) and lends itself very well to 80s hard rock and 90s grunge, as well as various sludgier styles!
The exquisite Lonestar-spec clean channel architecture appears in both channels one and two, allowing the user to dedicate one channel to true cleans and one to another mode like the spectacular Tweed, or the incredible Brit mode (which, in this reviewer's opinion, gives Bogner's Plexi mode something to think very hard about).
This level of flexibility, coupled with the channel-assignable Multi-Watt operation, tube rectification and Mesa's excellent series effects loop brings this amp into line with some very serious competition.
Pros:
Cons:
If you like Rectos, none.
Also consider: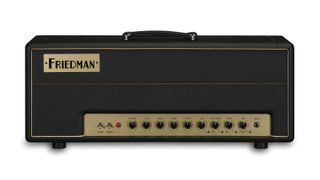 Friedman Brown Eye BE100
In a nutshell, this is the Brit-style amp many players actually want. Imagine the feel and girth of a cranked Plexi or JCM, with the brash high midrange tamed just enough.
Now, imagine this sound is available with any amount of controllable gain at any volume, right down to a whisper. Imagine a low-end response perfectly balanced between buttery bounce and tight precision - a British voicing that can go from AC/DC to Metallica and beyond with a twist of your volume knob or the flick of an inappropriately named switch.
Now imagine this amp has an industry-standard effects loop, a useful clean channel, and that it's constructed the way amps used to be in the '60s and '70s. The amp you're picturing is one of the biggest success stories of the last decade, and we should all own one.
Pros:
A more refined British-style head.
Cons:
A more refined British-style head.
Also consider:
Friedman Smallbox offers practically all of the same attributes along with an authentic low gain Plexi channel - at the expense of a dedicated clean.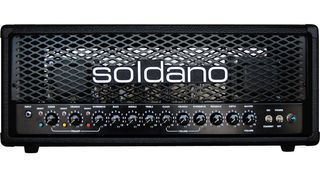 Soldano Decatone
It seems, frankly, criminal to leave the flagship SLO-100 out of any comparison of this nature. Unfortunately, my brief would not allow me to include a two-channel amp with almost entirely shared controls, so the Decatone appears instead.
The 19-year-old Decatone remains, it has to be said, one of the most attractive-looking channel-switchers on the market. It houses in its neat, tough and deceptively small headshell a nice Bassman-esque clean channel, a vaguely Marshall-y middle channel, and a good version of the flagship SLO's Overdrive channel.
Soldano's perceived build quality and ridiculously over-engineered feel has arguably only ever been matched by Cornford. The company's overall philosophy (despite having its roots in the late '80s) seems to hark back to a bygone era of design and engineering when everyday appliances were built to outlast their owners!
The Decatone has come in for some flak over the years for not sounding as high-definition or as 3D as the SLO, but its overdrive channel is still nothing short of spectacular. Like the SLO, it provides a modern voicing and gain structure - but delivered with the dynamics and uncompromising attack envelope of an older amp. It thrives on volume and rewards the accomplished player.
The Crunch channel is the jewel in the Decatone's crown, delivering a near-perfect 'modded Marshall' voicing. It is uncannily similar to the EVH 5150 III's blue channel, but more musical in its feel, and of course, it was developed 10 years earlier!
The clean channel essentially behaves like a Bassman, delivering pleasantly clear and honest clean tones at one end of its travel, and a big, bold and hairy breakup at the other. The amp's shared EQ controls and channel-specific bright switches are perfectly judged and a joy to use.
Unfortunately, no discussion of a Soldano is complete without a reference to the effects loop. The Decatone features a parallel design with a mix control which in 1997 was way ahead of the SLO. Sadly it is a long way from transparent, and colours the tone to a degree that most players would now find unacceptable. To make matters worse, the Decatone features a master volume design that rolls off highs dramatically as it is reduced. Better to leave the master on or near 10 and control this spectacular amp from the channel volumes alone.
Pros:
Unmatched build quality, incredible tones, stunning looks.
Cons:
With a better effects loop and master volume this amp would really mean business.
Also consider:
SLO-100: what is understood need not be discussed.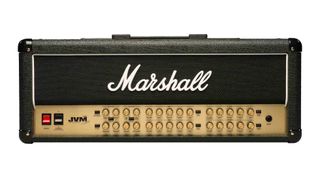 Marshall JVM410H
It's hard to believe Marshall's current flagship has been around for nearly a decade now. For some players, only a Marshall will do - and this Marshall offers all-tube flexibility that borders on the unbelievable.
This amp's raison d'etre is simple, though: through four channels and 12 MIDI-controllable modes, it encapsulates every important Marshall tone of the last 50 years.
In short, the tones range from one of Marshall's best clean channels (and actually one of the better cleans available from an EL34-based amp) at one extreme, to searing modern high gain (think Marshall meets SLO) at the other.
This amp's biggest failing is that its best tones lie at these two extremes. It does supply a good version of the JCM800 voicing on its second channel, and the clean channel's red mode does break up tastefully in a manner reminiscent of a JTM45, but something is missing.
While these tones are difficult to fault in terms of their overall presentation, they do lack some of the musicality and subtlety of the earlier, simpler amps. This is, of course, to be expected in such a complex design; much of the tonal integrity of a JCM800 is due to its simple signal path.
Still, any amp that offers an excellent clean sound, several of Marshall's best high-gain tones and a more than passable version of a JCM800 is still an amp worthy of inclusion on this list. The fact that it offers so many variations of these tones, a gorgeous digital reverb, two good FX loops and makes every option MIDI progammable means that it punches well above its weight (not to mention representing ridiculously good value in the UK market).
Pros:
Excellent interface, programmable footswitch, MIDI, flexibility.
Cons:
Noisy at high gain; lacks some openness on mid-gain modes.
Also consider:
The JVM410HJS Joe Satriani model offers better mid-gain modes, four noise gates and nearly all the same flexibility. It is somewhat more restrained/classic-sounding at high-gain settings, though.
FULL REVIEW: Marshall JVM410H review
BUY: Marshall JVM410H currently available from:
UK: Andertons Music | Thomann | Gear4Music
US: Sweetwater | Full Compass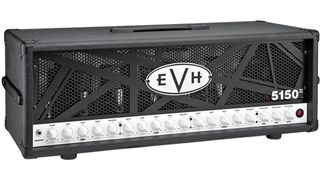 EVH 5150 III 100W
This is really a leftfield choice in this exalted company. It is one of only three signature amps to make the cut; it attracts all kinds of (utterly unfounded) negativity due to being made in Mexico rather than at Fender USA; and despite being one of the cheaper amps on this list, its pricing is widely considered to be a little optimistic. Perhaps its image falters slightly in comparison with its USA-made (and very reasonably priced) Peavey predecessor.
No matter, though, because this amp is uncompromisingly tough, roadworthy, and has a sheer weight to its tone that is almost unmatched elsewhere. It combines these admirable attributes with a great effects loop, seamless three-channel switching, and a wonderfully simple footswitch design.
In short, it delivers everything you need and nothing you don't, at what remains a very reasonable price. But what of the tone?
This amp's signature sound is arguably the ridiculously high-gain red channel, which continues the Peavey 5150's legacy. It has become an industry-standard sound in nearly all branches of recorded metal. It also does a passable impression of a Soldano with the gain and presence set a little lower. Helpfully, it delivers all of this performance with a supremely tight low-end and relatively low noise.
The blue channel essentially sits in the same 'modded Marshall' territory as the Friedman BE100 and Suhr PT-100, but is perhaps less three-dimensional and organic than its high-dollar brethren. Its delivery, though, can't be faulted, with a wonderfully square and weighty footprint and a flawlessly sculpted gain structure that works equally well for chunky rhythms or searing hard rock leads.
Usefully, it also cleans up well, which allows for a vague stab at some classic British textures. Its clean, tight gain structure can occasionally lend it an almost 'plastic' feel at lower gain settings, though.
The clean channel is best described as 'useful'. It provides clarity and precision at its cleaner end, but falls significantly short of the sparkle and complexity required for a truly great Fender clean voicing.
However, as a pedal platform it is spectacular, and it gets incredibly dirty when needed. It can actually approximate the square attack and at least some of the dynamicism of a JCM800 or a Hiwatt at higher gain settings - not to be overlooked.
Pros:
Performance to price ratio is more or less unmatched on the market.
Cons:
Clean and break-up tones are useful rather than great.
Also consider:
Engl Powerball II offers similar strengths and a far better clean channel, if the Engl voicing is for you.
Splawn Quickrod
FULL REVIEW: EVH 5150 III review
BUY: EVH 5150 III currently available from:
UK: Thomann
US: Sweetwater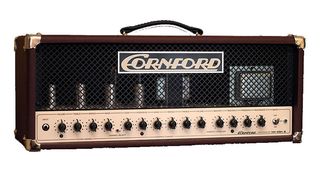 Cornford MK50H II
It seems ridiculous, but until recent years, it was almost impossible to buy an amp with a near-perfect clean channel and one or more near-perfect distortion channels.
Amps either shared settings between channels, meaning that perfecting one would compromise the other (Marshall DSL and Jubilee, Mesa/Boogie Mark II and III), or provided two great channels and one weaker one (Marshall 6100 Anniversary, Mesa/Boogie Mark IV), or failed to appeal to a wide enough demographic due to having a relatively idiosyncratic tone (Bogner Ecstasy).
The Cornford MK50H II essentially takes everything that feels right to most guitarists, and distills it into one exquisitely engineered box with no superfluous features and an attractively simple control layout. Its clean channel is truly excellent, although it does stop just short of being as breathtaking as, say, a Custom Audio Amplifier.
It is essentially a perfectly judged platform for effects and for most players' needs. Its medium-gain distorted sound falls almost exactly halfway between Marshall and Soldano - a richly textured bed of organic midrange sitting atop a firm, almost dry low-end, with ripping expressive highs and a hint of Soldano's razor-like polish.
With the overdrive engaged, this is simultaneously one of the best, most uncompromising and most malleable lead sounds in the world. The icing on the cake is that the simple hand-wired circuit cleans up supernaturally well from any setting, and the built-in second master and second effects loop can be applied to any sound at the drop of a hat.
At a firm and responsive 50 watts it is powerful enough for any stage, yet it remains toneful at practice volumes thanks to its flawlessly transparent master volume controls. This is one of only a handful of near-perfect guitar amps ever made, and it is sadly the only discontinued model on this list.
Pros:
Uncompromising tone, expression, build and simplicity.
Cons:
Can feel a little firm and dry to some; very much a precision tool.
Also consider:
Martin Kidd's Victory range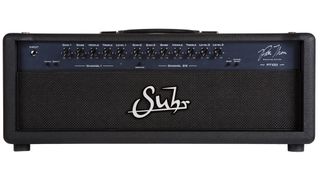 Suhr PT-100
Previously sold under the Custom Audio Amplifiers moniker, Pete Thorn's signature amp is a continuation of the OD-100 legacy, and has recently been revamped in line with its new cosmetics.
CAA has been perennially acclaimed for providing the best clean channel of any channel switcher, and it seems to lose almost nothing in its transfer to an EL34-based design. As characterful, bouncy and dewy fresh as a Boogie's clean - but with a bigger, bolder footprint - it is fair to say the CAA clean channel deserves every accolade and more.
The PT-100 couples this with a remarkably up-front and honest JCM800-type medium-gain channel, which - in conjunction with the built-in boost - develops into a searing medium-high gain sound.
Pete Thorn apparently requested that John Suhr take a close look at his previous touring amp, an EVH 5150 III, and many of that amp's best attributes do appear in the medium-high gain realm of this one.
The wood-knock of the low-mids, the searing yet musical midrange and the flawlessly sculpted gain structure are all present and correct. In this amp, though, greater musical and dynamic information is retained, allowing the character of each guitar to shine through. This brings the PT100 more into line with the Friedman and Cornford offerings in terms of tonal complexity and organic richness.
Bringing the boost in and out, in conjunction with the Whomp and Feedback controls, allows the player to navigate this amp into some fairly forward/aggressive textures suitable for certain metal styles.
Conversely, one can use the same controls to mould its behaviour more into line with the sweet woody response of a classic Marshall Super Lead. This level of flexibility places the PT-100 into direct contention with the Bogner Ecstasy - a comparison that says everything there is to know about how important this amp is.
Pros:
Just about perfectly judged for most players - perhaps it can be considered the American Cornford MK 50H II in that regard.
Cons:
Some may find the distortion grain a little dry compared to, say, a Bogner Ecstasy or Friedman BE100.
Also consider: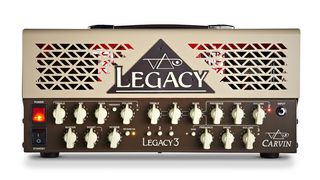 Carvin VL300 Legacy 3
In the US, this is by a significant margin the cheapest amp on this list. Even in the UK/EU, a brand-new one can be imported for around the cost of a Marshall JVM. It is almost laughably small, relatively light, and yet contains three world-class sounds that are good enough for none other than Steve Vai. All of this from one of America's oldest and most ubiquitous musical instrument companies. Why are these amps not everywhere?
Perhaps the gain channels are a little too specialised for some; Vai has stipulated two gain channels that are simultaneously smooth/modern in texture, yet darker in voicing. With the switchable gain boost on Channel 3, they are perfect for his flamboyant instrumental style. But the channels share an extremely powerful and well-voiced EQ section, gain controls that are effective across their entire range - and both clean up spectacularly from the guitar's controls (something that's been part of Vai's trick bag since day one!).
They yield a tight, controlled bottom-end along with a blooming, woody midrange; in short, they offer a slightly darker, smoother and squarer version of the Bogner Ecstasy dirt channels. Surely that is no bad thing?
The clean channel, as with all Carvin amps, defies description. It goes a step beyond any of the other amps on this list, offering a clean texture so buoyant, liquid and responsive that even pinch harmonics ping off the fretboard with ease.
The feel is so unbelievably greasy it's as though a compressor is driving the front of the amp at all times, and yet the clean channel exhibits no excessive compression characteristics at all.
In combination with the gorgeous onboard digital reverb (presettable per channel), with external effects added, or dry, it provides a clean sound as liquid and clear as a Roland JC-120, along with a playing feel so slippery it should come with a bright yellow warning sign!
Pros:
Size, weight, features, MIDI control, low cost. Unreal clean channel.
Cons:
Unusual looks, relatively specialised distortion sounds.
Also consider:
FULL REVIEW: Carvin VL300 Legacy 3 review