Neil Peart's Time Machine drum setup in pictures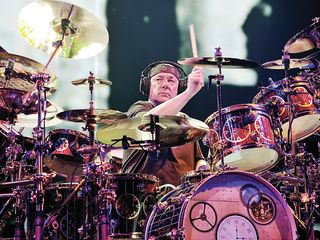 Neil Peart's Time Machine drum setup in pictures
"It's been my life's tangent," says Neil Peart on the subject of the pursuit of excellence. Since he joined Rush back in 1975, Neil has been the poster boy for prog - disciplined, metronomic and powerful.
When you meet him in person it is easy to see where the power comes from - he's an imposing guy, a fact often obscured by the gargantuan drum kit that usually surrounds him.
Watching Rush onstage during their current Time Machine tour, it is clear that something fundamental has changed. The band known for meticulously recreating their studio recordings live on stage are jamming. More than 35 years since Neil joined the world's foremost power trio, Rush are still pushing themselves and breaking new ground.
Rhythm Magazine met up with Neil and his drum tech Lorne Wheaton backstage at London's O2 Arena to talk about his kit, technique, influences and constantly developing as a drummer.
Here we bring you shots of Neil's Time Machine tour kit, along with snippets from that interview, which you can read in full in Rhythm 192. Or you can subscribe to Rhythm Magazine to read interviews with the world's top drummers each month.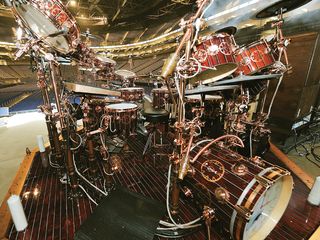 The kit
Drum Workshop Collectors Series in Steampunk finish: 23-inch bass drum (VLX shell series); 8-inch, 10-inch, 12-inch and 13-inch rack toms (X-shell series); 15-inch (x2), 16 and 18-inch floor toms (VLT shell series); 14x6½-inch VLT series snare; 13-inch X-shell series piccolo snare.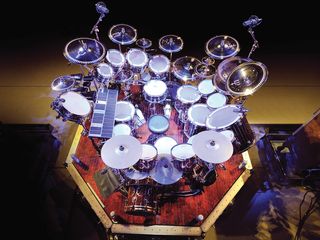 Cymbals
Sabian Paragon Brilliant finish cymbals with a custom Steampunk design applied by the factory: 10-inch splash (x2); 16-inch (x2), 18 & 20-inch crashes; 14-inch hi-hats; 22-inch ride; 14-inch Artisan Brilliant X-hats; 8-inch splash (mounted above the hats); 20-inch china beneath a 20-inch Diamondback china (cymbal with the jingles and rivets); 19-inch china.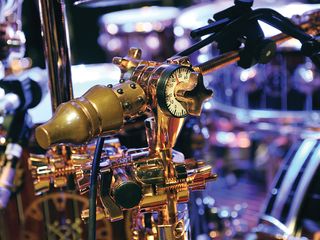 Heads and hardware
Heads: Remo Clear batter heads on toms, Remo Ambassador X snare batter heads, Powerstroke 3 on bass drum.
Hardware: Copper-plated DW 9300 series hardware, 5000 series DW hi-hat pedal, 9000 series DW double bass drum pedal; Pro-Mark Neil Peart Signature 747 drumsticks; 9ft x 9ft Octagonal rotating drum riser in Steampunk finish; Squirrel cage fans (x2, to cool his hands); Kelly SHU internal kick drum microphone mount.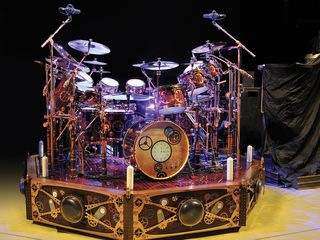 Electronics
Roland TD-20X V-drum triggers (mounted in DW Collector series shells), Roland V cymbals and hi-hats, Dauz trigger pad, Fat Kat trigger pedals, Mallet Kat Express (Midi Marimba), Roland V-drum TD-20KX percussion modules (x2), Roland XV 5080 samplers (x2), Glyph hard drives, Roland Midi Displays, Behringer line mixer, Monster power conditioner.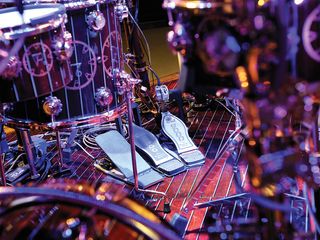 The pursuit of sound
For Neil the process of working with drum and cymbal makers to find perfect sounds is one of collaboration and inspiration: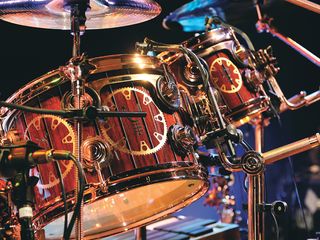 Keeping time
So what drives your timekeeping?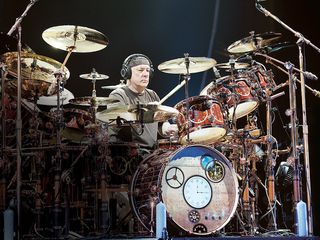 Learning to improvise
Your live solos continue to evolve. How do you avoid getting stuck in a rut?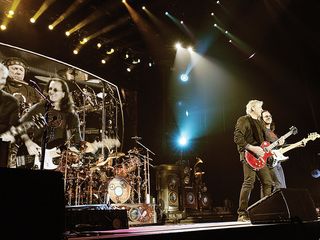 The benefits of touring
What keeps you on the road after so long?