GEAR EXPO 2023: Beat makers, groove machines, creative sampling workstations, call them what you will, these hardware boxes are perfect to satisfy your urges for instant beat and tune creation. And here we have the best boxes for doing just that, and all coming out in the year ahead.
You might have think we've lazily dumped samplers, grooveboxes and drum machines into one category for this roundup of releases for 2023. And while that's probably true, there is a lot of crossover between all three categories of music making machines.
There are grooveboxes that sample, drum machines that groove, and samplers that make beats. See what we mean? Whatever your chosen weapon of beat or groove maker is, however, we have you covered with these choice selections of brand new and future releases across all three categories.
Polyend Tracker Mini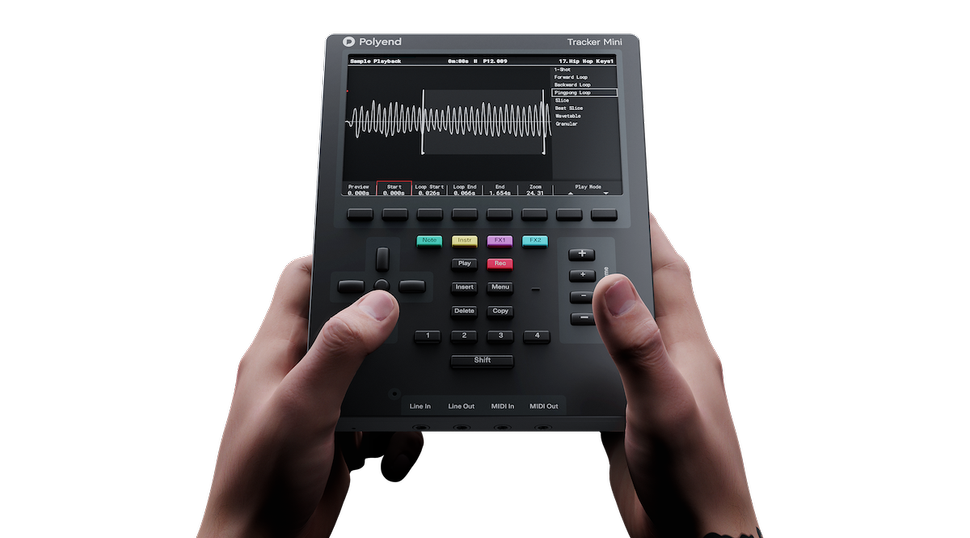 We'll let you into a bit of a secret: Polyend Tracker Mini is *whisper* almost certainly our product of this year's NAMM show. That's probably because it looks cool, almost certainly as it's a smaller and lighter version of Polyend's rather great Tracker, and most definitely because it resembles a classic hand-held video game. But that's how we rock, and Tracker Mini certainly looks like it will rock too.
Like we say, Tracker Mini is a smaller and lighter version of the original Polyend Tracker, a device that enables you to make complete tunes using onboard sampling and a granular synthesis engine. That machine utilises some of the more unusual ideas developed on software trackers from the early days of computer music making, and this gives it both an esoteric appeal and sometimes baffling workflow.
However, it has sold well and scored some incredible reviews – we called it "a sleek, well-designed hardware sampler that's both fun and inspiring".
Tracker Mini is aimed even more at the mobile music maker, and as Polyend has refined its ideas about hardware tracking, it has also managed to cram more into less space with Tracker Mini.
So, while it's smaller and lighter, it boasts bigger specs, like all-stereo sample playback, a built-in mic, USB audio and an onboard battery (the original used a battery pack).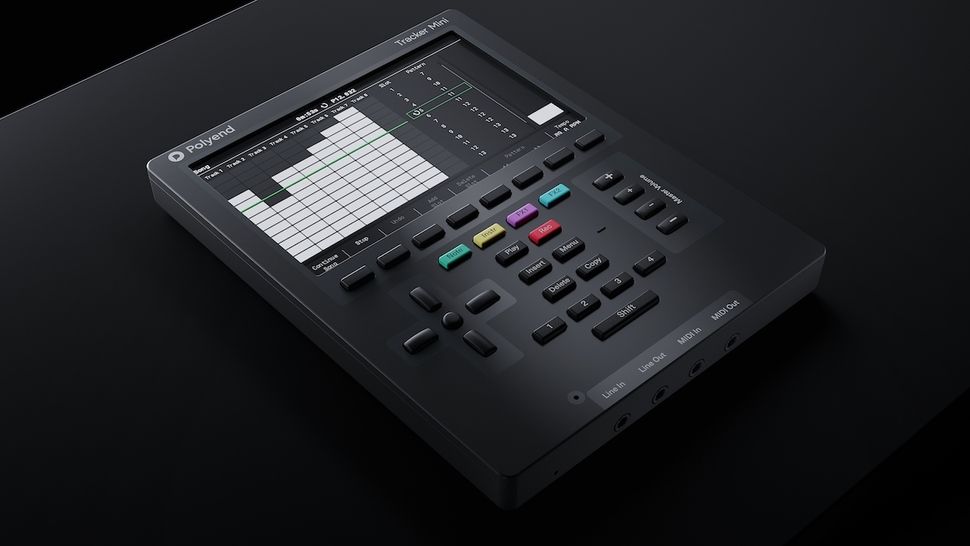 One or two of the original, more esoteric features have also been given an overhaul with Mini. Polyend has improved project workflow for the device, so much so that Piotr Raczynski, CEO of Polyend claims: "Mini is easy to use and suitable for both experienced and novice music producers", and that, "its workflow is easy to pick up, allowing you to get creative in no time".
Tracker Mini certainly looks the part, and even though it is designed to be a handheld device - to the point where it resembles a Game Boy-style video game - that large screen should make it great fun to work with. And as it's more mobile and powerful than the original, we can almost forgive the price hike.
Tracker Mini will cost $/€699 and is available for preorder from the Polyend website.
Donner D1
Also announced at this year's NAMM show was Donner's D1, a simplified drum machine designed for first-time beatmakers.
Donner has also just released its 303-style B1 Analog Bass Sequencer, but whether this new drum machine takes sonic inspiration from classic Roland gear (such as the 808 and 909) remains to be seen. However, there's certainly been no attempt to emulate the look of vintage hardware with the D1 - it's very much a straightforward box that looks like it's here to do the job of beat creation with few flourishes.
D1 is a 12-channel, sample-based beatmaking box. The interface is "simplified yet inspiring," and has been designed to make it easy for newcomers to electronic music-making to create drum patterns. They can do this either by recording in real-time or by using the step sequencer.
That's all the info we have so far - the D1 is not on Donner's website yet, but, like we say, we're expecting the price to appeal to beginners as much as the aesthetic.
Akai MPC Live 2 Beatclub "Timbaland Edition"
According to Akai, its new Timbaland Edition of the MPC Live 2 comes with "the hardest drum sounds ever put inside an MPC".
Beatclub "Timbaland Edition" is a special version of the MPC standalone music production studio. Those beats have been supplied by Timabaland via Beatclub, his 'global marketplace for music creators'.
You get a very decent amount of content, with over 12GB of Beatclub samples and sound packs, including Timbaland's official 'Bounce Coming Up' drum kit. Other sounds are 'inspired' by the likes of Mike Dean, CashMoneyAP, Tainy, Mike Will Made-It, Rance from 1500 or Nothing, and many more. An exclusive customised Beatclub/Timbaland "boot experience" is part of the package, too, so you can feel special every time you fire up your MPC.
Otherwise, this special edition is the same as the standard MPC Live 2. That's no bad thing, though, as in our review we noted that "in terms of its balance of capabilities and convenience, there isn't anything on the market to rival the MPC Live 2 when it comes to realising the dream of wireless, go-anywhere music production".
You're going to have to be quick if you want one of these things, though - only 500 have been made, each of which is individually numbered.
The MPC Live 2 Beatclub "Timbaland Edition" costs $1,399. You can find out more and place an order on the Akai Pro website.
Chompi
We first heard about Chompi at the start of the year but since then, this esoteric sampler seems to be gaining enough momentum to be one of the breakout products of the year.
After we reported on Chompi the first time around it then smashed through its modest Kickstarter target of $30,000 to go raise more than $1million.
So why the excitement?
Chompi is a new "magical" hardware sampler and looper that looks to prioritise personality and playability over a lengthy spec list. It puts the focus on a simple sample-based workflow that's designed to encourage experimentation. Hit the Record button and you can immediately capture a sound via the built-in mic, and this is automatically mapped across the two-octave mechanical keyboard.
Chompi offers seven voices of polyphony and gives you 14 preset slots. You can adjust the sample start/end point, there's an AD envelope, and the playback speed and direction of the sample can be controlled, too. The multi-FX section, meanwhile, is all on one knob, and provides a multimode filter, lo-fi saturation, a granular delay-reverb and more.
USB-C powering means that you can use Chompi anywhere - assuming you have a power bank, that is - while other connectivity includes stereo aux I/O, a headphone socket and MIDI I/O (all on 3.5mm jacks). Your samples are stored on a micro SD card.
The regular price of Chompi will be $599, but the Kickstarter price is $499. There's also a limited-edition pink version that costs $599. If you order now, you should get one by November 2023, but based on the amount raised so far, we're guessing you're going to have to join a pretty long queue.
Kiviak Instruments WoFi
There's still a woeful amount of new information about Kiviak Instuments Wofi, but it's certainly causing a stir out there in internet-land.
The French start-up company first set social media tongues wagging at the start of the year with its teases of WoFi, a new and potentially interesting sampling keyboard.
WoFi will enable you to sample sounds via both a built-in mic and line input, then play them back using a variety of classic sampler emulations and other modes. Sounds can be sculpted using the filter, assignable envelope and LFO, and there's also the mysterious "texturer" - some kind of granular processor, we believe - that promises to "elevate" your sound.
It looks like there's a sequencer, too, accessible via the buttons above the keyboard, while the built-in speaker makes this a totally self-contained little instrument.
Connectivity options are set to include stereo audio, MIDI, USB, CV, Gate and Clock, while the name suggests a degree of wireless support, too. We're told that you'll be able to share patches via the mywo.fi cloud and also the intriguing 'cartridge'.
You can find out more about the WoFi in a lengthy chat that one of its developers had with SequencerTalk (above). We're still waiting for full details, a price and release date to land on the Kiviak Instruments website, though.
Roland SP-404 MkII update
Finally, rather than another new start-up company, we're back on firmer ground with good old Roland. The company's SP-404 MkII sampler has been with us since 2021 (see our original review here) but its latest v3 update keeps it very much in our sites for 2023.
Having already added TR-style step sequencer as part of the version 2 release, the company's version 3 firmware promises improved performance in multiple areas and various new features.
You can now perform with multitrack projects from your DAW, adding another string to the SP-404 MK2's bow. There's also expanded motion recording - it's now available on effects parameters - and pad mute and pad mute automation. This makes it easy to mute/unmute patterns during performances and capture mute actions in sequences.
Improved clock timing and adjustable delay on the MIDI clock output should give you tighter syncing with other gear, while the one-shot playback feature enables you to trigger long, evolving samples and jam with short loops underneath.
Elsewhere, it's now possible to convert a pattern into a sample just by pressing a button - useful for creating loops ready to be assembled into songs - and the DJ mode has been expanded with a variety of enhancements.
There are other workflow improvements, too - you can now quantise after recording and there's a finer tempo setting range - while the new version of the SP-404 MKII app has faster import/export and VST/AU plugin support so that you can use it within your DAW.
The SP-404 MKII version 3 update is free for existing users, while the unit itself costs $560/£440. Find out more on the Roland website.
---
Looking for more great new gear? Get all our round-up, news, features, tutorials, tips and more at our Gear Expo hub page.