When the Black Friday guitar deals start to hit, one of our first destinations is always Thomann, and its Harley Benton brand of guitars and effects. These already low-priced instruments and pedals represent incredible value for money on any given day, but with their pencils sharpened on the prices, Thomann knows how to get our attention.
This year the selection is smaller than in previous years, but Thomann's Cyberweek sale has still kicked up plenty of Harley Benton products with reductions, from retro replicas to contemporary workhorse electrics, affordable acoustics, hybrid guitars and effects.
In some cases, you can save up to 60% off some of Harley Benton's standout ranges, including some of our favourites of the last couple of years. You can bag over £80 off the already outrageously good value Harley Benton Fusion-III HSH Roasted (in Trans Red Cherry). Which is almost enough of a saving to cover a DNA FX GiT multi-effects pedal!
Below, we've rounded up some of our favourite deals. If you were already hovering, we think these discounts will be enough to make them a no-brainer.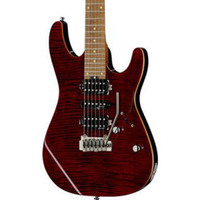 Harley Benton Fusion-III HSH Roasted: £349, £263
We'll get started with the stone-cold bargain that is the Harley Benton Fusion-III HSH Roasted in Trans Flame Cherry, which has somehow managed to lose over £80 (almost 25%) off its regular price of £349. Ask a guitar designer to write down all of the specs required to make an all-rounder electric in 2023 and we think you'll find many of them here. This do-it-all, bound-body doublecut has got a roasted maple neck (and fingerboard), stainless steel frets, a third-party vibrato from Wilkinson (50IIK), and a Graph Tech TUSQ XL nut. The H-S-H pickup configuration (Roswell HAF humbuckers and an S74 single coil) with a five-way will see you right for a whole range of tones and styles, plus those humbuckers can be split via the push/pull tone pot.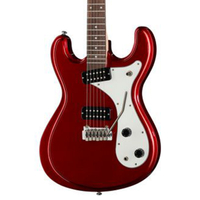 Harley Benton MR-Moder CAR: Was £252, now £174
Next up is one for fans of retro garage-rock guitar tones. Harley Benton's MR range pays homage to the classic Mosrites favoured by The Ramones and Kurt Cobain. We were impressed with the MR-Modern when we reviewed it, and now you can snag one with a sizeable 30% discount, bringing it in at £174. It's got an alder body, Canadian maple neck, 22 stainless steel frets, a Wilkinson VS-50II vibrato, and a pair of Artec AHC-90, soapbar-sized humbuckers. The offer only applies to the Candy Apple Red finish option, but frankly, it's a ridiculous price for the spec.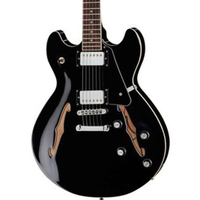 Harley Benton HB-35 BK Vintage: Was £175, now £148
When it comes to versatile guitar tone for jazz, blues and classic rock, a semi-acoustic is hard to beat. Here, Harley Benton's take on the most famous semi of all delivers all of the essential ingredients, and right now you can get it for under £150. The body is, of course, made of maple and there's a mahogany centre block keeping sustain up and feedback down. Sticking to the traditional format, it's fitted with dual humbuckers, 2x volume and 2x tone controls and a Tune-O-Matic-style fixed bridge. The deal price is for the works-for-everyone Black finish, and at this price, there's tons of scope for modding too!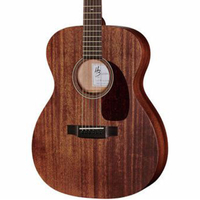 Harley Benton CLA-15M SolidWood: £259, now £225
Looking for an affordable acoustic? Then look no further! This Auditorium-shaped beauty from Harley Benton ticks multiple boxes in one go: the solid Okoume top, back and sides mean that you get a studio-ready sound from the off, but at a price point that means this could easily be your 'round-the-house' or campfire strummer. Elsewhere its got a 643mm scale length, none nut and saddle, antique copper-finished tuners, and it's finished in a classy natural matte.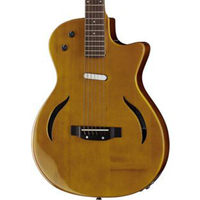 Harley Benton Hybrid Steel NT: Was £349, now £307
Hybrid electric/acoustic guitars are right on trend at the moment, offering magnetic, electric tones alongside genuine acoustic guitar sounds simultaneously. Harley Benton's offering in the market is the Hybrid Steel, and it's, ahem… taylored to that purpose. The slimline, feedback-fighting body is made of solid African mahogany (as is the neck), while the top is solid spruce, and it's got a rosewood fingerboard too. The electronic side is where it gets really interesting, with a magnetic single coil and under-saddle piezo taking care of both sound types. You can blend between the two for electric, acoustic or a mix of both sounds, making this a chameleon of a stage guitar for just over £300.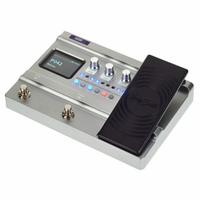 Harley Benton DNAfx GiT: Was £129, now £111
For just over £100, the Harley Benton DNAfx GiT will supply you with 55 amp emulations, 151 effects and 26 speaker cab impulse responses. We'd be happy with that, but HB has also thrown in an onboard 85 second looper, drum machine, and a fully-functioning USB audio interface! It's got smart capabilities with the OTG function, which allows you to hook the pedal up to your phone or tablet for easy audio/video recording and live streaming. It's even got an expression pedal on the side! Don't think too hard, just snap it up before it's gone.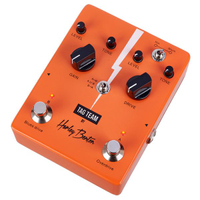 HB effects: Up to 60% off Double series pedals
Last year, Harley Benton launched its 'Double' range of compact effects pedals. These stompers pack two effects into one pedal with independent controls and switching. But, just as with two individual pedals, you can also use both effects at the same time. They're a bargain at their usual price of £69, but for Cyberweek, Thomann has axed straight down the middle, knocking 50% off the Tag Team Blues Drive/Overdrive, Sidecar Graphic EQ/Overdrive and Double Vision Chorus/Tremolo, making all three of these pedals £34 each. Bassists aren't left out either, with the Loud & Louder Bass OD/Booster, and things are even sharper with the Bass Camp - a dual Bass Chorus/Filter pedal with a whopping 60% off. Four go-to bass effects for £34 each?! Slap 'em in the cart!
Shop more great Black Friday sales