The annual wait for Black Friday music deals is especially agonising, isn't it? There's no guarantee the item you're gassing for will be included and the really good deals are snapped up before you get the chance to press the 'Buy Now' button. Well, if you're after a beginner-friendly acoustic guitar there is no need to wait because Andertons has already reduced dozens of Alvarez models by up to £220. You can now pick up an AD30 Artist Dreadnought for £179 or, if you fancy something tiny with an even smaller price tag, how about an AU70WCCE Artist Ukulele for just £119?
Alvarez has never been interested in selling boutique guitars at extortionate price points. Instead, ever since it was founded in 1965, it's been busily crafting fine-quality instruments that are priced as accessibly as possible. The brand believes in investing heavily in R&D to discover what its customers want and how its instruments can best serve them.
For example, for any particular playing style or musical genre, it will source the most appropriate tonewoods, test the best-sounding bracing patterns and develop the finest paints and finishes. It's a brand that has an obsessional relationship with quality, detail and price.
An important part of Alvarez's drive for accessibility is its varied product line. You'll find steel-string acoustics like the Masterworks MD60CESHB Dreadnought; classical guitars, like the AC65 Artist Classical Guitar; ukes, like the MU55C Masterworks Concert Ukulele and baritones such as the ABT60E Artist Baritone.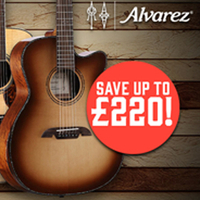 Alvarez guitar sale: Up to £220 off at Andertons
Andertons has discounted dozens of Alvarez guitars and ukes in the lead-up to Black Friday. Ukuleles now start from just £119, steel strung acoustics from £179 and there are classical guitars and baritones up for grabs too. Alvarez is obsessive about build quality, tone and price, which means there's not a bad guitar in its entire range, just great value.
Its huge offering is spread across seven different series. The Regent is Alvarez's entry-level series, Artist is the brand's popular solid top series, Artist Elite is similar to Artist but with upgraded appointments, Cadiz is its Flamenco and Classical series, Masterworks features solid tonewoods throughout, Masterworks Elite is a step-up again and Yairi is its custom shop series, handmade in Japan. There's something for everyone here, whether you're a novice or a seasoned pro.
With so much choice in this Andertons promotion, which Alvarez guitar offers the best bang for your buck? Well, at these prices they are all exceptional value, but we recommend taking a closer look at these three.
The AD60 Artist Dreadnought is a standout guitar for us and a highlight of Alvarez's entire range. In common with all Artist series guitars, it has a solid top, in this case crafted from A+ Sitka spruce. Solid top guitars vibrate more freely than instruments built with laminates, which blesses them with increased sustain, projection and tonal complexity. Finding a solid top guitar for less than the current deal price of £230 is very unusual, most brands reserve this upscale feature for much costlier instruments.
The AD60 also benefits from Alvarez's unique FST2 X bracing pattern, which places the X closer to the sound hole for a livelier, more energetic tone that really sings.
Finally, the Sitka spruce top is paired with mahogany back and sides, which isn't unheard of, but it does stray from the rosewood norm. The addition of mahogany gives this guitar a punchier tone, with more emphasis in the mids, a sound we really like.
Now, here's an unusual guitar. If you adore the sound of a 12-string acoustic (think Johnny Marr, David Bowie, The Byrds, Led Zep…) but shudder at the thought of keeping it in tune, then the Artist AG60-8CESHB Grand Auditorium 8-string will appeal. It's currently £109 off at Andertons. It's an Artist model, so you get an A-Grade Sitka Spruce solid top and mahogany back and sides, just like the AD60 we've previously mentioned. This guitar has a versatile Grand Auditorium body, which is a little smaller than a dreadnought but works well for both fingerstyle and strumming styles.
By doubling up the G (3rd) and D (4th) strings Alvarez has managed to bring a significant sprinkling of 12-string shimmer to the party, without the increased string tension, super wide neck width or tuning issues. This is a guitar that's great fun for sonic experiments, with none of the headaches.
The MFA66SHB Masterworks OM is a fingerstyle player's dream. An OM-style guitar is a small-bodied instrument that's highly articulate and very responsive to touch. It can be used for strumming styles but its character and balanced tone makes it ideal for fingerstyle.
The MFA66SHB OM is a Masterworks guitar, so it's built from solid tonewoods throughout for increased volume, dynamics and tonal quality. This particular one is crafted from African mahogany, which gives it a punchy, earthy tone with an emphasis on the mids and few ringing overtones. It excels at blues and roots music but is equally at home playing folk - any genre really that requires a chewy tone with plenty of midrange.
Now priced down from £599 to £449, complete with AFC30 Flexicase, it's an absolute bargain.
Keep your eyes peeled for more great Black Friday guitar deals in the coming days.