As the Black Friday music deals start to roll in, we're also on the lookout for the best prices we can find on the centrepiece of our studio and live rigs: a MacBook Pro. Whether you're looking to make the jump to Apple from a PC, or simply want to upgrade from your existing laptop for music production to something with a bit more firepower, Amazon is already showing willing before Black Friday hits by shaving over $100/£100 off selected well-specced 2020 and 2021 13-inch MacBook Pro M1 laptops.
We've rounded-up the very best deals so far, whether you're in the UK or US. Will there be even better deals as we get closer to Black Friday itself? Only time will tell, but our advice would be to grab a deal when you see it to avoid potential disappoint down the line.
UK deals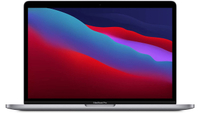 2020 Apple MacBook Pro M1 13-inch, 8GB/256GB SSD
Was £1,299, now £1,167, save £132
Save over £130 on an M1 MacBook Pro by grabbing the 2020 model in Space Grey. It's got 8GB RAM and 256GB of lightning-fast SSD storage. All of this combines to give an improved battery life of up to 20 hours of plug-free use, perfect if you're planning on using this as a double-duty studio and mobile machine.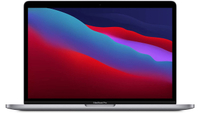 2021 Apple MacBook Pro M1, 13-inch 8GB/512GB SSD
Was £1,499, now £1,367.97, save £131
If you want this year's M1 MacBook Pro model then this deal is for you! Finished in Space Grey, you get 8GB of RAM, but twice as much capacity with half a TB of super-quick SSD storage to hand. Surprisingly, Amazon has applied just as big a discount to the 2021 machine, so get it before they go!
US deals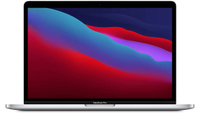 2020 Apple MacBook Pro M1 13-inch, 8GB/256GB SSD
Was $1,299, now $1,199, save $100
If you're about to make the leap to Apple's Silicon M1 chip, now's your chance to save $100 on this 2020 model in Silver. It's loaded with 8GB RAM, a speedy 256GB SSD drive, and thanks to improved battery life, you can now get up to 20 hours of unplugged usage from your laptop. It's the ideal grab-and-go solution if you want a dual-purpose studio and live machine.
All of the machines included in the deal are equipped with the super-fast M1 chip, which is home to the CPU, GPU, security, I/O and memory, and delivers the best MacBook Pro experience yet. The models on offer also deliver 8-core, 3.1GHz processors, 8GB of RAM, and either 256GB or 512GB of speedy SSD storage.
As well as this, they're equipped with two ThunderBolt/USB 4 ports for your audio interface and other peripherals, Apple's 2560 x 1600 Retina display, Touch Bar, Touch ID, Apple Magic keyboard, Force Touch trackpad and Facetime HD camera.
We were blown away with 2020 review model (read our Apple M1 13-inch MacBook Pro review), and if you've been holding off for Universal support then you can rest easy as most key players such as Ableton, Pro Tools, Steinberg, Native Instruments and Universal Audio are now fully on-board with Apple's M1 and Big Sur switchover.
View more MacBook Pro M1 deals
Check out more great Black Friday offers