17 of the best VST/AU plugin drum machines in the world today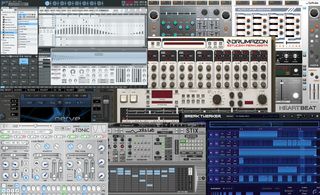 A barrage of beats
Traditionally, drum machine plugins tend to fall into two categories. Some are designed specifically to emulate the classic hardware beatboxes of the past - perhaps adding a few new features to aid tone-shaping and flexibility - while others offer an original take on the concept and are capable of producing sounds of the type that won't be so familiar.
That said, we're also starting to see developers blending these two approaches to produce hybrid products that take inspiration from the past, but also plough their own sonic furrow.
The following list contains what we consider to be the best plugin drum machines in the world right now. Note that we're not focusing on drum samplers/modules here: with one exception, all the plugins on this list have their own sequencing capabilities.
The drum machines are listed in roughly ascending price order. Start clicking and find the beatbox that suits your budget and requirements.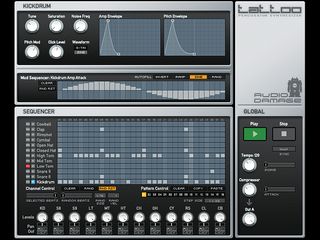 Audio Damage Tattoo
Tattoo offers up 12 synthesized drum sounds, and all the usual suspects are included. Each has a variety of appropriate editing parameters, and these are very well set up. They really reward experimentation and you don't often find yourself hankering for more control than is on offer.
Sequencing is handled by a programming grid with up to 32 steps - you simply click on the blocks to pencil in where you'd like each drum hit to fall. There are also some nice features for adding variation and randomness.
At first, Tattoo might leave you underwhelmed, but after spending a bit of time with it, you should come to realise what a cleverly crafted little powerhouse it actually is. Slow burner or not, it's a rather excellent plug-in, and well worth a look for anybody who employs electronic drums.
4 out of 5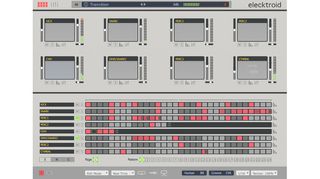 AudioSpillage Elecktroid
If you just want a drum synth, check out AudioSpillage's rather tasty DrumSpillage 2, but if sampling options and an 8-track rhythm sequencer are also on your must-have list, Elecktroid is the product you should be checking out.
There are four synthesis algorithms to work with: bass, snare and wood drums and a hi-hat. In the sequencer, track lengths can be adjusted independently and you can assign a probability value to any step in a sequence.
Samples, meanwhile, can be added via drag 'n' drop and tweaked using the pitch envelope, modulation, distortion, filter and loop editing options.
Throw in some FX and realtime control options and you've got a very capable drum machine that comes at a very reasonable price.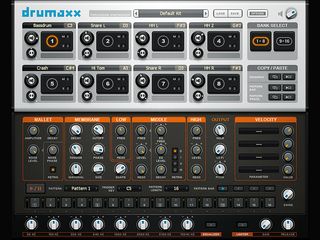 Image-Line Drumaxx
Drumaxx is a physically-modelled drum machine that enables you to adjust the properties of the drum head, mallet and striking action. This means that you have plenty of control over the sound.
In fact, a surprisingly wide range of tones can be produced - everything from snares and cymbals to glitchy special effects sounds and dance hits. There's also old-school affair with 16 programming buttons shown on the GUI.
Drumaxx won't replace a real drummer or even become your primary source of club beats, but it should appeal to anyone looking for interesting, original percussion for experimental genres, or those seeking the kind of flexibility, customisation and on-the-fly tweakability to which synthesis is ideally suited.
4 out of 5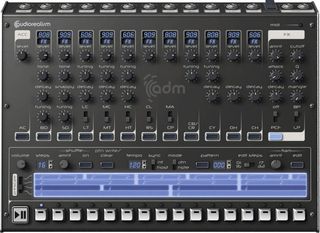 Audiorealism ADM
While some companies have emulated Roland's classic TR beat boxes in separate plug-ins, Audiorealism has put them all into one. ADM (Audiorealism Drum Machine) offers 909, 808 and 606 sounds, a step sequencer and plenty more besides.
Happily, these emulations sound stunningly authentic: analogue modelling is used for all of the 606 and 808 sounds, and it's a combination of samples and synthesis for the 909 (which is how the real 909 tones are generated). To top things off, it's even possible to mix and match sounds from different kits.
4 out of 5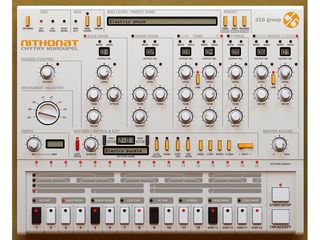 D16 Nithonat
Nithonat is a turbo-charged version of Roland's TR-606 drum machine, the sister product to the TB-303 bassline synth that was released in 1982.
As on the real thing you get kick, snare, high and low toms, open and closed hats, and cymbal sounds. There's also a step sequencer with pattern-based arrangement capabilities. All of the sounds are synthesised in real-time.
Nithonat offers many more sound-shaping controls than its hardware predecessor and is definitely one for electro lovers to check out.
4.5 out of 5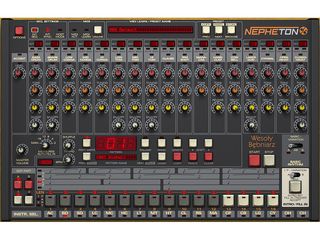 D16 Nepheton
In true D16 style, Nepheton recreates all the functions and sounds of the machine it emulates - Roland's TR-808 in this case - and throws in a few extra tricks for good measure.
While these aren't as numerous as in Drumazon, the company's 909 clone, all the drums do have extended controls in comparison to their 808 counterparts. These include the Sweep knob for the kick, which dictates the range of its pitch envelope, and the snare's Decay knob, which lets you make the sound as tight or as splashy as you like.
It's not the most flexible drum machine on the market, but if you're after that kicking electro sound, Nepheton is a sure-fire winner.
4 out of 5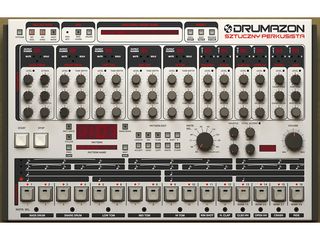 D16 Drumazon
It might be based on Roland's TR-909 but Drumazon comes with many more sound-shaping options. All of these extra controls help to turn Drumazon into a machine that can produce a much wider variety of sounds than the original 909, and it also packs plenty of sonic punch.
While the sounds aren't quite identical to those of Roland's classic, they're certainly close enough to make Drumazon a worthy substitute. In fact, given the choice, we'd take Drumazon over a hardware 909 every time.
It can produce a greater range of sounds, offers the convenience of a software instrument and, most importantly, sounds fantastic.
4.5 out of 5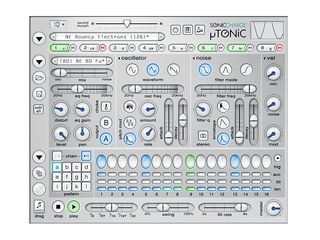 Sonic Charge MicroTonic
This eight-channel drum machine from the creator of Reason's Malström synth has been chugging along for quite a few years now, and it still has a great reputation among enthusiasts and pros alike.
Each drum tone is generated by a synthesis module that features an oscillator and a noise generator and can be also be run through a filter, EQ and distortion There's a step sequencer, and plenty of patterns come included. MicroTonic won't appeal if you like your drums to sound 'real', but for lovers of electronic rhythms, it offers endless possibilities.
4.5 out of 5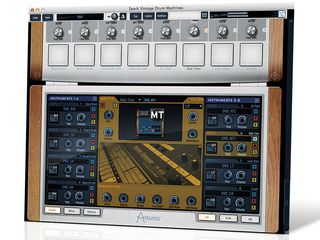 Arturia Spark Vintage
As its name suggests, this is a plugin that's full of old-school drum machine sounds, including those from the Roland TR-606, 707, 808 and 909, Korg KPR-77, DDM110 and 220, Simmons SDS, E-MU SP-12 and Drumulator, Boss DR-55, Linn 9000, Oberheim DMX, Yamaha RX5 and many more.
The drum synths are emulated using Arturia's tried-and-tested True Analog Emulation system, while PCM- and EPROM-based boxes are recreated with samples.
The audio quality is good sounds can be freely mixed and matched between kits, and each sound features six bespoke editing parameters.
Throw in a decent step sequencer and you've got a comprehensive classic drum machine solution.
3.5 out of 5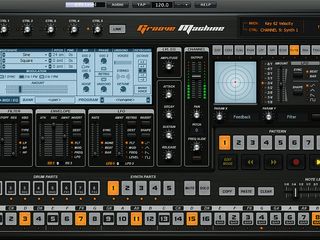 Image-Line Groove Machine
Groove Machine offers eight drum/sample channels (each with four sample layers), five hybrid synths (each with multimode filters, three oscillators, two LFOs and two envelopes), 10 effects per channel, stutter and reverse, eight 8-bar patterns, per-step automation, full MIDI control, multiple outputs, plugin or standalone operation and a piano roll step and automation editor. Phew!
If you make progressive-sounding genres, there are plenty of cool sounds and grooves to get you going. Take a quick listen to any of the excellent presets by Toby Emerson and you will hear how nice Groove Machine can sound.
Some people will love Groove Machine; some people will dismiss it as a toy; and most will have a couple of hours of old-school groovebox fun and then never touch it again. Try the demo and find out which camp you fall into.
3.5 out of 5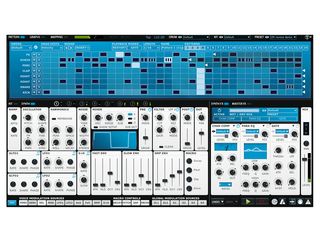 FXpansion Tremor
Tremor is a virtual analogue drum machine built on DCAM circuit-modelling, complete with polyrhythmic pattern sequencer, FXpansion's TransMod modulation system, a bucketload of percussion-orientated effects, and nary a sample in sight.
The two things that really set Tremor apart are the sound and the brilliant polyrhythmic sequencer. While it always comes across as authentically 'analogue', there's also a crisp, modern edge to the noises it makes that we've honestly never heard before in a non-sample-based drum machine.
Fun, fat and wildly creative, Tremor might just rock your world.
5 out of 5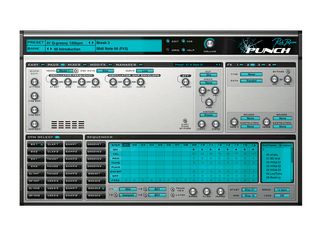 Rob Papen Punch
The idea behind Punch is simple and familiar: take some synthesizers optimised for percussion, throw in sample playback capabilities and some well crafted envelope and modulation options, add effects and a sequencer, and garnish with a multiple-output version.
It's clear that a huge amount of time has gone into making sure the drums - whether synthesised or sample-based - sound crisp, punchy and lush. They all slice through the mix beautifully and have bags of presence and space.
Punch adds a new twist to the sequencing paradigm, offers a huge range of excellent sounds, delivers some genuine innovations and is very versatile. As such, it merits close attention.
4.5 out of 5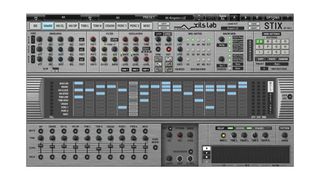 XILS-lab StiX
Stix is a multifaceted drum machine that combines 10 virtual analogue and sample-based sound sources with a 10-lane x0x-style sequencer, a 10-channel mixer with three send effects (Delay, Reverb, Phaser), and distortion on every channel.
The whole lot is conveniently packed into one window, although the sound editing system switches between two panels - Easy and Advanced - and the Sequencer switches between three: Multi, Beat and Single.
While it would benefit from more onboard processing and sample editing, there's still lots to love here - not least the precise sound generation and tidy interface. StiX deserves to find plenty of fans amongst those after a beatbox that's anything but run-of-the-mill.
4 out of 5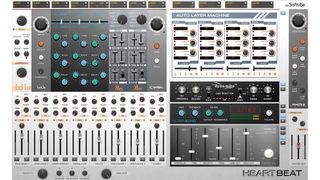 Softube Heartbeat
Inspired by rather than a direct emulation of classic '80s drum machines such as Roland's TR-909, TR-808 and TR-707, Heartbeat features eight instrument engines: Bass Drum 1, Bass Drum 2, Snare/Rimshot, Snare/Clap, HiHats, Percussion 1, Percussion 2 and Cymbal.
Each instrument has its own mixer channel with auxiliary reverb and filter delay effects, a Ping/ Pong autopan effect, regular Pan, Mute and Solo controls, and one-knob instrument-tailored EQ.
The master section includes an adaptation of Softube's Valley People Dyna-mite emulation for dynamics control, plus EQ, stereo image (Width), valve Saturation, and a monoising filter.
Heartbeat is an excellent, highly tweakable drum machine, and we had a ton of fun trying to recreate classic sounds with it, while also revelling in the new noises it brings to the percussive table. That said, it's not always easy to achieve recognisable old-school sounds with it, and certain tones - TR-909 crashes, for example - are beyond its capabilities. We're also amazed there's no onboard sequencer, as any vintage-style drum machine should really have one.
4 out of 5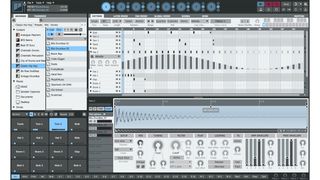 FXpansion Geist2
The original Geist was the successor to FXpansion's earlier software groovebox, Guru. It comes as no surprise, then, that Geist2 takes the already winning formula of its predecessor and improves it.
Essentially, Geist2 is an MPC-style pad-based 'groove DAW', complete with sampling, sequencing and song construction, that runs standalone or as a VST/AU/AAX plugin.
At the top of its hierarchical structure (Global) are eight Engines. These are effectively eight instances of the whole instrument brought together in a single interface, so you can run, say, a drum kit into one, a bass in the next, a set of vocal samples in another, etc. Each Engine houses 64 pads (up from the 16 of Geist), and each pad comprises up to eight stacked sample layers, which can be split by velocity, triggered using round robins, or selected at random.
Geist2 a dazzlingly powerful tool for any dance, urban and electronic producer - both in the studio and on stage. It might not be the most intuitive piece of music software around, but what it lacks in immediacy it makes up for in functionality, creativity and speedy workflow.
4.5 out of 5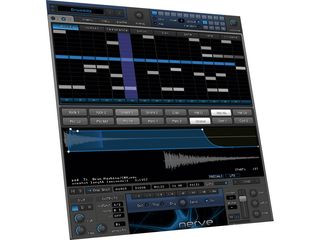 Xfer Records Nerve
Nerve is the brainchild of Deadmau5 and Steve Duda. It's a drum machine that sports powerful effects, a sequencer and up to eight stereo outputs. It's also pretty intuitive, and offers an easy-to-use built-in sidechain compression feature.
This is one of the reasons why Nerve is ideally suited to producers of house music; its clever handling of REX files and 2GB worth of artist samples are two others. In fact, if you're a fan of Deadmau5, you'll probably like this.
4 out of 5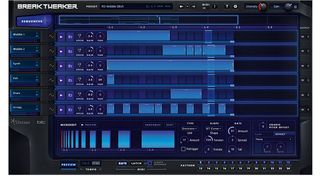 iZotope BreakTweaker
BreakTweaker is, at heart, a one-shot drum machine/sequencer, but with the killer feature of built-in 'micro-editing'.
BreakTweaker centres around a six-channel sequencer; the really cool thing is that each sequence can have both its playback speed (1/2x, 2x, 2/3x, 3x, etc) and sequence length (1-32 steps) adjusted.
Each sequencer track has three Generator Lanes, each of which can operate in one of two modes: dual-oscillator Synth or Sampler (WAV and AIFF). Thus, you can stack a combination of any three of these to create each of the six sounds.
Both the Filter and Distortion sections sound nice, and each of the three Generator Lanes has up to eight modulators available to it: four AHDSR envelopes and four LFOs.
It all adds up to an undeniably clever and powerful system, though one that's angled primarily at EDM producers who seek a more direct route to Skrillex-level tweakery.
4.5 out of 5