10 of the best mini-synths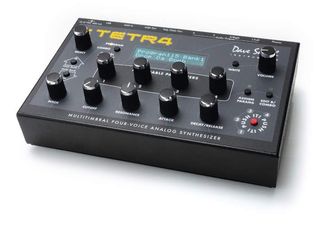 Dave Smith Instruments Tetra
PRODUCTION EXPO 2014: Here's our selection of ten of the best bargain-priced synths. Each has its own strengths and weaknesses, but one will be perfect for you...
The Tetra can be viewed from two different perspectives - either a cut-down four voice Prophet in small footprint, or a more soberly coloured polyphonic version of the Mopho.
However, neither of these is 100% true. The Tetra (like the Prophet 08) lacks the sub-oscillator section of its monophonic sibling, which may make it less impactful in certain situations. This is countered somewhat by the Tetra's four-part multitimbral/layering skills (and with separate audio outs for each).
As with the Mopho the interface is trimmed-down in comparison to the knob-laden Prophets, making programming sounds laborious from the front panel. USB and MIDI connectivity is embraced along with the ability to chain multiple units together for increased polyphony, though once again no CV interfacing.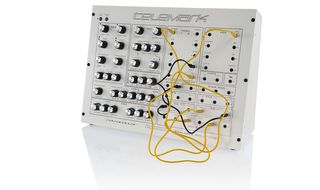 Analogue Solutions Telemark v2
The Telemark is one of the few synths here that makes little concession to the digital age (apart from basic MIDI control).
This is a 100% analogue one-knob-per-function two-oscillator synth, so it really is a case of what you see is what you get, though this doesn't really do justice to the sound of this UK-made cream-coloured wedge.
The Telemark has its origins in Oberheim's classic SEM (Synth Expander Module), though functionality has been expanded with more switchable modulation options and the fantastically patchable right-hand panel.
It is in this area that the Telemark goes far beyond any of the other synths featured here and provides access to pretty much every audio or CV input and output possible.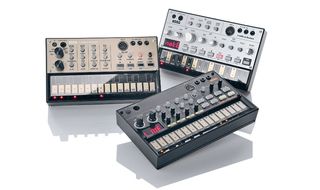 Korg Volca Bass, Beats & Keys
There are three units here, but we couldn't resist talking about them as if they were a single system, especially as together they cost less than most of the individual synths here.
All three distill some aspect of Korg's analogue heritage into their tiny bodies, but cleverly combine analogue circuitry with interesting digital control elements - most noticeable in their 'Motion Sequencing' capabilities allowing you to record knob movements into a sequenced pattern.
This reaches its apotheosis in Volca Keys, which allows you to capture all manner of parameter craziness, making it both unusual and a lot of fun. Even the Volca Beats manages to get in on the game by giving you the option to record live tweaks to both analogue and PCM-based elements.
The Volca Bass nods in design terms to the Roland 303, but sonically it sits in rather different territory. Like the Keys it uses a 12dB/octave low-pass filter design from Korg's vaults - placing them in a different sonic territory to most other synths here.
An interesting aspect of all the recent low-cost analogue gear that Korg have been putting out is the potential for user modification - Korg actively encourage users to do this.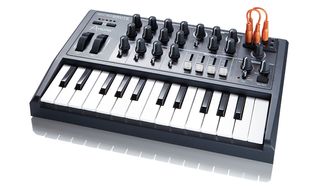 Arturia MicroBrute
Arturia's MicroBrute has followed quite swiftly on the heels of the larger and well-regarded MiniBrute. Although more diminutive in size, the 'Micro' maintains much of the 'Mini's' sound-generating possibilities - and with a few extras up its sleeve.
Despite losing a Noise source, one Envelope Generator, the arpeggiator and some more detailed modulation options, it gains a fantastic transposable step-sequencer and a mini-patchbay that really makes for some great external hook-up possibilities.
Both Brutes are quite individual sounding - in part due to their somewhat unusual choice of filter - but this is to be applauded in this era of sound-alike wannabes.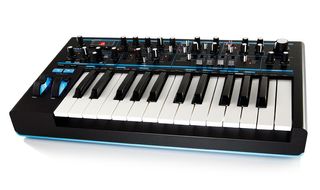 Novation Bass Station II
The BassStation II is a reincarnation of one of Novation's earliest products which first saw the light 20 years ago.
Although at first glance it appears broadly similar in terms of its basic specifications, the BS II goes quite a bit further and certainly feels like a more mature product.
The two (digitally controlled) oscillators are now joined by a sub-oscillator, which makes for a fuller sound, helping to fill out detuned bass patches in a very satisfying way. The original 'classic' filter is now of the multi-mode variety (by adding high-pass and band-pass options), and a new Acid filter is clearly Novation's attempt at stepping into 303-like territory.
Tuning is stable on the BS II thanks to its use of DCOs (rather than less predictable VCOs), though it still manages to deliver plenty of analogue warmth.
The interface is quite easy to use despite the necessity of shared controls for some parameters and others requiring the pressing of a function key and value buttons. MIDI and USB are well covered (including USB power) with a good controller spec for automating most parameters and there is full patch saving/recall.
The arpeggiator/sequencer section is well-specified with quite interesting rhythmic options. Although an external input can be routed into the synth, there are no CV interfacing options.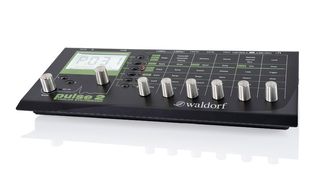 Waldorf Pulse 2
This is an interesting pseudo-polyphonic synth that comes with hundreds of ready-rolled presets, an arpeggiator, MIDI/USB interfacing and CV/Gate outputs.
At its core it is a three oscillator monosynth with a multimode filter and a wealth of modulation possibilities. However, some oscillator configurations allow for the stacking of up to eight detuned square waves, though all through one VCA and filter.
The Pulse can generate some quite unusual tones including those of the 'chiptune' and distorted FX variety.
Programming is somewhat frustrating via the limited number of encoders, though easier than the DSI Mopho and Tetra.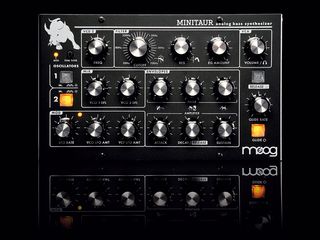 Moog Minitaur
Moog's representative in this battle of the synths, is the Minitaur - labelled quite specifically as a 'Bass Synthesizer'. This modest-looking, but very sturdy, black box doesn't attempt to hide its '70s analogue heritage in the design department.
The Minitaur features a relatively simple two oscillator plus 24dB/octave low-pass filter design allied to one LFO and two three-stage envelopes hardwired to Filter Cut-off and Amplifier duties.
Although it is quite possible to use this synth without a computer, the additional (free) software editor provides access to over 20 additional parameters inaccessible via the stripped-down front panel - there's a USB port for comms.
This synth is extremely 'fat', and lives up to Moog's strong lineage in the deep bass-making department, even though it lacks the MiniMoog's famed three oscillator powerhouse design. It also has a healthy complement of CV inputs (though no CV/Gate output or conversion) and full MIDI CC automation capability.
One annoyance is its inability to play notes at the higher end of the frequency spectrum, which limits its scope as an all-round synth.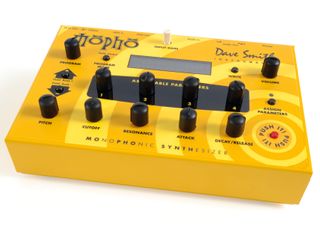 Dave Smith Instruments Mopho
Dave Smith has designed more than one classic synthesizer in his long career, but this is probably the cheapest. However, don't be fooled into thinking that this means any corners have been cut in the sound-generation department.
The Mopho is a mini-sized module that crams in two oscillators, two sub-oscillators, three envelope generators, four LFOs, an arpeggiator, four step-sequencers and an external audio input in its bright yellow frame.
Of course, the downside is that all this has to accessed via a small LCD screen and a modest complement of control knobs - not especially fun. Quick tweaks of select parameters are relatively straightforward, but any in-depth editing requires the use of SoundTower's Mopho LE software editor.
Sadly USB connectivity is missing, which will make hooking-up a more involved proposition for some and there is little scope for linking the unit with CV-equipped gear (besides triggering the sequencers).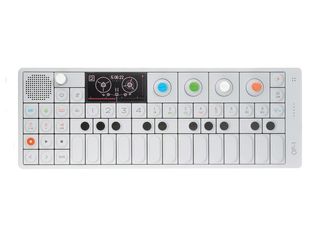 Teenage Engineering OP-1
The OP-1 stands out somewhat from the rest of the synths on test here, in a number of ways. The most immediately obvious of these is the alluring design - this is one of the most beautiful-looking items of music technology hardware that I've ever encountered. In fact, even non-musos have been wowed by its looks.
This is a 100% digital synth - in other words, everything it does is being done in software, which means that it isn't going to be your 'go to' synth for classic analogue tones.
However, it is very distinctive in its approach to sound creation and music making, with a lot of thought put into its interface and functionality, that embraces a 'tape machine', sampler, drum machine and numerous different synth-engines and sequencing possibilities... and an FM radio!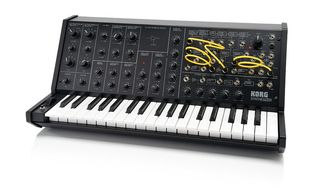 Korg MS-20 mini
The Korg MS-20 needs little introduction to most synthophiles. The original wedge-shaped piece of patchable monophonic glory was first released in 1978 and garnered fans from the start, though the late '70s also saw the start of the polyphonic synth revolution.
However, it's fair to say that many musicians could not afford some of the premium-priced polyphonic beasts and monophonic synths continued to be popular.
This new incarnation - the MS-20 mini - is 86% of the original size and therefore on the face of it looks the same as Korg's Legacy Collection software controller. In fact, Korg used the original designer to assist in recreating the sound of the original two oscillator synth.
Beside the two VCOs (which each have four selectable waveshape options) and are independently tunable, the synth has two Envelope Generators, separate resonant high and low pass filters and an LFO.
Each of these elements had some limitations and quirks which the mini replicates as closely as possible.
To the right the MS-20 mini contains a mini-jack version of the original patch-panel. Patching here isn't for the faint-hearted - as with the original it sometimes takes a little deciphering to work out what's going on.
Besides providing more modulation options the patching system allows you to route outside signals into the External Signal Processor.
With its (unreliable) pitch-to-CV converter this was originally intended as a way of using the MS-20 as a guitar synthesizer, but it can be used in all kinds of interesting ways besides this.
Like half of the synths here, the MS-20 mini has no patch memories, but is brought up to date by the inclusion of USB and MIDI control (though both on send and receive note information).