It's no secret that everyone here at MusicRadar is a massive fan of Squier guitars. Some dismiss the brand as simply budget-friendly variations of Fender guitars, but we believe they offer more than that. The best Squier guitars are excellent instruments in their own right and worthy companions in the studio, on stage or in the practice room. If you've always fancied hopping aboard the Squier train, now might be the best time, as Thomann has just slashed the prices of a number of popular Squier models.
In total, there are 11 models that have seen a discount, with a wide range of styles incorporated. One of our highlights is the Squier 40th Anniversary Tele, with its dapper gold and black attire. This guitar is down to only £285! A great price, considering they retailed for around £499 when they first hit the shelves.
We also have a soft spot for the Squier Paranormal Offset Tele, which perfectly blends the Telecaster and Jazzmaster together for a formidable guitar that's more than the sum of its parts. This unique offset can be yours for only £245.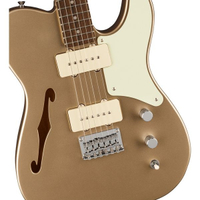 Save big across a range of Squier guitars at Thomann
From the classy Squier 40th Anniversary Telecaster to the retro-inspired Classic Vibe 60s Mustang and the otherworldly Paranormal Super-Sonic, Thomann has slashed the price of a number of popular Squier models. So, if you're looking for a new electric guitar to kick off your musical summer, then now is the best time to grab one.
Those seeking a modern shredder will want to look no further than the gorgeous Squier Contemporary Strat Special in striking Daphne Blue. Everything from the blacked-out headstock and hardware to the roasted maple neck and trio of Alnico single coils makes this a very unique model in the Squier catalogue - and a steal at only £259!
Lastly, we need to give a special mention to the Squier 60s Jaguar MH CFM. This vintage spec'd Jag is not only a beautiful example of Squier's craftsmanship but also a very limited model, with only 500 available throughout Europe. So if you are on the hunt for a retro Jaguar with matching headstock and a very affordable price, then this is the guitar for you.
Looking for more advice on stellar guitar gear? Our expert buyer's guides are here to help