"I'm old school," Grant Nicholas admits.
"There's a lot to be said with keeping with something you know and having your own character." Amen to that.
Grant still wears his '90s values proudly on his sleeve in Feeder, so there's no Fractals in sight. Instead we have drool-worthy vintage Fenders and a good 'ol pedalboard with fuzz machines and delay oddities.
"I do use pretty much all of them in a set," says Grant, who's been considering a switching system. "You have to remember, I'm trying to cover nine albums. But it is a lot of pedals – I'm tap dancing sometimes!"
1966 Fender Jazzmaster 'Old Brown'
"This is Old Brown, the first Jazzmaster that I ever got. I part exchanged an American DigiTech Whammy for it that I wasn't really using much. This guy in Walthamstow really wanted a Whammy pedal so I gave him one and about £300, which was a pretty good deal!
Don't Miss
Studio tour: Feeder's Grant Nicholas reveals his guitar and recording setup
"It's obviously had a life but I really like the neck on it – the big headstock and the square inlays. The original pickups say '66 on the back which makes sense with the headstock. I've replaced the bridge pickup with a Seymour Duncan Quarter Pounder, which I use on most of my live guitars.
"I think it was probably refinished years ago as it's a funny colour, like a Tobacco Sunburst, which is probably not original. I've just fitted a Staytrem, it's like the Mustang bridge. Really, really good.
"I've got a couple of guitars with it on now. I used to buy the Allparts Mustang bridges, but the Staytrems are much more versatile with better adjustments and something on the saddle, so they don't wobble around.
1967 Fender Jazzmaster
"This is quite new, the first time I've toured this one. It's been refinished, but other than the Mastery bridge I changed recently, it's pretty much original.
"This one has two Seymour Duncans – the Vintage one and a Quarter Pounder. It looks quite new, and I got it for an absolute bargain as well – I only paid £1,700 for it with the original case. I was lucky."
1964 Fender Jazzmaster 'Wales'
"Both my [silver sparkle] 1964s have dot inlays. This is one of my best sounding guitars, especially for drop D stuff. All the guitars are down a step at the moment because I like the sound, and the album [All Bright Electric] is down a step, so I've tried to make songs work.
"I'm using a capo for all the standard songs like Just A Day, Buck Rogers and Just The Way I'm Feeling. I like the big fat sound in C#, it was more a recording thing at first and you have to make sure it's not too low to sing over but sometimes when you have a really high song it can help you a little bit.
"A lot of American bands do it to save their voices. We're doing an hour and 40 minute sets which are the longest we've ever played so it can help."
1972 Fender Telecaster
"I've just got this baby back out. This was one of the main guitars on Silent Cry because I was using more Tele on that record. I've got a black custom one that's in the lockup, too.
"I was mixing it up between Teles and Jazzmasters. I got it from where Tommy [Gleeson Feeder touring guitarist and former Slaves To Gravity frontman] used to work, Vintage And Rare.
"When we finished recording Comfort In Sound, because it was a really big record for us, our manager said, 'Go out and treat yourselves to some guitars' so I think Taka [Hirose, bass] bought a 60s Jazz bass, which is beautiful and worth a lot of money now.
"I bought this, the '59 Jazzmaster and a 1967 Gibson ES-340 for an absolute bargain. Three guitars… which was outrageous really as I've never done it again in my life! I only paid about £2,200 for this with the original case. It's nicely beaten up. It has an Andy Summers Police vibe which I really liked about it."
Fender DeVille 212 & JMI AC30
"Apart from the Comfort In Sound tour when I had the Boogie, this has been my set-up for years with either been a DeVille or a Twin. The DeVille is adding the top and bottom with sparkle, then the JMI is all the dark and midrange.
"That is my sound, it's quite a full sound, and it's Feeder's sound. It works and I've come back to it. It's really about getting a good sound, once you have, as long as you're good at rhythm, that is a key of playing guitar."
Pedalboard
JHS SuperBolt V2
"It's an overdrive. I'm using this for the track called Eskimo for the verse sound. It's kind of on the edge – like an amp just breaking up. It's a really versatile pedal, and similar to the Blues Driver.
"I bought it to do my solo stuff so I could overdrive the acoustic a little but I never used it. If I had more room on the 'board I'd put my Pete Cornish pedal on there but it's so big."
Boss BD-2 Blues Driver
"It's just a really good all-round pedal and I find them really robust. They're great for that in-between sound. Loads of bands use these, they're just really good. They're great at that classic rock sound and you can do a lot with them."
Boutique Tone Bender-style fuzz
"I bought it on eBay, some guy made it. I just took a gamble on it because I thought it would be really good if I could get a Tone Bender in a smaller box without having to get one made.
"It's actually really close so he's either taken the guts of a Tone Bender and put it in there or managed to replicate it in some way. So it's a backup for my Tonebender and I've set it on a lower level that I'm using on some of the new songs."
Boss LS-2 Line Selector
Don't Miss
Studio tour: Feeder's Grant Nicholas reveals his guitar and recording setup
"That activates the Tone Bender because I was a bit nervous about the old switches. I'm also driving it a bit more [with the boutique pedal] so it's changing the sound slightly."
Colorsound Sola Sound Supa Tone Bender
"The settings rarely change on this. In soundcheck I might back off the top end a bit because it does make a difference – it's really fierce in some venues."
Boss TU-2
"I've got two or three of these. I'm just used to them now. I even used this to tune all of the guitars on the record, too – I didn't use any strobe tuners for it. They may not be as exact as some of them out there, but they're easy to use."
Morley Bad Horsey 2 wah
"My use of it can vary from track to track. I'm using it quite a lot on the song Tender for sweeping effects with the delays. I use it on Eskimo a little, for psychedelic rocking out bits. I use it for slow sweeps, I'm not doing any wah solos with it or anything like that.
"I used to have a standard Vox one but I found that it's so hard to turn the switch off sometimes. I quite like the fact it's instant with this one."
Boss TR-2 Tremolo
"I've had this for years. I use it on the intro of Yesterday Went Too Soon, it's really just set for that but it's not in the set for tonight."
MXR Phase 90
"I've always had a phaser on my pedalboard. I just like them – they're crazy. I've got the larger control cover there so I can change it with my foot on stage. I use that quite a lot when I'm doing things like Descend, though we haven't played that on this tour.
"A lot of the early Feeder stuff had some mad phaser stuff that was on fast speeds, so you get that fast, almost synthy, sound."
Electro-Harmonix Memory Man Deluxe
"This and the Tone Bender are really key to my live sound.
"I just use it a lot for solos, I'm using it on the vibrato setting mainly. It's great for recording, too. I've got some really old Memory Mans but they're just too big and unreliable to take on the road.
"They're proper old-school sounding, which I why I like them; that organic analogue sound."
Boss DD-3 Digital Delay
"I've used this pedal for years now – since the early Feeder days – and have a few of them at home as backups. I really like the early ones more than the later [Boss DD delays], they just sound a bit better to me.
"There's too many options to play with on the newer ones. The DD-3 is used as a general delay that I put on if I feel like it. It does get used a lot, sometimes in a verse to give it a little bit of depth."
Arion SAD-1 Stereo Delay
"It's started playing up on this tour for the first time in 20 years. It was given to me by Darren who is now part of our management team. I thought it looked a bit crap and plasticky.
"Plugged it in and thought it sounded brilliant; it's got a real analogue old-school sound to it that does something I love. I did buy another one of these on eBay, plugged it in and it sounded completely different.
"They're getting hard to find now, and this is probably 25 years old now. It's like it's alive, every time you plug it in it's different… a really funny pedal. It gets used a lot."
Line 6 DL4
"I use it more for the tap tempo when I want to do a few trippy things. I don't use it much, but it's a useful pedal to have on your 'board. It's a backup if I have issues with any of the other delay pedals, too."
MXR M133 Micro Amp
"It's a little boost so if I'm really struggling to hear myself on a solo I can just hit that. It's just like a volume boost."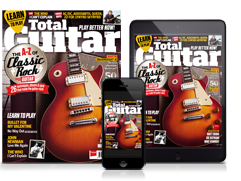 Stay up to date with the latest gear and tuition.
Subscribe and save today!