Introduction
The hottest name in modern blues, Eric Gales, gives us an exclusive run through his current touring rig.
Don't Miss
If there's one blues-rock guitarist leaving everyone else in the dust right now it's Eric Gales. Even Joe Bonamassa has gone as far to describe the Memphis maverick as, "one of the best, if not the best guitar player in the world".
There's no shortage of high praise from other guitar heroes too, including Carlos Santana, Dave Navarro and Mark Tremonti. His latest full-length album, Middle Of The Road, will inevitably be considered one of the quintessential guitar albums of 2017. So, with plenty of wind in the sails, he talks us through the tools of his trade.
Magneto Sonnet Raw Dogg II
"I've had this one for about three or four years now. I had one before, but Magneto ended up customising this one for me with my name at the top and on the 12th fret. They put all the gold trimming on it and everything, with some Jason Lollar pickups in there for that real good tone!
"It's got regular volume and tone pots but, as you can see, they're a little different but that's why it works for me. I like Bullet Silver, and this other one has a reflective smoke finish with this glassy bronze feel to it when you stare at it. This colour just grew on me, man!
"I like these guitars. They've been working real close with me since day one and they've tailored this to be my main go-to. It feels great and it's the same for guitar playing - once you find something that works well for you, then you're gonna keep on using it. I have about three Magneto guitars in my collection and about 15 guitars overall, including quite a few Strats, plus some Saint Blues guitars, which I used to play.
"Then there are some John Page guitars, as well as a custom Olympus Orpheus that's made out of Greek melios for the body and Greek olive wood for the neck. I've played Les Pauls before, but the Strat bodies are my cup of tea!"
Xotic XS-1
"This is the Xotic, which was made for me a few years ago. I had a situation going with them and held onto this one. It's got the Fluence Fishman pickups so I can get all my coil-splits.
"I'm predominantly a rosewood guy, maybe occasionally I'll play maple, but I tend to prefer rosewood. It's pretty basic, there's nothing too specific going on here. I'll use both, but this one is probably more of a back up. I don't know which guitar I'll use for which songs, I tend not to have it all mapped out like that.
"Both are tuned to E flat and ready to rock. I love the reverse headstock look [Eric plays the guitar upside down]. They tailored this one pretty well to my liking… it has an appealing look from afar! The action is a little lower on the Magneto, I tend to like lower action with 10-46 gauge strings… but there's no rule. I always say, 'Use whatever works best for you!'"
DV Mark Little GH 250 Greg Howe Signature
"My signature head is still being finalised, but trust me - it's coming! I'm using the miniature Greg Howe model for now; he's a pretty damn good player.
"Mine will be a single, clean channel with two preamps and a solid state power amp running at 100 watts. I'm going to call it the Raw Dawg and it should be ready to hit the market soon. I believe it will be reasonably priced when it comes out, like $350 or $400. So it will be something that any average consumer can buy. Not many people can get their hands on $8,000 boutique amps like Two-Rocks, or whatever!
"We might put out a combo version later down the line, but to begin with it will be a miniature head going through a 2x12 cabinet, with the Celestion speakers positioned upright instead of side by side. The guys at DV are also making me my own signature bass amp too, because I played bass on the record.
"I own about four or five amps in total, including some old Fenders; but it's too much to bring out on tour when I can make a phone call and have stuff waiting for me. I like real amps - you won't catch me playing through an Axe-Fx, man…"
Pedalboard
DigiTech Whammy (5th Gen)
"So, blues players tend not to use Whammys, but I'm always trying to bring other elements into my music as well as the obvious. There's a lot I'm inspired by, so I try to include all the spices in there and show people what else I've been listening to.
"Though I admit, I don't even have any Whammy pedal heroes. I just threw it in there because I felt it would sound different and unique. A lot of people mention Tom Morello from RATM and how he uses it, but I hadn't really done that much research. I'm venturing off on my own and I tend to keep it on one setting that goes up rather than down, like how most players use it."
Dunlop MC404 CAE Wah
"Yeah, this diamond-encrusted one is pretty bling haha! This is the Bob Bradshaw wah that Jim Dunlop made for me. They dialled it up for me and got it sounding just right.
"I would say it's much more of a Cry Baby sound, with a nasal 'Weeeeh' rather than a darker 'Waaaargh'... if you understand what I mean! It depends on the tone I'm looking for. Sometimes I might try to dial it in as more of a Morley kinda thing, but more often than not, I'm all about the Cry Baby."
E.W.S. Japan Brute Drive Eric Gales Signature
"This is my signature overdrive. It's pretty much more distortion for whenever I need. I can hit the Colossus made by Mojo Hand if I want more of a fuzz thing going on.
"I go back and forth between the two and it really just depends on what kinda mood I'm in on the night! It's so random, there's no telling what song I'll use these pedals on."
Mojo Hand Colossus Fuzz
Don't Miss
"I used these pedals all over the new album, it's the same pedalboard and I would say the solos were predominantly recorded using the Colossus Fuzz into a clean channel. It really sounds killer, man.
"I use distortion less overall, but who knows, it can change on certain nights if I'm in more of a fiery mood! It all depends on how aggressive I want to sound. Fuzz tends to be a bit more saturated than regular distortion to my ears, though both have their place!"
MXR M82 Bass Envelope Filter
"I use this one specifically because it just seems to work well. I plugged it in and I thought it sounded really great… I can't honestly say that I've AB'd it against another envelope filter for actual guitars or, for that matter, anything else out there ha ha! You know, I'm just that kind of player - I just go for it and try not to over analyse things too much.
"Again, I have absolutely no clue what I'll use it on when I play with it on the road, but on the record I used it on the song Carry Yourself. Despite what most people might think, that's not a wah-wah you're hearing there! I can use my pick attack to change the sound of the note, that's what determines the EQ."
Tech 21 Boost DLA
"This is on all of the time at a quarter-note echo… even for my rhythm playing. It doesn't get in the way at all - even though I guess most guitarists save delay just for their big solos.
"Like the Bass Envelope Filter, I haven't sat around doing these AB comparisons on any of this. If I find something that's cool, I just keep it. Tech 21 came up to me at NAMM once and said they'd noticed I like using delays, so I should try using this. I haven't used anything else since!"
MXR EVH 117 Flanger
"To be perfectly honest, I don't use this much at the moment, but it's there if I need it. There's no flanger on the album either, so it's purely there on the off chance I might want to add that kind of colour.
"You could say there's a bit of an Eddie Van Halen influence somewhere inside me - he's basically laughing his way through a lot of those songs and I've always loved that."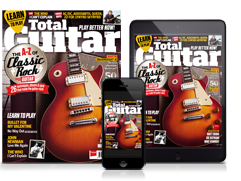 Stay up to date with the latest gear and tuition.
Subscribe and save today!