Eric Gales' 11 tips for guitarists
Introduction
On first impression, Middle Of The Road seems a strange choice of album title for Eric Gales.
From his ferocious 1991 debut to this soulful return, the Memphis bluesman has never been mediocre, twisting the rules on a flipped right-handed electric and tearing off solos that led Dave Navarro to declare: "How he isn't the hugest name in rock guitar is a total mystery."
In fact, it's not hard to pinpoint why Gales hasn't scaled quite the same heights as such consummate blues professionals as Joe Bonamassa. As the 42 year old explains, that album title refers to his intent to stay on the straight-and-narrow following lost periods of addiction and incarceration.
"Good things are happening in life for me now," says Eric, "and when you allow yourself to receive those good things, the sky's the limit."
1. Sometimes 'wrong' feels right
"Even if I could go back to the start, I still wouldn't change the way I play guitar. I'm playing the way that it came to me, and it turned out exactly how it was supposed to. I picked the guitar up that way, I'd already learnt a tune or two, and when I tried to switch, my brother was like, 'No, man, this is the way you've learnt to play - so why are you trying to change it?' I don't feel like I'm playing the 'wrong' way, because it's so natural to me. Anyway, who's to say it's not everybody else that's playing wrong?"
2. Preparation is overrated
"All of the guitar solos on this new record are special to me. Every last one of them. And I think all of them were the first take. I just turned it on and pressed record. It was more of a live approach, y'know, which I'm very comfortable with. I don't like to do a lot of thinking; I just like to go for it. It's a whole lot better that way. All we were trying to do on this album was just be ourselves."
3. Free your skills
"See, I'm a bass player at heart. I started on the bass at three years old. I even played the drums a little bit before that. But then I changed to playing guitar at about four, and it just started evolving from there. So playing bass on this new record felt way normal for me. I'd describe my bass playing as free. It's just free-spirited, man."
4. Get a little help from your friends
"I've been playing Freddie King's Boogie Man live anyway, so I just said to myself, 'Why not do it on the new record with Gary Clark Jr, put our own spin on it and see what happens?'
"It was fun, man. We were both sitting there in the studio, just highly inspired and enjoying ourselves. We didn't need many takes. Y'know, once the mojo started hittin', we just went right on through and that was it, man.
"One of the main reasons I chose Christone 'Kingfish' Ingram for the track Help Yourself was because he reminds me a whole lot of myself at that age. I think he's gonna do great things. He's gonna be a real torch-carrier for the blues."
5. Stay out of trouble
"That's exactly what Middle Of The Road means. Out of trouble. Not looking to get into none. And I know how to handle things when they do come my way. I play guitar better now I'm clean and sober. My playing is more in the moment. It's a reaction. There's nothing clouding it. There's nothing adding to it, and there's nothing taking away from it. My songwriting is better now, too. More stuff to talk about. More stuff to play about. I'm digging deep and giving the world a little insight of where I've been, where I'm at and where I plan on going."
6. Music can keep you sane
"See, I was allowed to play guitar when I was in jail [in 2009]. The wardens came to me and they said, 'We know who you are, and we want to put a band together, and we want you to be the leader.' That's how it happened. It was amazing to still be able to do my thing while I was incarcerated. It helped keep me sane.
"Don't nobody know how it feels to be behind them walls, being told what to do, day in, day out. But then you have the outlet of music. They made it part of the curriculum while I was there, and it kept down the fighting and the violence in the jail. So it was a beautiful thing."
7. Don't be intimidated by your heroes
"Naming the best guitarist I've ever seen live is hard to say, man. But Eric Johnson really is at the top spot. He is one very influential dude, that's very humble, too. He's a good friend of mine now, and every time we cross paths we always play together. It's an amazing experience to run across a guy like that.
"We push each other, believe it or not. I never would have thought I'd be in a position to say that. But he's told me that I push him. It's an amazing situation to be on stage with the all-time favourite influence of your life - and wind up being great friends with each other. I never thought that would happen."
8. Share your secrets
"I was inspired by seeing Eric Johnson do the Hot Licks video in the 90s - and I wanted to do something like that. Y'know, make an instructional DVD and reveal the secrets I have, get it out there and expand my brand. And pretty much show the world that there's no excuse, because there's access to learn whatever you want to learn within arm's reach.
"Can somebody learn to be great at guitar or do you have to be born with talent? Man, I think it's a little bit of both. But if you're born with it, then it's right there - and that's really amazing."
9. Tough gigs make you stronger
"Honestly, the playing on this new record wasn't that challenging. I will say that the Pinnick Gales Pridgen project was some of the hardest stuff I've ever had to play. But at the end of the day, it turned out to be amazing. To this day, I'd still love to tour again with that line-up, because that's some amazingly hard, stretched-out, bad-ass power trio shit right there."
10. Covers don't have to be lazy
"The secret is doing it your own way, being so inspired by something that you can put your own twist on it. How do I approach Jimi's material on the Experience Hendrix tour? Man, it's all about not being afraid, first and foremost.
"Don't be afraid to go your own route with it. You need to take the songs that people know and push them to the next level. My favourites? I like Little Wing. I like Foxey Lady. I like Voodoo Chile. I like Castles Made Of Sand. I like Hey Joe and Are You Experienced?. Man, I like everything by Jimi Hendrix. It's just whatever I'm feeling at that particular moment in time."
11. There's always room for growth
"I think there's a whole lotta room for me to keep growing as a player. I want to get into scoring films. I want to get into doing stuff with full-on symphony orchestras. That's the next chapter for me in life.
"As for the guitar, I'd like to get better at anything and everything that's out there that inspires me. Whatever it is, I'm an open channel. I would never think that I'm too good to learn more stuff. Whether it's incorporating different time signatures, different keys or different modulations, I'm always trying to challenge myself when I pick up a guitar."
Eric Gales' new album, Middle Of The Road, is out now on Provogue.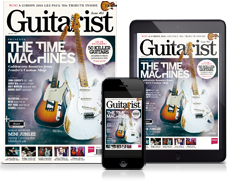 The magazine for serious players
Subscribe and save today!