NAMM 2018: Fender Custom Shop's jawdropping Prestige Collection in pictures
NAMM 2018: The Fender Custom Shop display is always one of the most eagerly anticipated features at any given NAMM, and this year's is no exception.
Arguably stealing the show - even upstaging Yuri Shirkov's latest outlandish flagship - the all-new Prestige Collection is a stable of nine ultra-desirable guitars, each built by a Custom Shop master builder, including the aforementioned Shirkov.
"The Prestige Collection is the foundation of the Fender Custom Shop," said Mike Lewis, VP Product Development, Fender Custom Shop. "It's really what we're all about–continually pushing the envelope of design innovation and craftsmanship to create one-of-a-kind playable works of art.
"Our Annual Collection models are conceived in the shop to showcase new developments—pickup designs, wiring innovations, finish processes, wood combinations and more. It's also a way for the Shop to surprise and delight players with something they didn't know they wanted or inspire new custom builds."
We hightailed it over to the stand to bring you these wallet-worrying shots.
Paul Waller: Prestige 9-Neck Guitar - $96,000
Among the eight innovative Prestige Collection models is Paul Waller's frankly disturbing Prestige 9-Neck Guitar (above), which features popular pre-CBS model necks Fender produced before 1965.
Necks featured include those from a four-string mandolin, Mustang, Jaguar, Telecaster, Stratocaster, Jazzmaster, Bass VI, Jazz Bass and Precision Bass.
According to Waller, the biggest challenge was trying to get all the different body shapes to flow into one seamless design.
––––––––––––––––––––––––––––
Check out our constantly updated NAMM hub for more news and on-the-spot video from Anaheim
Jason Smith: California Mission PJ Bass - $7,400
Jason Smith's California Mission PJ Bass is an homage to the California Missions lining the coast of the Golden State. The inspiration for this came from Jason Smith's son studying the California Mission Trail in school, which led to a summer vacation trip up the coast of California to see all 21 missions.
This bass is inspired by the San Francisco Mission in particular, as Smith was drawn to the hand painted pattern of the ceiling and ceiling beams. Featuring a reclaimed roasted pine body, and roasted maple neck–this bass has a very warm, resonate tone, reminiscent of a vintage bass.
The hand painted body and position markers on the neck show brush strokes, which give the bass a one-of-a-kind look and style. With its unique features, the California Mission PJ Bass will appeal to bassists wanting something different and to anyone interested in California history.
Dennis Galuszka: The Boardwalk Telecaster - $15,000
Dennis Galuszka's The Boardwalk Telecaster is for beach and wood-lovers alike. Inspired by some reclaimed redwood from the Santa Cruz pier, the guitar features a perfectly matched roasted maple neck, as well as a carving of an old weathered boardwalk on the top, by V. Lee Cabanilla.
Dale Wilson: Buckeye Burl Top Tele - $11,000
Dale Wilson's Buckeye Burl Top Tele pairs a buckeye burl top with a lightly flamed mahogany body and Ivroid-bound mahogany neck. This high-end natural wood guitar features an open sound with a Curtis Novak gold foil pickup in the neck position.
Todd Krause: Fire Pit Strat - $10,000
Todd Krause's Fire Pit Stratocaster is inspired by the glowing embers of a camp fire. This guitar includes several custom features, including the color, a highly figured quilt top and "roasted" flame maple neck–ideal for players that favor a modern look with vintage sound.
Greg Fessler – Australian Myrtle Tele - $7,500
Greg Fessler's Australian Myrtle Tele was born from a unique piece of Blackwood that Fessler had never heard of before. Ideal for figured wood aficionados and players alike, this guitar features 
P-90 pickups, a vintage Strat hardtail bridge and AAAA roasted flame maple neck with a Blackwood fingerboard.
John Cruz Custom Hand Tooled Paisley Leather Tele - $29,000
John Cruz's Custom Hand Tooled Paisley Leather Tele builds on the resurgence of paisley designs. Cruz was inspired by friend Dru Whitefeather to create a leather guitar. Something new and unique to the Fender Custom Shop, the guitar features a leather covering, paisley design and custom inlay work that will surely appeal to collectors, artists and players.
Yuriy Shishkov: Prehistoric Tele - $11,000
Yuriy Shishkov's Prehistoric Telecaster guitar's body and fingerboard are made from nearly 5,000-year-old, Jet Black "Bog Oak"–coming from a tree that grew before the Egyptian Pyramids were built.
This wood was submerged in the swamp for thousands of years, getting a Jet Black color because it's one step away from becoming coal. The Telecaster also features a custom tailpiece, making it even more of a "one-of-a-kind" instrument.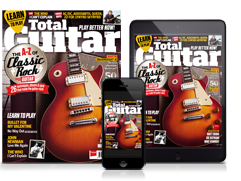 Stay up to date with the latest gear and tuition.
Subscribe and save today!