Musikmesse 2017: Italia unveils 3 new guitars and basses, including "the most tonally diverse six-string ever made"
The Italia job
MUSIKMESSE 2017: Italia has dropped a trio of quirky new designs, comprising the Imola Vario, Maranello Cavo bass and ITFJ6 Jeff Foskett Signature six-string.
The ITFJ6 is a six-string version of the 12-string made for Beach Boys guitarist Jeffrey Foskett last year, while the brand is touting the Imola Vario as "possibly the most tonally diverse six-string ever made".
Read on for the lowdown on each model, and head over to JHS for more info.
Italia Imola Vario
PRESS RELEASE: Possibly the most tonally diverse six-string ever made, the new Imola Vario has some fresh, clean design changes, a redesigned body cavity for better tone as well as weight reduction, and even more tonal variation in the pickup configurations.
Classic-style 3-way switches split the bass and treble sides of all 3 Italia Duplex pickups (or to control the SIX mini pickups). An added 5-position rotary switch allows you to dial every combination imaginable.
With a Wilkinson WV6 vibrato system and Italia locking machine heads for superb return-to-zero performance, the Imola Vario is supplied with a padded gigbag and is available in Satin Yellow and Satin Purple finishes.
Italia Maranello Cavo
PRESS RELEASE: Meanwhile the Maranello Cavo bass features a chambered mahogany body construction with Italia's signature f-hole design, resulting in a stunningly classic vintage look.
The Cavo's light weight, and 30" scale length make this a very comfortable instrument. Equipped with a pair of Italia Toaster bass humbuckers with master volume, tone and blend controls the Cavo is ideal for a wide range of styles.
Available in Racing Green or Trans Red finishes, the Cavo comes complete with padded bag.
Italia ITFJ6 Jeff Foskett Signature 6 String
PRESS RELEASE: Finally, following on from the success of his 12-string model last year, Italia are pleased to add the new ITFJ6 Jeff Foskett Signature 6 String.
Developed once again in conjunction with the longtime Beach Boys guitarist, the ITJF6 comes with three Wilkinson mini-humbuckers, with a master volume, tone, blend and separate middle pickup volume controls, for a wide variety of tonal options.
Finished in Pearl White with an Italia trapeze tailpiece, the ITFJ6 looks as stunning as it sounds and comes with padded bag.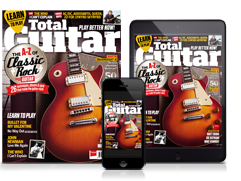 Stay up to date with the latest gear and tuition.
Subscribe and save today!