IK Multimedia's Group Buy offer is back with a bang for 2023 following last year's monumental 25th anniversary offer. If you're looking to save some serious cash on software right now, then this is the offer to shop with the promise of up to 16 products for the price of 1!
Yes, you read that right - 16 for the price of 1. With this offer you can massively expand - and improve - your current home studio set up with a collection of state-of-the-art amp modellers and studio effects processors across a wide range of the IK Multimedia software line-up.
So, how does it work? Well, this deal is a little more involved compared to your standard BOGOF offer. This is a group buy deal, meaning the more people who participate, the more freebies you'll receive. The group counter - featured on the IK website - is split into milestones. At 250 participants, you'll receive 3 free products, at 500 it's 4, at 750 it's 5, at 1,500 it's 7 and so until the 10,000th participant will unlock the full 16 free plugins.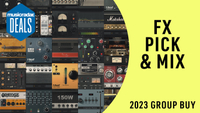 IK Group Buy: Up to 16 for the price of 1
Grab yourself up to 16 products for the price of 1 with the IK Multimedia Group Buy offer. Bag yourself everything AmpliTube expansion packs, to compressors, reverbs and other essential studio tools.
All you have to do to join in the fun is simply purchase and register any of the qualifying products from the online store, IK authorized dealer or Custom Shop, and you'll receive one qualifying product of your choice (of the same value or less) for free, straight away. Once each milestone is reached, you'll receive the next free piece of software.
Therefore, it really pays to share this information far and wide. The quicker the counter gets to 10,000, the faster you get your 16 plugins. You have until the end of July to get involved.