Fresh off the heels of launching their dedicated UK Demo Shop, Gibson has cemented the idea that Reverb.com is the place to go for one-of-a-kind offers. Not only is the Reverb shop full to the brim with exclusive prototypes, demo guitars and pre-played artist models but for the entire month of August, all purchases from the UK and European stores will ship with a FREE Maestro Comet Chorus pedal.
The Demo Shop is a treasure trove of Gibson oddities, with new models being added every Tuesday, so whether you're seeking a cut-price vintage reissue or an experimental axe that didn't quite make it to production, this is the place to shop.
A few of our highlights from the current collection include the stunning Tobacco Burst Gibson Les Paul Standard 50s, which despite being listed as having "minor scuffs and handling wear", looks to be in excellent condition and a steal at £1,899. Next is the rather unique Gibson Les Paul Studio Double Cut Prototype, which features a striking Translucent Red flame maple top. Of course, we must mention the drop-dead-gorgeous Gibson ES-335 1959 Reissue Prototype, which is dressed in a rather smart satin Vintage Burst finish with cream plastics.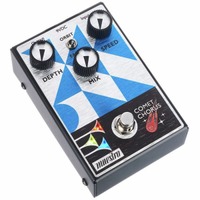 Free Maestro Comet Chorus: Gibson Demo Shop
From now until the end of the month, any purchase made from either the Gibson UK Demo Shop or Gibson European Demo Shop will come with a free Comet Chorus pedal from Maestro. So, if you've been eyeing up that heavily modded LP, uniquely finished ES-335, or whacky prototype, now is the perfect time to take the plunge.
Gibson and Maestro have been a match made in heaven for decades, with the American guitar giant helping launch the first commercially available fuzz box way back in '62. Since then, Gibson has relaunched pedals such as the famed FZ-1 in various guises, but the latest Maestro line-up may be the most diverse and best yet.
The pedal Gibson is kindly offering all Demo Shop customers for free is the Maestro Comet Chorus. This space-age modulation utilizes iconic analogue bucket brigade device technology and delivers a smooth chorus that is out of this world. It also features two distinct modes, an intuitive control layout and a seriously sturdy build.
It's worth noting that as this is a demo shop, what you see is what you get. So be sure to inspect the photos thoroughly to make sure you are happy with the condition before making a purchase. Gibson also states that case candy and accessories are only included if they are photographed and models featured in the UK store are only available to ship to the United Kingdom.
Looking for more great gear? Our buyer's guides are here to help