New drum gear of the month: review round-up (December 2013)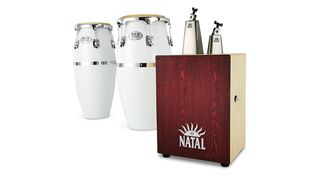 Natal Classic Series Congas
Every month our sister publication Rhythm - the UK's best-selling drum magazine - reviews the latest drum, cymbal and percussion gear.
In this gallery we've gathered all of the cymbals, drum kits, electronic drums, percussion and any other drum gear reviews posted on MusicRadar throughout November.
All the equipment on show here was originally reviewed in Rhythm magazine issue 222, or by MusicRadar's own reviews team. First up, Natal's Classic Series Congas...
Premier Nicko Sicko snare
MusicRadar's verdict:
Mapex Black Panther Widow Kit
MusicRadar's verdict:
Gibraltar G-Class Pedal
MusicRadar's verdict:
Natal Large Cajon
MusicRadar's verdict:
Meinl Laptop Table
MusicRadar's verdict:
Premier Aces High snare
MusicRadar's verdict:
Natal NSTC Cowbells
MusicRadar's verdict: