We suspect that the music software savings are going to come thick and fast between now and the end of the year - look out, too, for plenty of Prime Day music deals - but we doubt that few will be as big as the one you can currently get on iZotope's Breaktweaker Expanded.
Over at Plugin Boutique, this BT-designed drum machine plugin is currently available at the barmy price of $12/£9/€10, which is considerably lower than the $249 that the software is retailing for over on the iZotope website.
In our review, we noted that Breaktweaker does an outstanding job of creating stadium-friendly EDM and dubstep beats, offering polyrhythmic sequencing and micro-editing. And, at this price, it could offer a low-cost, high-quality way of reinvigorating your beatmaking workflow.
What's more, in buying Breaktweaker you'll also be able to claim free copies of both Trash 2, iZotope's multiband distortion plugin, and UJAM's Carbon virtual guitar instrument.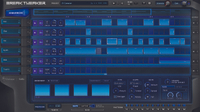 Buy iZotope Breaktweaker for just $12/£9/€10!
Pick up iZotope's BT-designed drum machine plugin for this crazy price and you'll also get the Trash 2 multiband distortion plugin and UJAM Carbon virtual guitarist thrown in for free!