Brent Hinds and Ben Weinman on defying definition and expectation with Giraffe Tongue Orchestra
Introduction
We sit down with Mastodon's Brent Hinds and the Dillinger Escape Plan's Ben Weinman to talk about their mind-bending supergroup, Giraffe Tongue Orchestra…
Metal went through a strange transformation around the turn of the millennium. While bands such as Killswitch Engage and Lamb Of God led the charge for the American New Wave, something else was bubbling beneath the surface.
Originally label-mates at underground independent Relapse Records, Mastodon and The Dillinger Escape Plan became fast renowned for their otherworldly musicianship as they brought different slants to pushing the progressive metal envelope to its limits.
With guitarists Brent Hinds and Ben Weinman finally releasing debut full-length, Broken Lines, as Giraffe Tongue Orchestra - a supergroup that also includes current and ex-members of Alice In Chains, The Mars Volta and Zappa Plays Zappa - we thought we'd track down the pair to find out the secret to thinking not just outside the box, but infinities beyond…
Don't Miss
Ben Weinman talks Dillinger Escape Plan's origins, Dissociation and destiny
Onstage nightmares: The Dillinger Escape Plan's Ben Weinman
Weird science
You both seem drawn to disjointed rhythms and time signatures. Where does all that come from?
Brent: "I think it would be listening to jazz, for me."
Ben: "That and fusion. Plus a combination of IDM like Aphex Twin and Squarepusher. I was listening to a lot of electronic stuff around the time Dillinger Escape Plan started. I listened to punk and metal before that, so I got kinda desensitized to a lot of it. Then other styles started to take my interest. It was what made me want to do this kind of version of heavy thrash. Players like John McLaughlin, Robert Fripp…"
Brent: "King Crimson, totally! I really love that band. I mean, I'm not trying to copy Ben by saying that! [laughs] Plus there was Frank Zappa and Captain Beefheart. Rory Gallagher is another guy that's been a huge influence on my life and guitar approach.
"I've always liked odd music, I've always been the odd guy. Even back in high school, people would be like, 'That guy is weird, hanging out over there sucking his thumb!' My country swing heroes are Django Reinhardt, Jerry and Jimmy Reed, Gene Vincent, Carl Perkins… there are just so many. On top of that, there's Danny Gatton, Paco De Lucia, the players that prove you don't need effects, you just need to know how to play the goddamn guitar."
What else helped you stray from 4/4?
Brent: "Well, in GTO, it's our drummer Thomas Pridgen - he decides when he wants to calm down and play in 4/4… he's the drummer! Which is what I like about being in a band with him - he makes the weird shit sound 4/4 and then the easy shit sound weird or technical.
"A lot of Mastodon stuff is in 7[/4], which is less typical and feels more natural, not that I usually know what I'm playing in! We attract the non-average listeners. The other side is all the Disturbed and Five Finger Death Punch fans, who knows who the fuck those people are? But I can say they love their metal just as much as our fans do. Who knows, they're probably the same people that voted for Trump!"
Ben: "I tend to like a bar of three, a bar of six, then nine… after which, I add it all up to whatever the fuck that is! [laughs] I don't really have any go-to's when it comes to time, really."
Similarities and differences
When you play together, what do you feel are the stylistic similarities?
Brent: "There aren't many, honestly. Ben can move both ways, he's a very mathematical and accurate guitar player, but still with swagger. I wouldn't say I'm very accurate though."
Ben: "We each have our distinct styles, but at the same time there's that blues background - which Brent takes into a more bluegrass-y direction."
Brent: "I love country stuff. It's what defines guitar playing for me."
Ben: "And I have a lot of fusion in there. The similarities could almost be the fact we came from a feeling and ear-led school of training, not theory. We're both self-taught and listen to a lot of music, which influences how our bands sound. With us, feeling is more important, not technicalities… feeling comes first.
"In GTO, our different styles come together to create something new. We weren't sure if it would work at first, but when we started writing we both felt it was a good combination. We do solos going back and forth on the first track, Adapt Or Die, and it's actually kinda hard to tell who is who at points! 'Is that Brent or maybe this little bit is Ben?'"
Brent: "It's really easy to work with each other, we're good together and match up on all this weird, fucked-up-sounding shit. We can get something done like that… Though actually it did take us seven years to do this. It wasn't our fault, honest!"
Guitar tongue-twisters
Ben, you've always been an avid explorer of chromatic ideas… what made you want to experiment with such extreme dissonance?
Ben: "I really love the chromatic stuff. I started using them because I wanted to create tough sounds. It wasn't about the notes so much, but more about creating anxiety. With Dillinger, we try to make it not appeal to a mass market - making people uncomfortable."
Brent: "Which brings a cult following!"
Ben: "Sometimes shredding as many notes as I can, with four half-step harmonies, can sound like there's a bunch of bees attacking you. That was the idea - how do I create anxiety and make it uncomfortable for the listener?"
Brent: "I just loved how punk rock it felt when I first saw them. Almost like, 'Me and that guy have to be friends!' Both of our bands are definitely cult bands with cult followings. We don't have any songs on the radio anywhere, we don't need 'em. We don't want 'em. We want to get this stuff out of our chest and our bones, that's why we do this. It's not because we like sleeping in bunks and being tired all the time! [laughs]"
How different are your warm-up and practice regimes?
Brent: "For me, stretching your hand and fingers and tendons without your guitar is very important. After that, I just play guitar. Constantly. Backstage or even if I'm just sat around the house, there's always a guitar in my hands. I never go on YouTube for anything, I just sit there and noodle on my own. That's my main advice to any player, just sit down and play more guitar."
Ben: "I find writing is actually a great way to practise - trying to find odd combinations that are uncomfortable… like the guitar equivalent of tongue-twisters for vocalists! Then you do them until they're comfortable. A lot of the Dillinger stuff simply comes from ideas that I thought felt weird or odd to play. Making sure I'd write them down and continue playing them is what elevated me as a player.
"I would push myself to write things that were difficult, so that's what I'd encourage people to do. Stop playing what you listen to, push yourself to create. That's the difference between great players and great musicians… the best guys didn't sit around learn other people's songs or scales, they were constantly creating to get better at their instrument."
Get up, setup
Brent, you played a big part in popularising drop A tuning for metal guitarists. How did you discover it?
Brent: "I did that when I was trying to fuck around with our sound. I was listening to a lot of Sleep and Sunn O))) at the time. I was getting more into the idea of noise… fragmented, augmented, whatever you wanna call it - fucked up stuff."
Does GTO require its own rig or do you just use your usual set-up?
Brent: "I use the same stuff as I do with Mastodon. It's Marshall heads going through Orange cabs. When it comes to pedals, I don't use as much of that shit live anymore… I leave 'em at home because I don't want to fuck them up."
Ben: "I stick with the Mesa/Boogie Mk Vs because I find them really versatile. I like tube amplifiers, we both do, and this has enough diversity to it without me needing some other preamp or an Axe-Fx or whatever.
"There are enough variations in tone, plus reverb inside, individual controls for each channel - which have separate power options to change from 90, 45 to 10 watts, so I can push the tubes differently for more sounds.
"There's also an on-board five-band EQ that you can turn on and off with the footswitch… you can use it for different styles of music, but there aren't too many options, like those amp simulator things.
"Plus it sounds loud and you can still jam on it backstage. Though, in the studio, I'll use all sorts of different amps, from Mesa/Boogie to Vox to Bogner to 5150s… anything!"
What exactly do you look for in the guitars you play live?
Brent: "This one I'm holding is a 2011 SG in TV Yellow. I've stuck some of my own pickups in there. I don't really have any attachment to Gibson anymore, but when I was a kid, all my idols played Gibsons - whether it be Led Zeppelin or Thin Lizzy. In my mind, those guys knew the best way to play a guitar solo, honestly!"
Ben: "I always have a lot of duct tape on my guitars. That's definitely one of the main running themes!"
Long time coming
The Giraffe Tongue Orchestra album has some pretty eclectic disco-pop shuffles to it, too - worlds away from Dillinger and Mastodon…
Brent: "The Bee Gees ruled the 70s and they rule forever. Trust me, you'll see a Bee Gees resurgence happening soon! [laughs]"
Ben: "Those funky riffs are showing where I come from - I didn't get technical until Dillinger started. I wasn't a shredding guy at all, I learned that stuff because I needed to, in order to make Dillinger sound that way. The other guys were actually more shreddy than me in the beginning!
"So GTO helps me go back to my roots and play funk and James Brown stuff, which I now find more difficult in a way. For example, with Blood Moon, I wanted to write a song that was practically one riff - which I have never done in my life! Then Brent put something else on top and became unlike anything I'd ever heard."
Brent: "That became a cool song, especially because it's about the supposed apocalypse of April 2015!"
Ben: "There were so many songs written for the GTO album over the years, but we didn't really have the right combination of people. Me and Brent were the only constant elements. Peter Griffin [bass] and Thomas coming in affected the songs and influenced how they ended up.
"Then finally we sent the tracks to William (DuVall, GTO singer, also of Alice In Chains), who picked them up and made them work. I'm glad he did, because it made the album even more diverse. It helps that William is a great guitar player, too - he understands us and how to complement our music with things that weren't happening already.
"I always felt he had a very wide vocal range, it was like he'd already pulled off joining an established band with a distinctive vocal, but I knew he could do so much more that people didn't know about. We didn't have any definitions or expectations for this, we still don't. We're a baby band… right now, we're having fun with it."
Giraffe Tongue Orchestra's debut album, Broken Lines, is available now on Party Smasher records.
Don't Miss
Ben Weinman talks Dillinger Escape Plan's origins, Dissociation and destiny
Onstage nightmares: The Dillinger Escape Plan's Ben Weinman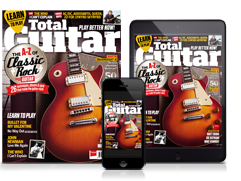 Stay up to date with the latest gear and tuition.
Subscribe and save today!