Ben Weinman talks Dillinger Escape Plan's origins, Dissociation and destiny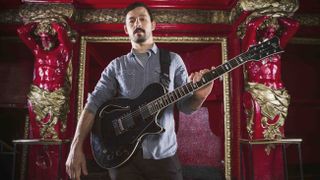 Dissociation
"When Dillinger started in the late 90s, I had already been completely desensitised to extreme music," explains Ben Weinman, guitarist and mastermind of experimental technical metallers Dillinger Escape Plan, "none of that stuff was interesting any more because I wasn't hearing anything that was really different."
With this in mind, it's not hyperbole to say that Dillinger Escape Plan are one of the few guitar bands of the past 25 years to make a total and radical break with the music of the past and forge a unique sound.
As immediately recognisable as the gauzy swirl of Kevin Shields in the shoegaze world, Dillinger's angular stabs of guitar, metallic riffing and face-melting solos - whose technicality is shrugged off by Ben: "how I excelled as a player was I always wrote stuff I couldn't play" - were as influential in metal as My Bloody Valentine were in indie, and they have spawned countless imitators, iterations and acolytes.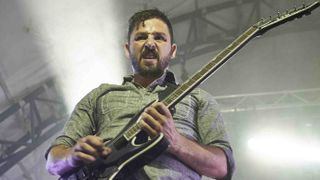 Organised chaos
Finding eventual refuge in fusion such as King Crimson, Mahavishnu Orchestra and John McLaughlin, Ben's interest in jazz guitar has always been bubbling away under the surface of Dillinger, but on new LP Dissociation tracks like Low Feels Blvd, they finally appear at the fore.
"The truth is that all that stuff from the very beginning was a huge influence on Dillinger - I think we just hid it better," Ben says.
"As we felt that our listeners were more prepared to hear that stuff in a naked way, I guess we've started to do it a little more literally than before."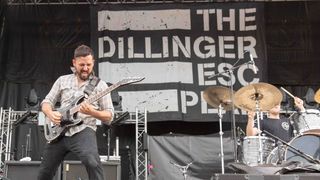 Date with destiny
When he describes the band in its current form, Ben is enthusiastic, speaking of how the music scene has to some extent caught up with them, and that Dillinger are now getting some of the recognition they deserve.
It may come as a surprise, then, to learn - as fans did when new album Dissociation was announced - that this will be the final Dillinger Escape Plan record, with the band intending to go out on a high.
"The vibe around Dillinger is amazing," Ben admits, "but in a way, that's more reason to say, 'let's control the destiny of this band' and close the book in a way that is respectable."
Though Ben doesn't touch on it, their extreme live shows, which have taken their toll in broken bones, as well as him and Greg living on opposite coasts of the US are probably factors, too.
There's also the fact that Ben is still the driving force behind the writing, production and recording process.
YouTube : RMV/REX/Shutterstock
"I do pretty complex and detailed demos... then I'll send it to our drummer Billy to start familiarising him with some of the ideas," he explains.
"Then the next step is usually him coming over and us getting in a room with some combination of premeditated riffs already planned out and structured combined with real improv jamming to make sure that it feels right and that the transitions are natural and the speeds are right.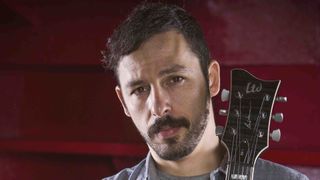 Orchestral manoeuvres
At the time the break-up was announced, many wondered if Ben's new supergroup Giraffe Tongue Orchestra, which boasts Thomas Pridgen (formerly of Mars Volta), alongside Mastodon's Brent Hinds and Alice In Chains' William DuVall, was related to the split, but that's not the case.
Ben says that despite its high-profile membership and side-project status, there will be a future for GTO beyond their debut record, Broken Lines.
"We want to explore the live thing more, as we really had a good time doing it at Reading and Leeds [Festivals]. There seems to be a cool chemistry that satisfies something our other bands don't."
But he's realistic about how busy all the respective players are.
"I think we'd like to make more music together, and we probably will at some point... but I'm tying things up with Dillinger... and William is going to be out [on tour] with Alice In Chains."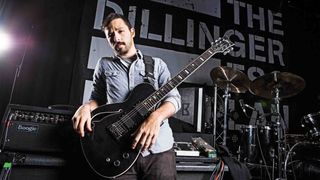 Forever and Evertune
Apart from being Dillinger's final album, Dissociation is in many ways business as usual. Greg uses more of his clean voice as opposed to screams than ever before - possibly inspired by his electronic side project The Black Queen - but the sound is instantly recognisable as Dillinger Escape Plan.
On the recording side, there have been some breaks with the past - eschewing to some extent what has "historically" been the Dillinger guitar sound - "a side of Mesa and a side of 5150" - Ben experimented with a much wider variety of amps.
"I used so many... on a switcher system so we can switch between heads instantly from right in front of the console, so it was almost like using like a preamp or something with presets, but it was actually the real tube amplifiers. So there were times when I would switch multiple times within a song."
Guitar-wise, "not to shamelessly plug," but Ben's been faithful to his signature ESP/LTDBW-1, and in particular, its Evertune bridge.