GEAR EXPO 2023: Music software has been one of the fastest-rising stars of music production over the last couple of decades. But as big as that rise has been, so has the crushing disappointment that you typically use a mouse and pointer to control it. So the second wave of tech to follow the software has been the hardware MIDI controller – the saviour of music software! And 2023 has some excellent choices on the way for total control.
A MIDI controller is a hardware device like a compact desktop unit or even a full-sized keyboard that makes controlling your software more tactile. You can employ a controller to work with your DAW, software instruments or even other hardware in your studio – or indeed a combination of all three.
Here are the best new controllers that we've just reviewed or are on our release radar for 2023. These devices can revolutionise how you interact with software and will allow you to take back control of your music production.
Nektar Panorama CST
One of the highlights of the recent NAMM show - where many of the new gear announcements for the year were made - was this new controller from Nektar, the Panorama CST. Nektar is no stranger to the world of the MIDI controller and has released countless award-winning devices that help your studio workflow.
Panorama CST looks as intuitive to use as it is functional. It is a channel strip controller, so focusses on the banks of effects you have loaded per channel, but can also navigate around your DAW's tracks and control many of its features.
With Panorama CST, Nektar isn't trying to replace the dreaded mouse and computer, which other controllers have tried - and mostly failed - to do. It works in tandem with your existing setup, so you'll still use your mouse, but hopefully won't be staring at your computer screen as much.
That's because CST uses automatic colour coding - Panorama mapping - to make its controls that bit more intuitive. Select a compressor and the 'red' colour associated with it will light up on the CST controls that can be used to tweak it.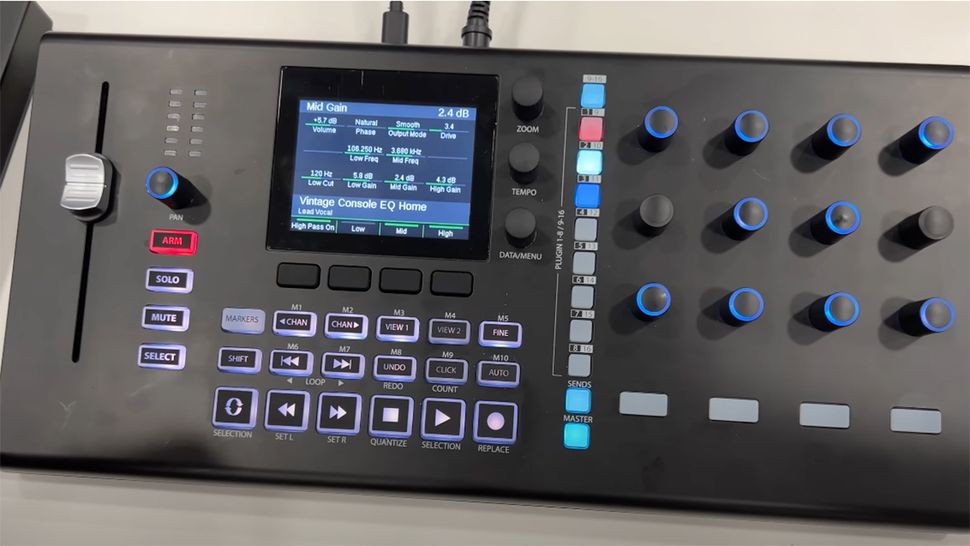 Another neat feature is Panorama CST's ability to make automation that bit easier, all via a single fader that enables you to switch the read and write automation in and out, and then add further parameter tweaks.
Panorama CST currently has Logic integration - as shown in the video above - but Nektar plans to bring the same level of compatibility to all major DAWs, including Bitwig Studio, Ableton Live and more.
Price and availability are still TBA, although we expect to be able to bring you a review over the next couple of months. You can head on over to Nektar's site if you wish, but as we write this, it's still lacking in much in the way of new info.
Reliq Instruments Reliq
It might look like a standard grid controller – albeit one with quite a few more buttons – but Reliq could be something completely different in the world of control. It is a new matrix-based "hybrid control surface" that can be used to route and mix audio, sequence your music and control your DAW.
The majority of Reliq's top surface is taken up by a 16x16 grid of buttons. This can be used to connect any input to any output with a single press, and you can store and recall signal routings in real time.
When in its sequencing guise, Reliq offers 16 polyphonic sequencers, while modes include Euclidean and Stochastic. You get eight voices of polyphony and 128 patterns per track, an LFO and envelope per track, real-time parameter recording and MPE compatibility.
When it comes to modulation, you can draw automation, LFO shapes and envelopes on the button grid.
DAW control features, meanwhile, include the option to trigger loops and clips, adjust mixer and instrument settings and arrange clips. A dedicated plugin enables you to sync and control Reliq from your DAW, too.
Naturally, there's plenty of I/O: three MIDI Outs, one MIDI In, USB-C MIDI, USB Host, 16 x gate and 32 x CV, reset out and clock out. The CV/gate connectivity and 16x16 matrix I/O comes in its own Eurorack-compatible case; this can be powered from the main Reliq unit via USB-C or a Eurorack power supply.
It's hard to know what to make of Reliq without seeing it in action. There are no videos to watch at this stage, but you can sign up for a launch invite on the website and receive a discount. The standard price will be $1,699.
203 Electronics Matrix
Still a grid controller but clearly at the smaller end of the scale compared to Reliq (above), is 203 Electronics' Matrix. This is a minimalist new controller that's designed to be extremely portable and totally customisable thanks to its open-source design.
Compared to lots of grid controllers out there, Matrix has one or two USPs up its sleeve. The developer claims that it fills a gap in the market between the high-cost 'pro' devices and the super-cheap ones that have limited features.
It might appear that control is limited to the 8x8 grid, but look closely and you'll see that there's also a 'hidden' control button in the centre. There are two touchstrips on the sides, too.
On the standard Matrix, the pads aren't velocity-sensitive, but they are on a 'Pro' version. Both devices offer USB-C and Bluetooth LE/WiFI wireless connectivity, with a 2.4Ghz wireless compatibility made possible by an optional receiver.
As we mentioned, Matrix's open-source design means that you can customise it as you wish. It ships with the Matrix OS, with all features supplied as applications within this. Because the OS is open-source, you can create your own apps to suit your needs.
The retail prices for the Matrix and Matrix Pro will be $129 and $199 respectively, but you can currently pick them up for the early bird prices of $99 and $169 via the Kickstarter campaign that has already reached its funding target. You can expect to take delivery of your controller imminently, with May and June being promised ETAs.
Akuto Studio Chord Machine
Now here's a release for those of you who get excited whenever Teenage Engineering announces a new hand-held product. Akuto Studio's new Chord Machine AKT-0.1 very much fits in with that cool TE mobile aesthetic, with chord generation and MIDI control being its main aims.
Chord Machine is a slick-looking controller with a button keyboard that can be played in accordion, piano and Tonnetz configurations. Some serious thought has clearly gone into the design, which features 28 round keys, two shift keys and an infinite rotary encoder on one side, and a four-inch capacitive touchscreen on the other. This screen enables you to play up to four effects simultaneously and trigger notes in direct, bimanual and strum modes.
As you're playing, the rotary knob can be used to move through semitones and octaves, and to adjust the pitch of any chord. Because the device can be flipped through 180 degrees. it offers ambidextrous usage, which is a nice touch.
Connectivity is via USB-C (there's no mention of Bluetooth MIDI) and the AKT-0.1 is built from a combination of aluminium and ABS thermoplastic.
We're pretty excited about this one, as there seems to be enough innovation built in to get creative with anything you partner Chord Machine with.
A Kickstarter campaign for the AKT-0.1 started in April for AKT-0.1 If the Chord Machine looks like a bit of you, you can join the waiting list and qualify for an $80 discount via the Akuto Studio website.
---
Looking for more great new gear? Get all our round-up, news, features, tutorials, tips and more at our Gear Expo hub page.