Guitar. It's all about fast licks, loud distorted amps and hoards of adoring fans, not a quiet evening in cleaning and setting up your instrument, right? Well, in reality, you can't have one without the other. All musicians need a well-looked-after guitar that's not only clean but is also set up to perfection. So, if you've been neglecting this area of being a guitarist, this guide to the best guitar cleaning kits and tools is for you.
Okay, we get it. The thought of tinkering with your beloved guitar can be intimidating, but don't worry. We aren't suggesting full-scale repairs, fret jobs or advanced electrical work. We're merely proposing you show your pride and joy a little TLC. What we mean by that is regularly cleaning the body and fingerboard to remove grime, routinely changing the strings and tweaking the action when necessary. Of course, to do this successfully, you're going to need the correct tools - and that's where this guide comes in.
Below you'll find our pick of the best guitar cleaning kits and tools from our favourite manufacturers - covering various price points. We have full-on cleaning kits from Dunlop, professional-grade tools from Ernie Ball and even handy gig bag essentials from D'Addario and GHS.
Best guitar cleaning kits and tools: Our top picks
If you are looking for an incredibly inexpensive way to keep your guitar playing great in between string changes, then Fast Fret is the product for you. This gig bag staple is beloved by players across the globe and is perfect for not only giving your strings a refresh but also lubricating the strings allowing you to play faster - hence the name.
Now, there are a few essential tools every guitarist and bass player should own, and luckily they are all included in the Ernie Ball Musician's Toolkit. Inside the handy carry case, you'll find a string cutter, microfiber polishing cloth, Ernie Ball Wonder Wipes, 6" stainless steel ruler, Ernie Ball pegwinder, 6-in-1 screwdriver and an assortment of hex wrenches. Armed with these tools, you'll be able to change strings quicker and with more confidence than ever before - as well as perform crucial adjustments to the string height and intonation.
Best guitar cleaning kits and tools: Product guide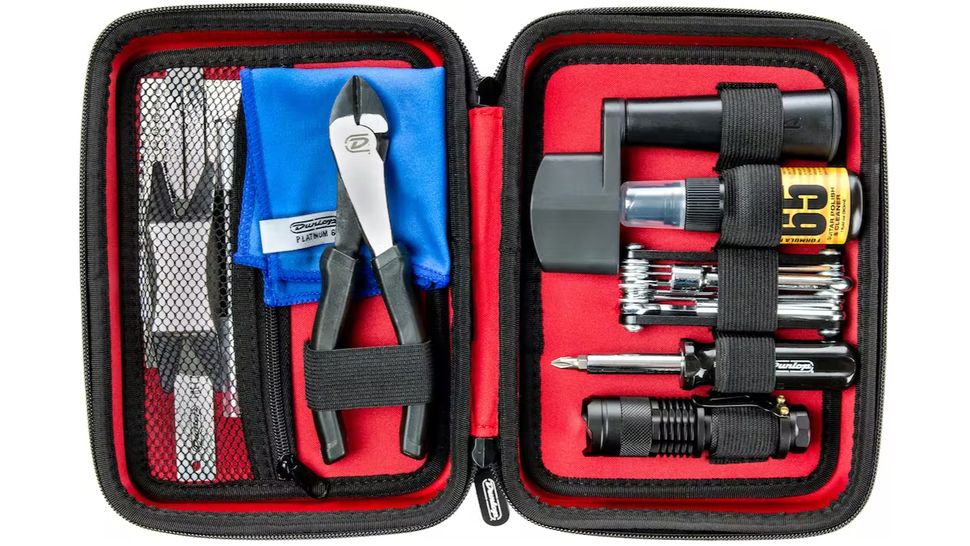 Dunlop's DGT102 maintenance kit is a one-stop shop for any guitar tinkerer. This zip-up pouch contains everything you'll need to keep your much-loved axe looking and feeling brand new - with a few welcome extras.
As you'd expect, Dunlop's kit comes with the necessary tools to tweak the action, adjust the intonation and replace your strings, but it comes with even more specialised tools, allowing you to finally do those tricky jobs such as removing the volume and tone pots without shattering them.
Dunlop has thought of everything with this maintenance pack, with them even including a handy flashlight, to make adjustments at the side of the stage a whole lot easier.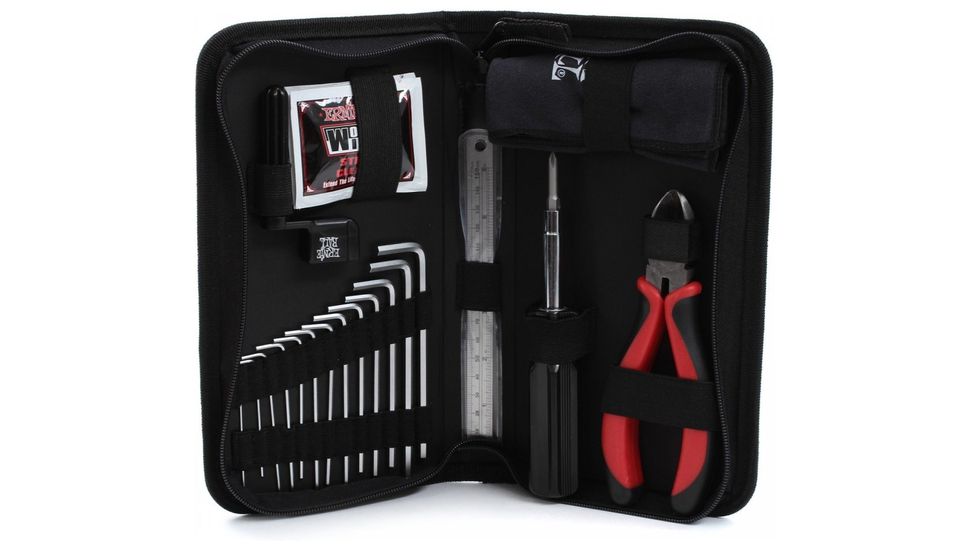 If you're going to get a helping hand with a string change, you want it to be from a bonafide electric guitar string legend, right? Thankfully, that's exactly what you get with the Ernie Ball Musician's Toolkit.
Included inside is everything needed to take care of a vital part of guitar maintenance, the humble string change. Ideally, you should be changing your strings every two to three months, so it pays to have the correct tools for the job.
Included in the Musician's Toolkit are an Ernie Ball branded microfibre cloth, Wonder Wipes, a heavy-duty string cutter, a peg winder, a 6-in-1 screwdriver, a hex wrench set and a steel ruler.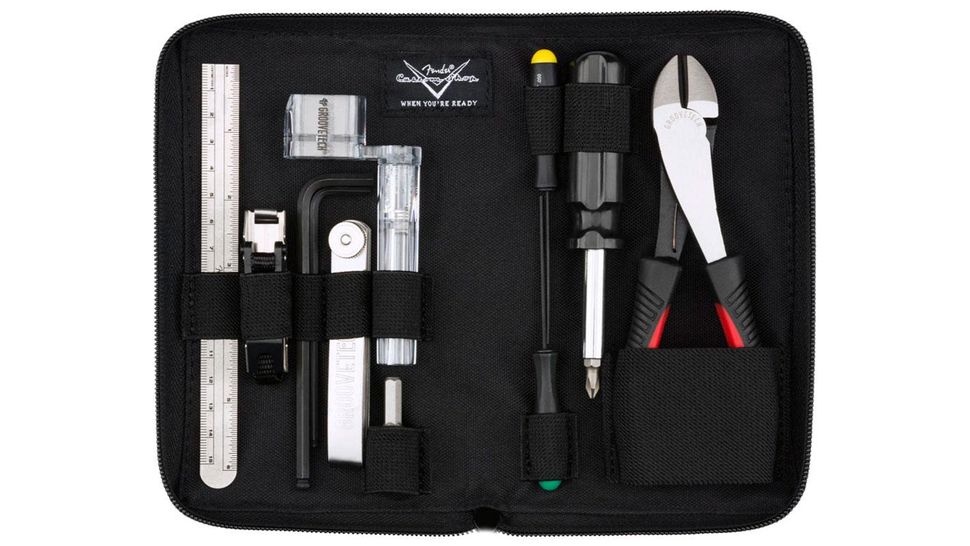 Like the two kits above, Fender's Custom Shop Toolkit contains myriad of upkeep tools for your beloved guitar. That said, while the options from Dunlop and Ernie Ball are a little more generic, this one is more suited for Fender instruments.
This well-crafted kit contains all the equipment needed for most minor adjustments, including a five-in-one screwdriver with a special 4-mm hex adapter for adjusting Fender style truss rods, 1/2" nut driver for input jacks, custom hex wrenches for adjusting Fender saddles, a ruler, diagonal cutter, capo, feeler gauges, and Fender branded string winder.
So if your Stratocaster or Telecaster is in major need of some TLC, this Fender Toolkit is for you.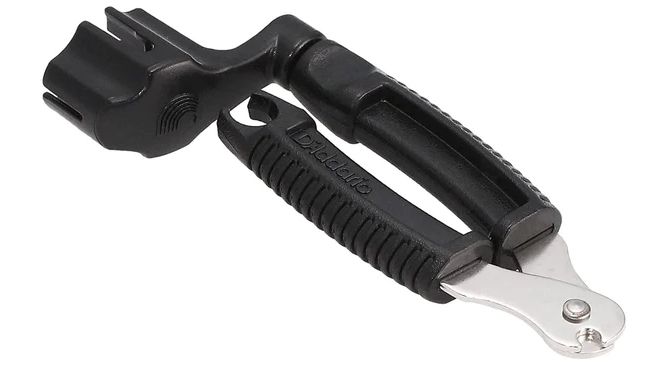 We'd go as far as to say that every player should have the D'Addario Pro-Winder in their gig bag or guitar case. This super affordable, durable accessory turns the tedious task of furnishing your guitar with a new set of strings into a total breeze.
Combining a string winder, string cutter and an acoustic bridge pin puller, this all-in-one tool offers serious value for money. But wait, it's not only for electric or acoustic guitars, this simple-to-use tool is designed to fit most string instruments, such as bass guitars, banjos, ukuleles, and mandolins.
So, if you feel like you don't need a slew of screwdrivers, wrenches and files, D'Addario's Pro-Winder is the one tool you definitely do need.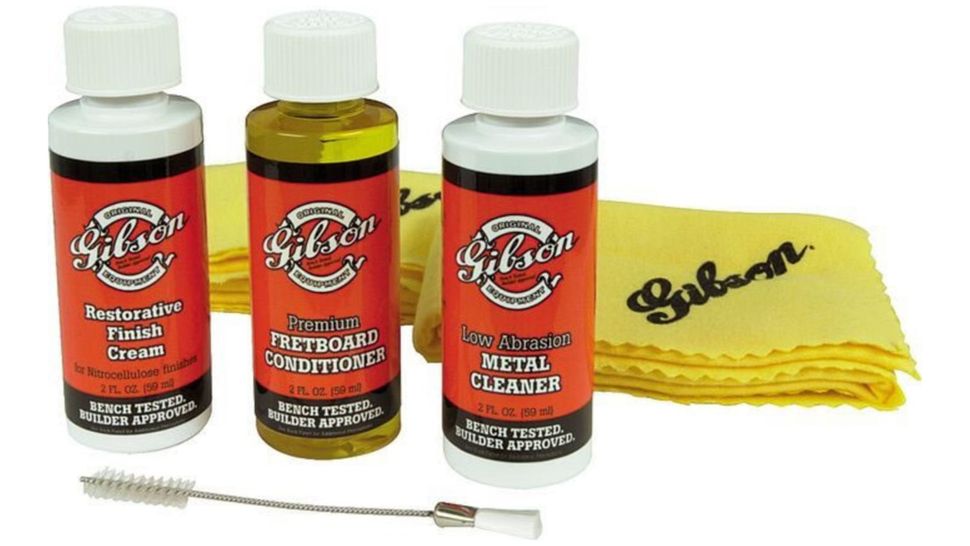 If you own a Gibson or any other premium guitar brand such as Martin and many Fender Custom Shop models that use a nitrocellulose-based finish, you'll know how important it is to look after it. Unlike hardier polyurethane finishes, nitro can react to certain polishes, so you'll want to make sure you use the correct formulation of cleaner.
The Gibson Vintage Reissue Guitar Restoration Kit is ideal, as it is formulated to be safe for all nitrocellulose instruments, meaning you can rest assured knowing you won't destroy the pristine sheen of your beloved Les Paul, D-28 or '54 reissue Stratocaster.
Included in this kit is a restorative finish cream, premium fretboard conditioner, low abrasion metal cleaner and two Gibson branded clothes and a wire cleaning brush.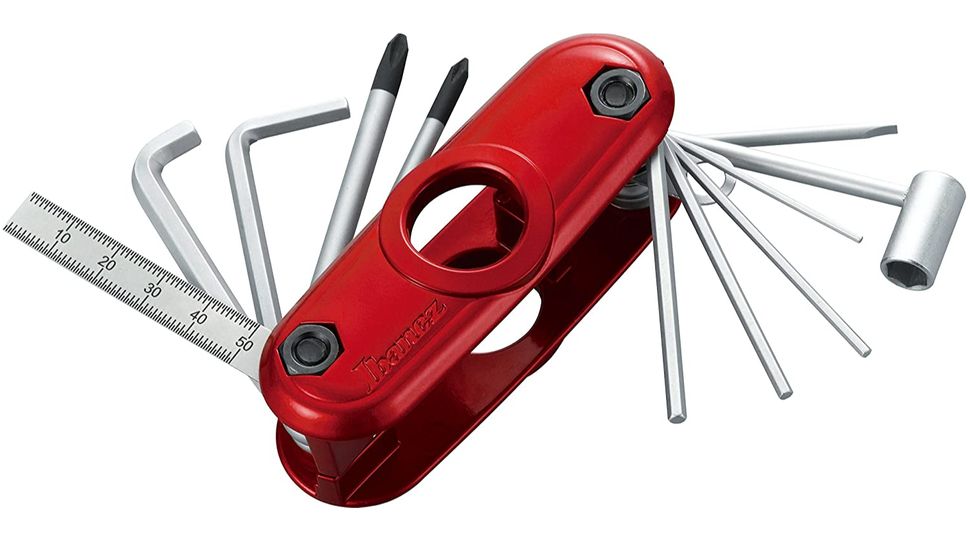 Out of the tools on this list, the Ibanez MTZ11 has to be the most convenient. Combining a whopping 11 tools in one handy unit, this multi-tool has everything needed to perform minor adjustments to your electric guitar.
With an array of hex wrenches, screwdrivers, a truss rod adjuster and a ruler, this is a very wise tool to carry around in your case or gig bag.
We also have to mention just how affordable the MTZ11 is. Coming in at only £12.99/$16.95, there's no excuse for not having one with you at every gig or rehearsal.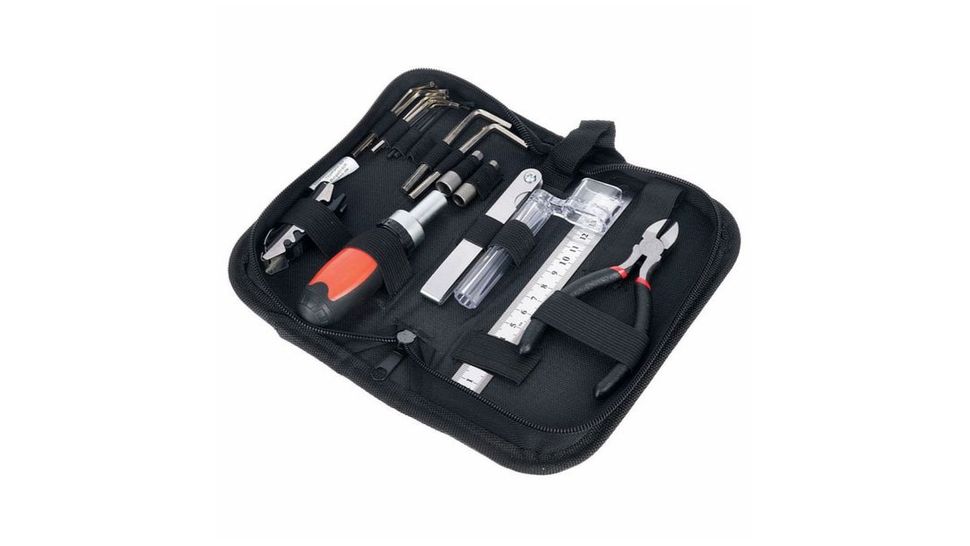 Thomann has been killing it recently with their beautiful budget Harley Benton guitars, but the modestly priced brand also makes a wealth of accessories to ensure the guitar is playing in tip-top condition, as well.
Coming in at under £20, there was just no way we could leave this toolkit off the list. The sleek Harley Benton branded carry case comes loaded with an abundance of tools, with a 6-in-1 ratchet screwdriver, 14 thickness gauges, a steel ruler, wire cutters, 12 hex keys, a capo and a string winder included.
So, if you are looking for a budget option that doesn't compromise on quality, the Harley Benton Guitar & Bass Toolkit is for you.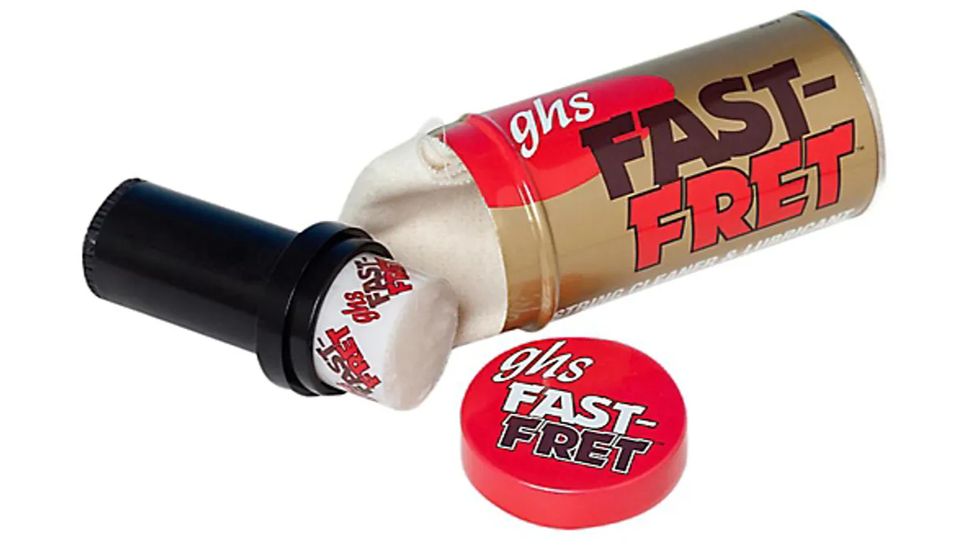 We strongly believe there would be a lot of angry guitar players out there if we left this gig bag staple off our list. While this mini string cleaner isn't exactly a kit, it's still worth having one in your case. Fast-Fret has become many players' go-to string cleaner and lubricant, and we count ourselves among them.
This stuff couldn't be easier to use. Simply rub it up and down your strings, and you'll instantly feel the difference. Not only will your strings appear slinkier, but they'll also stay brighter for longer!
Better yet, Fast-Fret isn't a spray, so it won't leave a mess and it doesn't contain silicone, so it is safe for all finishes.
Best guitar cleaning kits and tools: Buying advice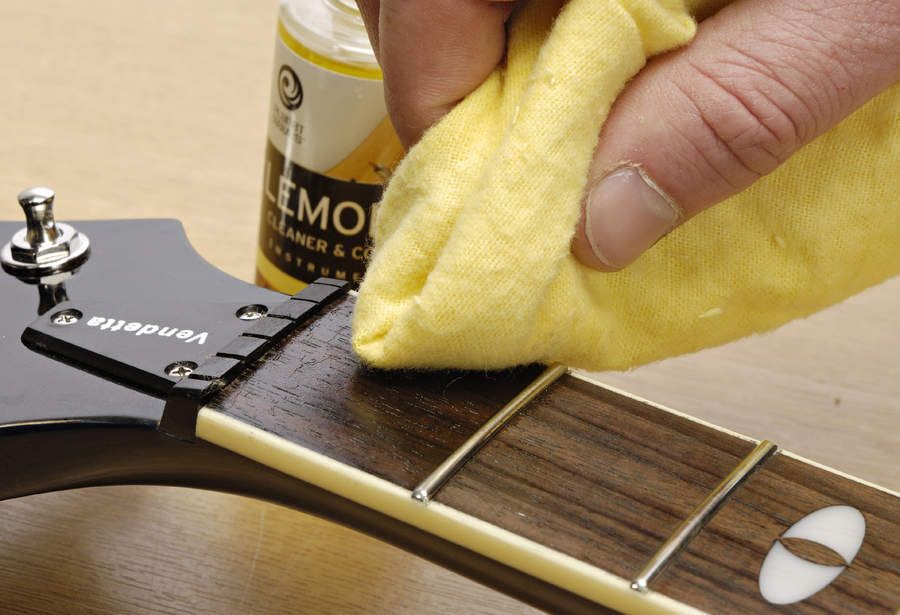 How do I properly maintain my guitar?
Maintaining a guitar can be very daunting - but in reality, it's not that difficult. Of course, we aren't suggesting you turn your hand to complex routing or a tricky headstock repair, but it's vital you know a few of these maintenance tips to ensure your guitar is playing and sounding its best.
First of all, you want to make sure you are changing your strings regularly. Needless to say, this will make sure your guitar is sounding bright and articulate but it also helps keep your frets in order. As strings corrode, they become sharp and over time they will start to erode your frets, causing all manner of playing problems.
Next up, it's a good idea to know how to adjust your intonation and action as well as get comfortable with your guitar's truss rod. Luckily, the majority of the kits in this guide come with the tools needed to make these adjustments. Have a look at our guide to setting up an electric guitar for a more in-depth look at the process.
What should I use to clean my guitar?
Keeping your beloved instrument clean is incredibly important. Many players would shudder if they realised just how dirty their guitars can get. From sweat and dead skin to the horrendous finger jam that builds up on the fretboard, they all have an effect on the playability and appearance of your guitar.
Needless to say, we recommend keeping a clean, dry microfiber cloth handy in your guitar case or gig bag, so you can wipe down your axe after every use. We'd also suggest investing in some quality polish and fretboard cleaner as well.
It's worth noting that certain guitar finishes do require specialist polishes, so it's best to do your research to ensure your axe comes up gleaming rather than causing any damage to your shiny guitar.
Want more advice? Check out these ten must-know DIY acoustic guitar maintenance tips.
Related buyer's guides
MusicRadar's got your back Our team of expert musicians and producers spends hours testing products to help you choose the best music-making gear for you. Find out more about how we test.