A great pair of headphones is an essential part of any recording setup, mainly for monitoring the backing track while overdubbing live instruments or vocals, but also for programming, sound design, checking mixes and ensuring that the stereo image is up to scratch. Japanese company Audio-Technica are a deservedly prominent name in headphone circles, having been at the forefront of innovative headphone, microphone and turntable design since 1962, and their current product range consists of a wide variety of headphones dedicated to studio use, suitable for an equally wide variety of budgets. That's why we've created this guide to the best Audio-Technica headphones for recording.
Need further evidence? As a testament to their studio track record, watch any Snarky Puppy performance video and you'll see that this Grammy-winning multiple-member collective use Audio-Technica ATH-M-series headphones almost exclusively when recording.
Having decided on a pair of Audio-Technica headphones for yourself as your next studio workhorse cans, you've already made a great decision, but how do you go about picking the model that best suits your needs? That's where this guide comes in - we've done the hard work so you don't have to, and in our extensive research into the best Audio-Technica headphones for recording we've found the right pair for every budget and application.
Best Audio-Technica headphone for recording: MusicRadar's Choice
When putting these guides together here at MusicRadar, it's often quite difficult to choose an outright winner, but that wasn't the case this time round. The ATH-M50x has been our weapon of choice for all-round studio tasks for some time now, and we don't see that changing anytime soon. The combination of comfort, excellent sound, great build quality, value and accurate response keeps us coming back to them time and again, with projects we use them for translating brilliantly to other monitoring environments without fail. A clear winner.
Best Audio-Technica headphone for recording: Product guide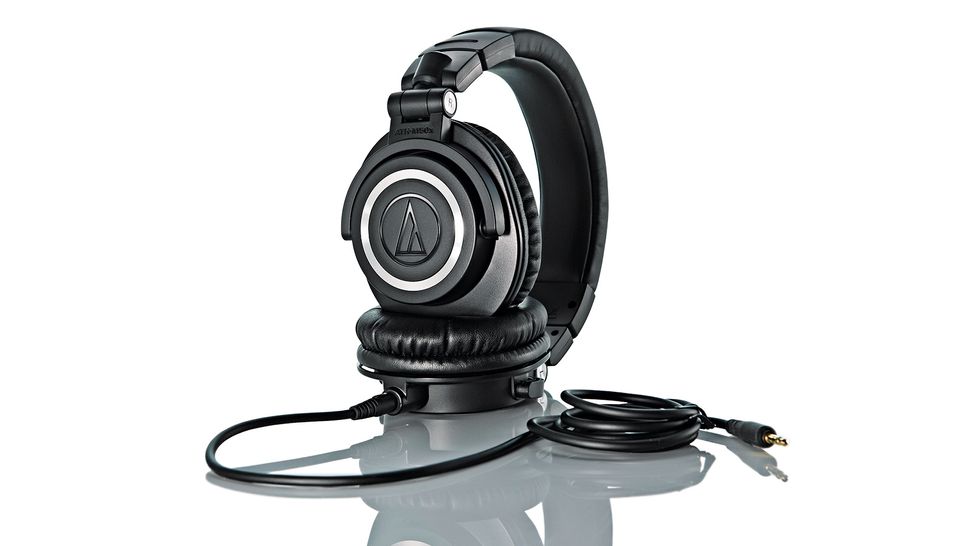 The ATH-M50x consistently tops the bestseller lists not just of studio headphones but headphones in general, owing to its awesome sound reproduction across all frequencies. Studio engineers and recording artists love them because they're incredibly comfortable and somehow manage to sound brilliant while exhibiting a response curve that doesn't overly colour the sound.
Sitting right in the centre of the ATH-M range of headphones price-wise, these studio-friendly cans are incredibly easy to live with. The sound is sublime, detailed and accurate enough to translate well across most other systems without sounding like you have two pieces of cardboard strapped to your ears. There's enough of a subtle bass boost to make pre-recorded material sound great without adversely affecting their ability to carry out referencing duties in the studio.
With a relatively low impedance of 70 Ω, they can be powered from pretty much any device without sounding underpowered, they come with two detachable cables so you can indulge your preference for either curly or straight, and the earcups fold flat to make transportation easier. A spirited all-rounder, the M50x is an easy winner, and for more casual listening on the go you can also get a wireless version, the Bluetooth-enabled ATH-M50xBT2.
Read our full Audio-Technica ATH-M50x review
Kind of like the M50x on steroids, the range-topping M70x is aimed specifically at professional musicians, audio engineers and content creators. The 45mm drivers are tuned for accurate reproduction across a beefed-up frequency range of 5Hz-40kHz, but the real difference is in the M70x's bass response, which is more controlled and has less harmonic distortion than the cheaper model.
Component replaceability is always a big tick in the box when you're considering purchasing a pair of studio cans, so the fact that the headband padding and the swivelling earcups are snap-off detachable for easy replacement is a bonus. Contoured for maximum sound isolation and comfort, they're also supremely ear-friendly for long sessions in the control room chair.
Meanwhile, there's improved quality of materials in the way of slightly softer pleather and metal componentry in the headband. You get a proper, semi-rugged zip-up hard case for transportation and the same three different types of detachable cable.
Read our full Audio-Technica ATH-M70x review
If it's an open-backed headphone you're going for, there's really only one contender in the Audio-Technica canon, and that's the superbly lightweight and acoustically balanced ATH-R70x. Although not exactly cheap, these are a prime example of getting what you pay for, as their accurate sound, comfortable design and airy demeanour will pay you back dividends.
Although their open-back design makes them less than ideal for tracking - like all open backs, spill from the vents is likely to be picked up by your microphone - the R70x are perfect for critical listening when programming, mixing and mastering, tasks for which many people prefer to use open cans due to their tendency to exhibit a more natural sound than their closed-back cousins.
With AT's patented 3D split wing support system on the headband, breathable fabric earpads and lightweight, acoustically-transparent housings fashioned from aluminium honeycomb mesh, you'll barely know you're wearing them. These are high-impedance headphones designed for professional use, so they perform at their best when connected to a dedicated studio headphone amp.
Read our full Audio-Technica ATH-R70x review
For those on a tighter budget, Audio-Technica's critically acclaimed M-Series line begins with the entry-level ATH-M20x. By far the best budget studio headphone we've tried, the M20x delivers great sound and rugged reliability at a price that means you could outfit your studio with multiple pairs for the cost of a single set of M70x's.
Similar in design and general appearance to the pricier M50x but with the noticeably less refined build quality you'd expect at this price point, the M20x delivers a remarkably flat mid-range response that will showcase vocals with crystal clarity. A subtle bump in the bottom end is countered with a slight top end rolloff, meaning that sibilance and over-bright cymbals might need to be on your watch list if mixing on these.
Designed primarily for studio tracking and mixing, the M20x will definitely get the job done for minimal outlay, delivering a performance that's head and shoulders above most of its peers in the sub £/$50 bracket.
In-ear monitors are traditionally the preserve of stage performers, but the ATH-E50's offer such a balanced response that their remit will happily extend to studio and general production roles too. Their innate portability makes them a great prospect for producers on the move and artists who like to hunker down in a corner of the tour bus to create their next masterpiece.
The E50's are the mid-range model in the E series lineup, between the entry-level E40 and flagship E70 models. Their accurate yet punchy sound comes via powerful single balanced armature drivers that deliver an even response over the full frequency range, with sound quality further maintained by AT's proprietary high fidelity A2DC cable connectors.
With a housing designed specifically to ensure excellent isolation, the E50's are great at shutting out external noise too, making them useful for tracking purposes and for focussing on those intricate programming tasks. And if long sessions are on the cards, flexible memory cable over-ear loops and silicone eartips mean that they shouldn't overly stress out your ear canals.
Best Audio-Technica headphone for recording: Buying advice
Why do we use headphones when recording?
MusicRadar's got your back Our team of expert musicians and producers spends hours testing products to help you choose the best music-making gear for you. Find out more about how we test.
There are a number of reasons, as outlined briefly in the intro, but the chief one is to prevent the sound of the music that you're singing or playing along to from being picked up by the microphone, a phenomenon known as bleed. By isolating the backing track from the sound of what you're actually trying to record, your mic will pick up the cleanest signal possible, so you're only getting the material you actually want to capture. Studio headphones, particularly the closed-back type with superior isolation properties, are the most effective way of achieving this.
What makes a great studio headphone?
The main thing that sets studio headphones apart from regular cans is the shape of their frequency response. Many domestic consumer headphones feature a prominent boost in the low and high frequencies to flatter the sound of most recorded material, making it sound punchier and brighter. However, studio cans generally have a flatter response curve, which means that they reproduce sound more evenly across the frequency spectrum, without over-emphasising any particular frequency area.
The kind of 'smiley curve' response exhibited by most regular consumer headphones is not recommended for studio work, as engineers and producers need to have an accurate idea of what's going on within the sounds they're assembling into a track. If your cans boost the bottom end too much, for instance, you might easily overcompensate by reducing the bass in your track, running the risk of an end result that sounds bass light when played on other systems.
A great pair of studio cans therefore will have a relatively flat frequency response curve that doesn't over-emphasize any particular frequency range, and will be rugged and durable enough to withstand the rigours of studio life. Since recording sessions can run for many hours at a stretch, they'll also need to be comfortable enough to be worn for long periods without incurring ear fatigue or sweaty head syndrome.
Read more about how we test music making gear and services at MusicRadar.
Related buyer's guides