How to play blues guitar like…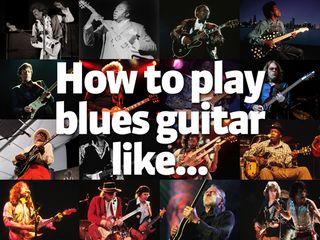 How to play blues guitar like…: intro
In this series of free video and audio lessons, MusicRadar shows you how to play blues guitar in the style of the greats!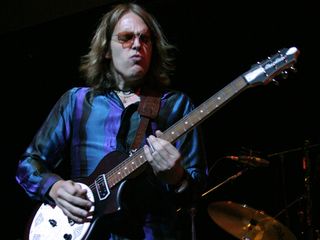 Joe Bonamassa
Joe Bonamassa is a new blues great and these examples show Joe's aggressive, yet melodic style of blues playing. You can learn them by following our free tab. If you're new to tab you can learn what the symbols means from our free tab guide.

Our examples are played on the bridge pickup with a dollop of distortion, though a little less than a full-on rock player. If you're a Joe Bonamassa fan you should also check out our video of Joe showing you his live rig and his video lessons on moving around the fretboard and soloing.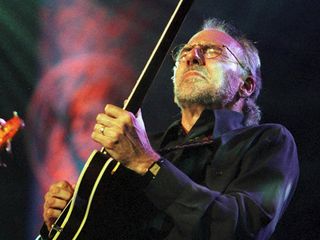 Larry Carlton
Many players cite Larry Carlton as the perfect guitarist. He's one of those rare beasts that has the lot: fantastic touch, wonderful tone and enough technique and harmonic knowledge to sink a battleship.
This example is one of those cool-sounding pieces that suggests a relaxed sort of solo. In fact, you could say it ambles along somewhat, with no particular destination, and yet that's the beauty of a piece like this - it lets you set your own agenda. You can decide whether to rip in with all guns blazing, or play more simply and milk as much feel from the track as you can.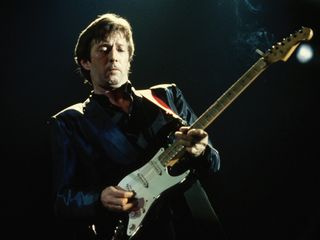 Eric Clapton
Our lesson recalls Eric's style in the mid to late '60s. Though the tone is more distorted than the previous players in our Learn To Play Blues Guitar Like… series, it's crucial not to overdo it. Eric was using non-master volume Marshalls around this time and all the sustain and overdrive was due to sheer volume - much to the horror of studio engineers of the day!
If you're using singlecoil pickups, boost the bass, mid and gain a little and you'll get close to the tone. To be authentic, pay attention to details like vibrato and the swing triplet feel, as well as the more dazzling pentatonic stuff.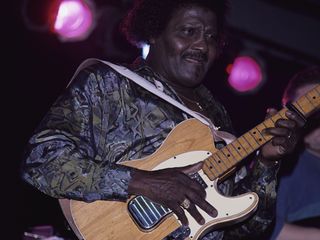 Albert Collins
The first thing you'll have to deal with in this lesson is Albert's unusual approach to tuning. He usually tuned the guitar to open Fminor (low to high: F-C-F-Ab-C-F), with a capo at the 5th, 6th or 7th fret. No doubt this contributed to his sound, but for your convenience -and sanity - we've stuck to standard tuning. After all, you don't need to copy someone slavishly to capture the essence of their playing.
The way to get the most authentic tone would be to use a single coil pickup - or combination of neck and bridge to be precise. If you're using a Strat-type guitar, try the middle pickup. This will give you a similar 'bite'.
Albert used to carry around a Fender Quad Reverb amplifier, as he felt this was an important part of his tone. You can still get close with a clean(ish) setting on any amp, with a splash of spring reverb.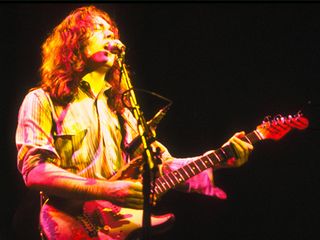 Rory Gallagher
Rory Gallagher was born and raised in the south of Ireland. Inspired by seeing Elvis on the TV, Rory got hold of his first acoustic guitar at nine years old.
From then on he taught himself to play from books and by listening to the records of Leadbelly, Woody Guthrie and Chuck Berry among others, and at the age of 13 he formed his own rock 'n' roll band.
Rory's solo career saw him tour the world many times and record numerous successful albums. The examples we've tabbed below are inspired by his mid 70s playing.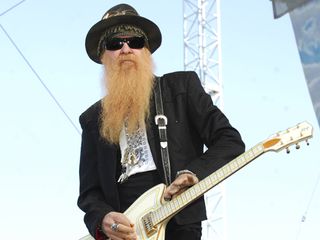 Billy Gibbons
For this How To Play Blues Guitar Like… lesson, you should emulate Billy and use a lot of midrange and not too much treble. Some of the attack comes from the fact that he uses a serrated peso or cent as a pick (not recommended for the heavy-handed or the obsessive guitar polisher).
Billy's fond of staccato pinch harmonics, but these are generated in a fairly random fashion, rather than the measured precision of someone like Eric Johnson. Use the bridge pickup and enough distortion to 'saturate' the tone, without being fizzy. Note: A small amount of plate reverb was added in the mix.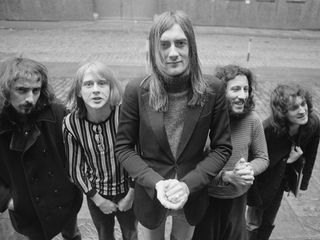 Peter Green
The example phrases on this lesson take their inspiration from Peter's soulful yet economical phrasing on Need Your Love So Bad. It may sound like a cliche, but really think about the 'feel' of each lick. You should use a very lightly overdriven tone with a splash of reverb.
If your guitar is wired for the famous 'out-of-phase' signature tone of Peter's Les Paul, that's great, but don't go rushing to get out the soldering iron if it isn't. The way you play blues is more important than what you play it on.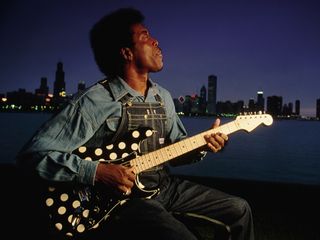 Buddy Guy
If you want to get the Buddy Guy tone for this lesson, you should aim for a sound that is more distorted than your average blues, but still leans toward overdrive rather than full-on distortion.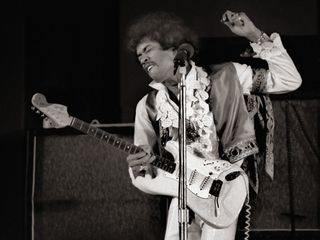 Jimi Hendrix (part one)
To capture Hendrix's bluesy sound in this lesson, you'll need quite a clean Fender Stratocaster neck pickup tone like the one on Red House and a more distorted 'Fuzz Face' type bridge pickup sound for others.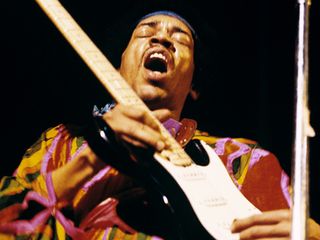 Jimi Hendrix (part two)
Here we look at Jimi's more up-tempo style, rather than the more familiar slow blues he loved to play live. Hendrix was a blues natural, but his blues playing was often very spacey; he would push and pull the timing far across the beats, adding long, flowing notes and repeating flurries and trills that sometimes bore little relation to a specific count.
Our example provides enough space to include plenty of Hendrix-isms. Hendrix was great at the dynamics of a solo. He knew how to build in tension and release: in most Hendrix solos you'll find him at the top of the neck, down the bottom, changing from neck to bridge pickup and altering the density of his notes from slow and lingering to pretty rapid for his day.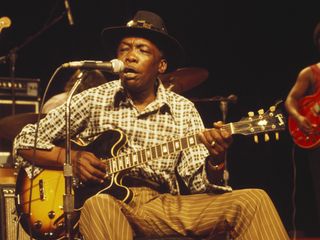 John Lee Hooker
Our examples for How To Play Blues Guitar Like… John Lee Hooker below take their style from the classic tracks Boom Boom and Tupelo. Hooker would often play with one chord, playing bass strings with his thumb and jagged ringing melodies with his fingers, but we've used a standard 12-bar blues pattern.
You'll find that some of the examples are hybrid picked. This means that the pick takes the place of Hooker's thumb, which gives more attack without having to spend years toughening it up like the man himself. Use an almost clean tone through a humbucking bridge pickup to capture his sound.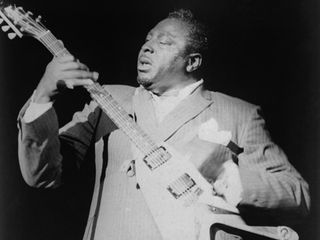 Albert King
Our examples for How To Play Blues Guitar Like… Albert King are based around the C minor pentatonic and incorporate many of his trademarks such as syncopated sharp 'stabs' and quick-fire runs.
Of course, no blues solo would be complete without quarter-tone bends and there are plenty here. The tone should be sharp with a minimum of overdrive. Think of a small valve amp turned up to the max with lots of treble.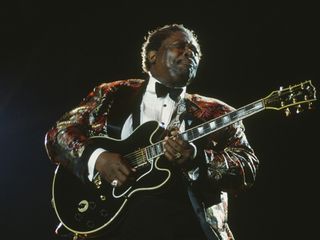 BB King
Our examples in this How To Play Blues Guitar Like… BB King lesson are based around a 12-bar style progression with the phrases are all based around the A blues scale in different positions. You can learn the licks by following our free tab.
It's important to avoid the temptation to play these with a rock sound or it becomes graceless! Use the middle pickup selection with a smattering of overdrive and reverb, but plenty of treble.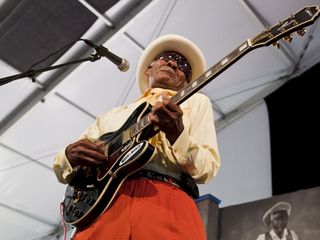 Freddie King
To get to Freddie's tone, try using the bridge pickup. As is usual with this blues, avoid going overboard with the overdrive/distortion. Try and imagine you are pushing a small valve combo to its limit instead!
A handy tip for low volumes is to add a little compression to 'squash' the dynamics and give maximum sustain for those vibrato moments.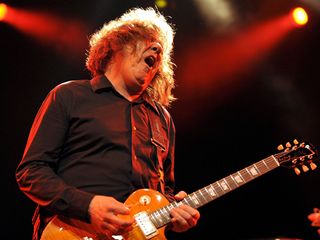 Gary Moore
It was in the mid-Sixties that Gary Moore got his first proper electric guitar and it wasn't too much longer until he was being celebrated as a prodigy. In fact, none other than Peter Green ecognized the young player's potential and took him under his wing, selling him a '59 Gibson Les Paul (which he used on Need Your Love So Bad and Man Of The World) for a mere £200.
After meeting Phil Lynott in Dublin, Moore went on to play with him in Skid Row and Thin Lizzy. He has since turned his hand to various styles, including a stint in the 70s playing jazz-rock with Colosseum II. Moore has also enjoyed a successful solo career playing tasteful rock and blues guitar and it's this side of Gary's playing we concentrate on in this lesson.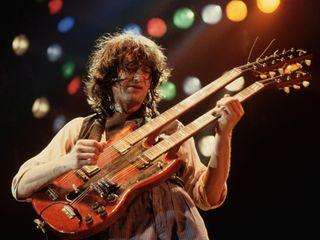 Jimmy Page
Jimmy Page was born in Hounslow in 1944, and his passion for the guitar began at 12 years old when he heard Baby, Let's Play House by Elvis Presley. Jimmy had a few lessons, but was largely self-taught, taking inspiration from the blues and rock 'n' roll playing of Hubert Sumlin, James Burton and Scotty Moore.
He did, of course, go on to expand his repertoire somewhat (!) but we'll but we'll stick with Jimmy's blues style for this lesson…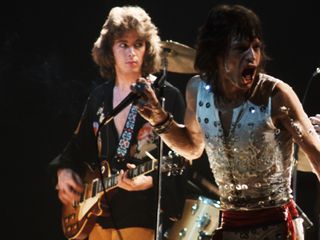 Mick Taylor
There are two complete solo studies for you here, the first using orthodox playing technique over a C7 straight eighth-note groove, whilst the second solo, over a standard 12-bar progression in E, showcases Mick's technique of executing slide in standard tuning.
Whilst there are many guitarists that have adopted this method successfully - Joe Walsh, Jeff Beck, Brett Garsed etc - this area is widely considered to be Taylor's speciality.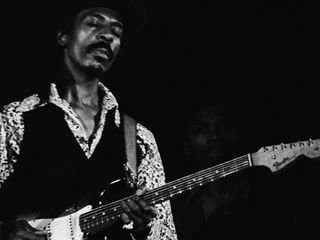 Ike Turner
The young Ike Turner was a prodigious musical talent, equally comfortable on guitar and piano, taking lessons with the legendary blues pianist Pinetop Perkins.
Turner's guitar style was raw, economic, and expressive with a cutting, aggressive but singing tone. Ike's trademark was his searing vibrato, achieved not with the fingers but with the vibrato bar.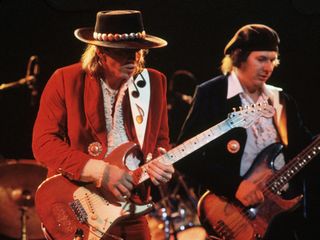 Stevie Ray Vaughan
In this tutorial, we show you how to add some Texas passion to your blues playing with some sizzling SRV-style licks. Stevie used to tune his guitar down a semitone for a darker sound, but for simplicity's sake, all the examples in this lesson are in standard tuning.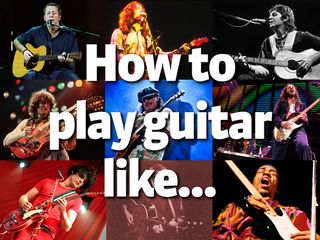 How to play guitar like…
In this series of free video and audio lessons, MusicRadar shows you how to play guitar in the style of the greats!
From Eric Clapton to Jack White, John Frusciante to Davy Graham, it's the perfect introduction to playing the guitar in the style of your favourites.