GarageBand for iPad: first hands-on review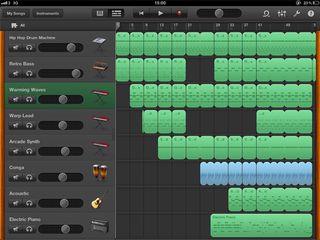 It's arrived
A little over a week after it was announced, Apple has released GarageBand for iPad, and we've spent most of the day playing with it. Thus far, our attention has been focused on the Touch Instruments, Smart Instruments and sequencer in the app, and how they fit together when you're trying to create a song.
What's more, we've been testing GarageBand on a first-generation iPad, keeping an eye (and ear) on its performance.
So what are our first impressions? Read on to find out.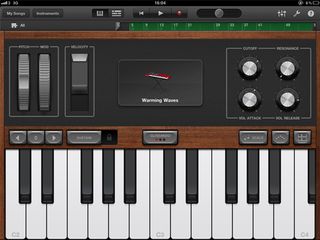 Touch Instruments
Unless you're a guitar player - we'll have more on GarageBand for iPad's amps, stompboxes and audio recording capabilities soon - the first things that are likely to draw your eye are the instruments.
Open the Keyboard option and you're presented with a grand piano, though this can easily be turned into an electric piano, organ or synth.
To cut a long story short, the keyboard sounds in GarageBand for iPad are generally pretty good, and with their vintage-style interfaces, the synths are arguably more fun to use than those in the Mac version. The velocity-sensitive virtual keyboard is OK - if a little unpredictable at times - and it's nice to have the option of resizing this (or even creating a dual keyboard setup).
Also included are octave shift buttons, a sustain button/switch, the option to change how the keyboard reacts to being swiped (there's a handy pitch swipe option here so that you can run your finger up and down the keyboard while holding a note) and even a Scale button that enables you to choose the likes of pentatonic, blues and mixolydian so that you 'can't go wrong'.
'Proper' keyboard playing on the iPad is still out of the question, but recording riffs, basic solos and simple chord progressions is certainly possible. If you want to plug in a MIDI controller keyboard, the iPad Camera Connection Kit will help you out.
The Drums Touch Instrument is similarly effective, giving you the chance to bash away on a graphical representation of a real kit (for acoustic sounds) or a drum pad (for electronic ones).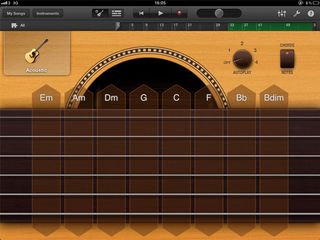 Smart Instruments
This is where GarageBand for iPad starts to get a bit clever: you can choose from a Smart Guitar, Smart Bass, Smart Keyboard or Smart Drums.
For us, the Smart Guitar is undoubtedly the pick of the punch, and will be a real help to non-guitar playing keyboardists who want to work on song ideas. The Notes option gives you a standard guitar fretboard to play with (you can even bend strings here) but switch to chords and - you guessed it - chords can be played just by pressing a button. You can also swipe to play them manually or choose automatic strumming with the Autoplay control.
There are a couple of downsides: for a start, only four sounds are included (Acoustic, Classic Clean, Hard Rock and Roots Rock) and the stompbox effects on these appear to be fixed. You can turn them on or off but they can't be changed. What's more, you can't choose your own chord palette - you just get a pre-defined selection (this depends on your selected key) that sound good together.
The Smart Bass and Keyboard Instruments are similar in style and design, but feel more like derivatives of the Guitar than anything else. Maybe we're wrong, but we can't see ourselves opening these up too much in the future.
The same can't be said of the Smart Drums Instrument, which lets you program beats by dragging drum pieces (acoustic or electronic) onto a grid. This has Simple and Complex parameters on the left and right sides of the horizontal axis, and Loud and Quiet at the top and bottom of the vertical.
This perhaps makes it sound more complicated than it actually is: Smart Drums gives you the ability to create a groove by moving pieces around. As a way of kick starting a song without resorting to a built-in Apple Loop (a selection of these comes included with GarageBand for iPad, by the way), it's hard to fault.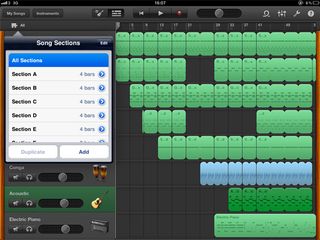 Recording a song
Once you've had a play with GarageBand for iPad's instruments, your next move will be to start recording with them using the 8-track sequencer. To create a song, you work in song sections - you can specify the number of bars or, if you just want to plug in and record a whole track, choose the Automatic option.
Once they've been recorded, regions can be moved, cut, copied/pasted, deleted, looped or split, and you can also trim them by clicking and dragging at either end. However, what you won't find is much in the way of audio or MIDI editing - a piano roll is particularly conspicuous by its absence.
To be honest, we were pretty disappointed when we discovered this omission, but you do at least get a decent selection of quantize options. If these don't work for you, you'll simply have to re-record your part.
GarageBand veterans would have known not to expect a mixer in the iPad version (you still don't get one on the Mac) but you can bring up Track Controls to the left of the arrange window. Specifically, these are mute, solo and volume, but annoyingly, pan settings have to be made in a pop-up window.
Effects provision is pretty limited too: there aren't any inserts and only Echo and Reverb Master Effects. You can at least change the flavour of these, though.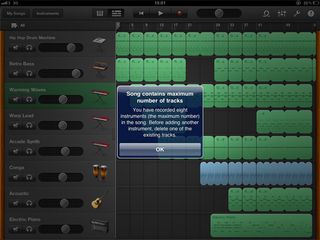 Performance
As we mentioned, GarageBand can record a maximum of eight tracks, and we're pleased to be able to report that we managed to reach this number (seven built-in instruments and one audio Apple Loop) on our first-generation iPad.
What we did find, though, was that as the track became larger, the Optimizing Performance progress bar did stop us in our tracks more and more frequently. Whether this process freezes tracks to ensure smoother playback or does something else we're not sure.
Below is a quick demo track we made: it's a little rough around the edges, but it should give you an idea of what some of the built-in drums, synths, acoustic Smart Guitar and electric piano sound like: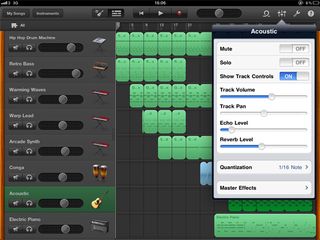 Summary
Perhaps the best way we can recommend GarageBand for iPad is to say that the music making time we've spent with it so far has been some of the most enjoyable we've had for a long while. It feels less like a cutdown version of the Mac version than it does a companion app, and the Touch/Smart Instruments take it to another place entirely.
That said, the promised compatibility with GarageBand '11 doesn't seem to have materialised yet: we tried to load an iPad song into the very latest version on the Mac and were told that we needed an update. Presumably, this will be on the way soon.
That's no reason to wait to invest in GarageBand for iPad, though: at just £2.99, it's quite simply the biggest bargain that the music making app world has to offer, and a no-brainer purchase for anyone who's remotely interested in doing anything musical on their Apple tablet. And we're saying that before we've had chance to fully explore the built-in Sampler (you can record sounds and pitch them across a keyboard), guitar amps and audio recording functionality.
The app isn't yet perfect - the lack of MIDI editing is our biggest bugbear, and we'd also like to see an improved roster of effects and at least basic automation facilities. As a first version release, though, GarageBand for iPad is pretty incredible, and there's huge scope to take it further.