If you're looking to harness the power of your tube amp for home recording then you won't want to miss this deal. Over at Guitar Center the Universal Audio OX Amp Top Box has got a massive $300 discount, giving you pristinely recorded guitar tones for less. Packed with top quality guitar cabinet and microphone emulations as well as a whole host of studio effects, this brilliant bit of kit lets you get high volume, and great tube tone without disturbing your neighbors.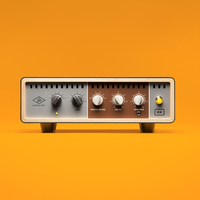 UA Ox Amp Top Box: Was $1,499, now $1,199
If you need great recorded guitar sounds quickly, the Universal Audio OX Amp Top Box will get you the perfect tone in a jiffy. With a massive 30% off the regular price at Guitar Center, you've got until March 31st to get your hands on this amazing deal.
If you've not encountered one before, a reactive load box replaces your guitar amplifier's speaker or cabinet, allowing you to use that super-loud tube amplifier without having to max out the volume control. The Universal Audio OX Amp Top Box isn't just your average load box though, it responds to every nuance of your playing dynamic just like the real thing, enabling you to both use that ridiculously loud tube amp at normal volumes, as well as capture some phenomenal recorded tones.
The OX will take 4, 8, and 16ohm loads, allowing you to use it as a pure attenuator via the speaker out. Simply place it in between your amp and speaker and enjoy the full tube amp saturation experience without any hint of mud or fizz that's often present in other load boxes when operating with a huge input at low volume. Not many guitar players to get fully unleash their 100-watt tube heads, and even fewer have the ability to record them at home, which makes the OX Top Amp Box an invaluable tool for the studio.
You get a range of 22 studio-quality speaker cabinet models, giving you enough choice for pretty much any recording project. All of them have been painstakingly modeled after the real thing, giving you some beautiful tones to work with. You also get a bunch of classic microphone emulations, including dynamic microphones and condenser microphones, so you can mix and match different tones, placing them wherever you want in the room to capture your perfect tone. You can even customize the room sound by removing the rug the simulated cabinet is on top of to adjust the sound, which shows the level of customization available here.
Just to top things off, you also get a bunch of EQs and reverbs you can use to further sculpt your tone, all controllable either from your computer or wirelessly via an iPad or iPhone through the dedicated app. If you need more convincing, then go have a look at our Universal Audio OX Amp Top Box review, for an in-depth look at this excellent studio tool.
This offer is available until March 31st, so you've got a limited time to grab yourself a deal on this amazing bit of kit.