Rig tour: Lower Than Atlantis
Introduction
Frontman Mike Duce and guitarist Ben Sansom walk us through the gear being used on the Safe In Sound tour…
Eyeing up an empty Brixton Academy, Lower Than Atlantis guitarists Mike Duce and Ben Sansom are preparing for their biggest headliner in the capital to date.
Since forming in 2007, the Essex quartet have managed to break through the glass ceiling that often hinders British artists. Tonight's show will have the kind of production only bands in the big league can afford.
With the wind in their sails from the Top 10 success of Safe In Sound, Mike and Ben invite us onstage to get a closer look at their weapons of choice…
Fender American Elite Strat
Mike Duce: "This is my main guitar. It's brand new from Fender with Noiseless pickups, as well as the in-phase/out-of-phase S-1 system.
"There's nice hardware on it, as well! There's a Hipshot [bridge] because I'm drop-tuning a lot from standard and the songs go straight into each other.
"I was a bit dubious about them at first as I thought they were mainly used for bass; I found myself checking the tunings and it's actually been pretty good. I use custom gauge strings - 56, 44, 32, 24, 16, 12 - which just came out of preference over the years."
Fender Tom Delonge Strat
Mike: "This is the guitar I'm most known for and one of my oldest. It's got Seymour Duncan Invaders loaded into it with a coil-tap.
"I keep this in drop A tuning and use a 65 bass string on the bottom and a regular guitar set for the rest. The guitar is only used for Work For It… I was rocking Jackson before, a signature model made for one of Fear Factory [when Christian Olde Wolbers was the band's guitarist].
"All seven-string [guitars] look like you're in fuckin' Gorgoroth and I'm in a pop-rock band… So I retired that and re-rigged this old thing. It's got a fat neck, 70s headstock and the machine heads are all bent… I like a bit of character; I even took the pickguard off because I like an ugly guitar."
Fender American Strat
Mike: "This is a 2012 Strat that I haven't done much to, other than swap the original pickup cover, which cracked.
"I was playing with it off for ages and it was a bit jaggy, so I stuck a cover on it. There are a couple of extra springs to lock the bridge off . I'm not using the bar. It's in a weird tuning - CGDGBD - and I use it for Could Be Worse because the riff has this weird chiming sort of sound. It's just a tuning I stumbled across to make certain strings ring out, so I decided to write the song that way and make it awkward for everyone else."
Fender Japanese Strat
Mike: "This was my very first guitar. All that's changed is the pickguard and the pickup. V-Man from Slipknot put it in there and I don't even know which one it is. He used to guitar tech for me, long before he was in Slipknot. He changed the strings one day and I found this pickup fitted in. He said, 'Trust me!'
"I'm pretty sure it's a late 80s/early 90s model and it's tuned to open C Major - CGCEGC - for English Kids In America. I really love that classic Smashing Pumpkins sound: Billy Corgan doing the jingle-jangle stuff , which I play more of, and Ben has that James Iha vibe with powerchords on a Les Paul."
Kemper Profiler & Pedal
Mike: "The only sound I've profiled myself was an MXR Stereo Chorus into a '68 Fender Silverface Twin reissue. That's always been my clean tone - before I used to switch amps for my dirty tones, using a JCM900 with an MXR Micro Amp in front.
"Then for the fake seven-string sounds, I have a 5150 profi le that came from Rory [Clewlow] from Enter Shikari, because he's got a bank of them. Each song has its own drops and effects programmed in. I find it makes the set a little easier on my voice, plus it sounds heavier - we sound beefier when we do that."
Gibson ES-335
Ben Sansom: "I'm 6'7" so it's kinda hard to get a guitar that doesn't look like a toy on me [laughs]! That cancels a lot of things out… though I might still use them in the studio.
"This 335 is for English Kids In America, which is tuned to open C. That's all it gets used for; there's no particular reason I use it other than it complements Mike's guitar sound well. I feel like with him writing a lot of the song structures on one guitar, my role is more about filling the gaps in between - so I have to be quite picky about what I'm using."
Gibson Les Paul Classic Custom
Ben: "They started making [a run of] these [Classic Customs] in 2011, with the aim of making a Custom that was affordable. It sounds really nice - and even without the ebony fingerboard it has the Custom Shop look about it.
"At the end of the set, everyone else throws their guitars around and I'd love to as well. But I'm not playing a Fender: if I throw one of these - that's it, game over! That said, I engineered and produced all the guitars and bass on the new record and the Strats won more in the studio, I'd say!"
Gibson Les Paul
Ben: "This is one of my main two… I'm not sure what the exact colour is, but it sounds amazing. It has a really thick 50s-style neck, which I love because I've got big hands.
"I've had it on loan from Gibson since November and it was instant love. I do like my Ebony Les Paul Customs, but at one point all I had was black and gold guitars! People think you only need one Les Paul or that they all sound the same, but they really don't. This is for Had Enough and Here We Go - any song where I need a thick Les Paul tone, this is probably what I'll pick up first."
Gibson Les Paul
Ben: "This is in tuned to A, which actually gets pitched down to G on the Kemper. It's really heavy... my back is fucked from all these years of playing it.
"I actually bought it off some guy in Uxbridge for £1,500 - which was an absolute steal, because I told him the 70s Les Pauls weren't worth as much! It has Bare Knuckle pickups and if you look at the back, it's completely screwed - I really need someone to repaint it.'
Gibson Les Paul Standard
Ben: "Our tech had to get a drill to fit on the pickguard. The new ones don't come with the plate fitted, and because I'm a bit OCD, I had to have them all the same. I would have gone mad otherwise.
"Weirdly enough, I don't think it really sounds like a Les Paul - it's got a push/pull thing for some coil-tap, which helps it sit in between a Les Paul and a Strat. And that's actually why I like it - anything I recorded with a Strat, songs like Boomerang and Dumb, I use this guitar because it gives a similar sound, just thicker. It looks classic but with modern edges and touches here and there. I used a Tele to record Beech Like The Tree so this will come out for that."
Kemper Profiler & Remote Footswitch
Ben: "I do a lot of engineering and I'd recently been working with the pop-punk band As It Is. They had this sound on their record which was a Bogner, JCM800 and a Matchless blended together.
"I asked them to send it over to me - then I stole it for our record! Those are my three amps running pretty much through the whole set - with different settings and effects for clean, crunch and boost.
"There's another delay setting we made called Mad Dog, which is this crazy feedback swirl that gets used before the last song… because you don't want to end the penultimate song in silence! All our delays are timed in - we had to use a website called BPM Finder to work out the exact tempos of each song!"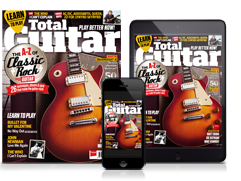 Stay up to date with the latest gear and tuition.
Subscribe and save today!