Rig tour: Dan Donegan (Disturbed)
Introduction
Dan Donegan has A, B, C and D rigs. There are backups for everything. One gets the suspicion in some vacuum-sealed flight case backstage there's even a Dan Donegan clone, to be animated in case of emergencies.
Hey, with all this pyro onstage - and, folks, there is a piano on fire - that's just being prudent.
Besides, this readiness is just part of Donegan's ferocious work ethic. Guitar-wise, his rig is simple. He uses his stock off-the-shelf signature Schecter in various finishes. Amps? Bogner and Egnater. Nice. But the rack - a rig built at Best-Tronics, Illinois, by his tech Jeremy Jayson - is quite something. They don't call it the Mothership for nothing.
Of course, with his Fractal, Donegan says he has what he needs for effects but nonetheless his rack has a drawer filled with an Electro-Harmonix Ravish Sitar, Eventide PitchFactor harmoniser, Eventide ModFactor modulation, Eventide TimeFactor delay/looper and Eventide Space reverb. Y'know, just in case.
Schecter Dan Donegan Ultra (Various Finishes)
"When I started working with Schecter they wanted to build a model, and I was looking at body styles that they had in mind and came across the Ultra. I just fell in love with how it felt with me and how it looked.
"There are different paint jobs on them but they are basically set up the same; the same hardware, the same pickups, just in different tunings. One of my go-tos is my signature model that has the number 96 on it - that was the year Disturbed was formed. That's usually the one I open up the show with and I play it a couple of times a night.
"On the paint jobs there's nothing really too bright; on The Game, the one I use is more a transparent blue. Some, like the 96 guitar, I had them put stripes on there because I wanted it to almost look like a vintage Shelby Cobra. I'm six-foot-one, six-two; I've always liked a heavier guitar, a bigger body. When I was younger I had some Les Pauls and I played some PRS guitars, too. I liked the single-cuts. I liked some of the Les Paul body styles. With this Schecter guitar I wanted something that was a little beefier, too, and to have a little bit of weight behind it, maybe get a little bit more sustain out of it. Even though Schecter is my number one endorser I play what I am comfortable with onstage or in the studio. But I really like this model. They all sound good. They play well. They're consistent. And I've got pretty big hands, too, and I like the feel of it.
"On this recent album, Evolution, all the rhythms were with the Schecter guitar, with the exception of a few of the overdub tracks that might have been something else in the studio that I just grabbed in the moment. It depends on the song. I like layering things, even if it's just ear candy and it's very subtle in the mix, it gives it life."
Taylor 914CE
"I'm playing Taylor acoustics. My favourite one right now is a 914CE. It's just a great-sounding guitar. Very expensive guitar! [Laughs] The acoustic costs a lot more than the electric guitars. But I mean, you get what you pay for, and they are just such great-sounding guitars. I've got a few different ones.
"I also have Jeremy, my guitar tech, sitting in on a couple of songs because some of the layering I did in the studio I wanted to reproduce it live, and he is a great player, a great singer as well, and I thought it would be a good opportunity to incorporate him with mostly the acoustic stuff we are doing. I'll get him up onstage and he will play on The Sound Of Silence, A Reason To Fight, Hold On To Memories, and then there are couple more in our arsenal that, if we dig them out, we'll give him a chance to play. It frees me up, too, because I wrote those parts in the studio, developing these songs, and there is this cool layering, and it's a little different.
"With the acoustic, I definitely want to hear those parts because they are very complementary with what they are doing. A song like Hold On To Memories, I have an acoustic guitar solo in there. I put some harmonies within that solo and I don't want them to be missing live. It was good to have Jeremy at our disposal to use him for that part of the performance. He's got his hands full! I'm throwing a lot on his plate but he loves it."
Taylor Baritone Custom
"Taylor built me a baritone acoustic for the song A Reason To Fight, which is our newest single. I'm tuned pretty low on that one [it's in B standard - BEADF#B]."
Amps
Bogner XTC 20Th Anniversary Head
"The main rig, the A rig I'm using here, I have a Bogner XTC 20th Anniversary head. I use that combined with an Egnater Armageddon head. With the Bogner and the Egnater I'm just giving [the sound engineer] a good blend upfront.
"The Bogner is just the Bogner - it's great. Just out of years feeling I'm getting a little bored with something I might want to change something out, I contemplated switching something out there, but I have got such a good blend now and we can get such a good mix now in our in-ears, so if I want more of the Bogner or more of the Egnater our monitor guy just gives me what I want in my in-ear mix."
Egnater Armageddon Head
"The Egnater Armageddon has probably got a little more of the overdrive and distortion that I want out of it. [This rig] has been consistent. It's been holding up for me on the road for the past two album cycles now, and it has probably been the first time that I haven't switched something major in two cycles. Usually every cycle I make some kind of change to it."
Kemper Amp Profiler
"I have a Kemper in the rack, too, which is another profiling amp, and is amazing, but it gives our front of house guy the options up front to take the blend of any three of those - the Bogner, the Egnater and Kemper - and whatever he is doing out front to make it sound the best.
"I think the rest of the guys in the band are getting a direct feed from the Kemper for their in-ears, which has been somewhat of a blessing because historically we have fought with those issues onstage, with our in-ears not getting a good enough clean mix, and I think getting a direct feed from the Kemper that's been dialled in for us has definitely improved us. For David [Draiman], having to sing and hearing the key and being on pitch a lot more accurately, and not struggling from the tone, the Kemper is giving him such a clean signal. We have fought with [stage noise] over the years. The in-ears is what saved us. When we were trying to adapt and get used to it, it was a bit of struggle, when you are used to old-school, amps-as-loud-as- can-be. With floor monitors, me and John [Moyer, bass] are fighting over volume onstage and then David is struggling to even hear himself and then he's blowing out his voice because me and John are blasting. Now our stage volume is so quiet. It's great. We are having no live cabinets onstage which makes it a whole lot easier for David. We're not getting any of the bleed through that.
"Occasionally, depending on the stage and the tour, I might have one live cabinet off to the side that I could turn to and feel a little bit of air coming off the speaker, a little bit more natural feedback. Sometimes I'll have that around there just for that comfort but now, with our monitor guys and our in-ear mixes, we are so dialled in that we haven't even soundchecked in the last two album cycles because we have so much trust in our crew guys. Knock on wood."
Fractal Axe-FX II
"I also have the Axe-Fx, the Fractal. I'm using the Fractal II, mostly just the effects out of it. I mean there are some great things in there. [Whispering] There is probably a D rig as well! [Laughs]
"There is one that's just a Fractal rack for fly dates - if we ran and did a last-minute radio performance or a festival on the other side of the country that we couldn't ship everything to, then that's easier to do. I had one rig with the Kemper, which was the C rig, and the Fractal I have at home. I've had it since 2012. I'll play through that every now and then at my house. I know a lot of guys who have switched it and made [the Fractal] their main rig just because of the space. The rig we have here takes up so much truck space. It's a lot."
DigiTech Whammy II
"I used the old-school Whammy II pedal on the first album, on songs like Violence Fetish and Want, which were both off The Sickness.
"Over the years there were a few times where I used it on overdubs. I got away from it a little bit but I'll use it on a song like The Light, which was off the Immortalized album; there's a spot in there where I am using the Whammy pedal as well. The Whammy pedal lives in my rack and I just have the expression pedal on the floor in my pedalboard."
Pedalboard
Dunlop Cry Baby Switchless Wah
"It's the same with the wah. I have the Cry Baby switchless expression pedal in my pedalboard and the Cry Baby rack is in the rig."
RJM Music Technology Mastermind GT MIDI Controller
"All my switches can be programmed to happen whenever they are supposed to happen. It'll switch it. It's communicating with Mike [Wengren], my drummer, because he'll play to a kick and it's communicating through his rig. I'll tell my pedalboard what to do; I'll sit there with Jeremy and say, 'Hey, I have a guitar solo coming here, I might want a little delay, a little reverb, or a little more overdrive'. We'll program it so that mid-song it just switches the pedals via MIDI. Which is great, because when we are playing those big festivals and we are on those big stages, I don't have to run to the pedalboard to meet my cue. It can be a lot of tapdancing if you have a lot going on."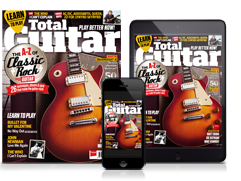 Stay up to date with the latest gear and tuition.
Subscribe and save today!