Image 1 of 6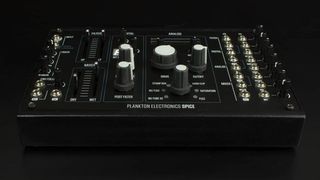 Image 2 of 6
Image 3 of 6
Image 4 of 6
Image 5 of 6
Image 6 of 6
Plankton Electronics has teased a module on its Facebook page, called Spice, that will be both available as a standalone unit and in the Eurorack format. With, perhaps, the big selling point being that the box will feature Korg's Nutube technology in two of the analogue circuits.
Spice promises a wide variety of colouration to your sound through saturation ranging from subtle enhancements to "hardcore fuzz with feedback".
The effects unit will comprise of six main functions. First up is a pre-filter with high and low pass filters, while the digital section will feature bit distortion and sample rate reduction.
An analogue section has seven analogue circuits, including a three state variable filter with resonance.
The unit finishes up with a mixer including dry and wet controls, an envelope follower and a feedback section with three independent feedback channels.
All the functions bar the feedback section are accessible independently from each other, utilising the I/O section, which features eight CV inputs. All eight parameters have an LED to show the current state, while the Bit Rate section has a seven-segment display.
There is currently no word on price, or availability, but we are promised that Spice will be hitting Kickstarter soon, so be sure to check back soon, as will endeavour to bring you more news as it lands.
Of course this isn't the first time Plankton Electronics has utilised Korg's Nutube technology in one of its products, with the Nutone announced around NAMM along with the new ENVF and SpiceVCF and can be seen in action in the video below.