GEAR EXPO 2023: There are some quite incredible and innovative products coming to the world of music production this year, and we have them rounded up, fenced in and ready to reveal to you here. An arcade machine that makes beats? Check. A free mix fixer? Check. Drones that act like speakers? Treble check.
It's fair to say that innovations comes thick and fast in the world of music production. One minute we're making music with tape and hardware, the next it's software and, er, tape again. But you know what we mean.
That all said, 2023 is shaping up to be the very year of innovation. Forget AI - that is soooo 2022 - because we have more innovation than even Skynet can offer, right here, right now. So here's to the future of music production!
Yamaha YH-WL500
Wireless headphones don't tend to work for producing music because of the delays caused by their Bluetooth technology. However, Yamaha is on a mission to end this with its latest headphone release, the YH-WL500.
Yamaha explains that standard Bluetooth headphones can suffer with latency of up to 200ms, making playing musical instruments wirelessly impossible. However, thanks to the YH-WL500's 2.4gHz wireless connectivity, this is reduced to a pretty much un-noticeable 4ms. In fact, Yamaha describes the performance as "Indistinguishable from a cable".
The Yamaha YH-WL500s work via a transmitter/charging dock, which connects to your instrument or amplifier's headphone socket and beams the sound into the cans. The YH-WL500 can also simultaneously receive a Bluetooth signal from your device, making it possible to wirelessly jam with your music library while also hearing your instrument.
The headphones are priced at £349, and will be shipping soon. For more information, visit Yamaha's website.
Audiomovers Inject
Switching between connected audio devices in your DAW inevitably means waiting for your computer to literally 'work out the ins and outs' of what you're doing. However, Audiomovers' Inject could put an end to this delay forever.
An increasing number of producers, podcasters and streamers are having to deal with multiple input and output devices, but selecting between them is usually a chore, and can disrupt your workflow. Get us with our first world audio issues.
Inject looks like it might make dealing with multiple devices that bit easier by completely bypassing the dreaded audio playback engine selection page. You choose which audio device to connect to your audio software, and you do this without going anywhere near the System Preferences menu.
Inject is a VST/AU/AAX Mac and PC plugin that communicates with your connected audio devices - interfaces, USB synths, iOS devices or whatever. Insert it on a track as an audio effect, select which one you want from a dropdown menu and you're good to go. No need to unplug and replug devices, configure your DAW or do anything else.
"Inject lets creativity flow unimpeded by making it easy to introduce new sources into a DAW," says Igor Maxymenko, Audiomovers' co-founder. "It's the simple solution to a host of applications that were previously complicated or potentially time consuming to implement."
It's not quite clear how Inject actually works, but it appears to act like a master audio driver and recorder, and one that enables audio routing between all connected audio devices and running audio applications.
Whatever, it could herald the end of one of the most frustrating parts of using a DAW for music. We often blame those seven seconds we have to wait - while our computer spins its processors looking for inputs - for our complete lack of musical output during a session.
Inject is available for $150 but has a limited time introductory price of $100. There's more information at the Audiomovers website.
Black BT SusEx
According to its makers, Black BT, SusEx is a 'world-first' wireless sustain and expression pedal and it lets you use one foot to free up both hands for playing.
SusEx is a combination sustain and expression pedal and includes those as modes - hence the name - and you can switch between these using a simple foot action. Press SusEx at the front and it plays just like an ordinary sustain pedal, but press it on top and it changes to Expression Mode.
On stage this can have a number of different applications, especially as the device uses BLE MIDI (Bluetooth Low Energy) so can send its MIDI information wirelessly.
A typical example is that you have SusEx in Sustain mode for playing and then use Expression mode to switch between sound or effect presets in a DAW or hardware MIDI instrument. This means you can audition sounds without needing to stop playing or physically switch between other pedals.
Another example would be to use the continuous controller Expression Mode to increase the amount of mix effect you are playing in Sustain Mode. SusEx's unique advantage is that it can also perform these operations wirelessly so there's an extra layer of flexibility and practicality for performing.
Black BT believes that SusEx will cut down the amount of pedals you'll need on stage and speed up your workflow in the studio.
"It creates a natural way to creatively 'play' multiple pedal parameters without stomping switches or moving back and forth between multiple single-parameter pedals," the company says.
SusEx was actually first demo'd a few month's ago, but should be available now for $150. There's more information at Black BT's website.
Mix Check Studio
Now this really is innovative. AI-powered mixing platform RoEx's Mix Check Studio is a free AI tool that tells you what's wrong with your mix and how to fix it. Could you ask for any more than that?
If it sounds a bit too good to be true - and maybe it is - you can take some kind of assurance from the fact that Mix Check Studio's diagnostic probe is equipped to identify a wide range of typical mixing and mastering concerns, including clipping, phase issues, mono compatibility, stereo field problems and appropriate loudness levels. It can also assess the tonal characteristics of mixes in different genres.
RoEx makes no claims about Mix Check Studio's ability to resolve these issues on its own, but you will be advised on what you need to do to make your mix sound better. There are limits, though - the website states that "mixing and mastering is an art form, and all feedback is subjective. Ultimately, it's up to you to decide what feels right. Trust your ears!"
Discussing Mix Check Studio, RoEx founder David Ronan says: "I'm thrilled to offer this powerful free tool to artists at all stages of development. Mix Check Studio is just the start of our imaginative plans to help music creators produce their best work."
The easiest way to decide if Mix Check Studio is going to be useful for you is simply to use it. The process is straightforward: upload a track, indicate whether it's mixed or mastered and specify a musical style. Your audio is then sent to RoEx's servers, where "sophisticated algorithms and AI" are used to analyse the track. Your music is deleted once this process is complete, though anonymised analysis results are stored (presumably to try and make the system better).
Get started on the Mix Check Studio website.
Seymour Duncan HyperSwitch
Seymour Duncan is a leading manufacturer of electric guitar pickups but is now claiming to have created the "world's first Bluetooth-enabled programmable 5-way pickup selector switch".
What does that mean exactly? Apparently, Seymour Duncan HyperSwitch allows you to create custom pickup configurations on your phone and mod your guitar in real time.
Essentially, HyperSwitch connects to your smartphone via Bluetooth and allows players to play around with their pickup configuration without having to plug a soldering iron in at the wall. No mess, no fuss… No way, right?
HyperSwitch is very much a thing you can buy to turn your regular old guitar with passive pickups into something you can mod in real time, on your phone, storing presets for easy recall of your favourite sounds.
To this is basically rewiring your guitar via your phone. Say, if you wanted to wire your bridge and neck pickups together out of phase, well, as the saying goes, 'there's an app for that', and it'll connect with your HyperSwitch and do the necessary.
The HyperSwitch is powered by a 9V battery, is compatible with most passive pickups, and aesthetically speaking it will suit any model that will suit a blade-style selector switch. Indeed, it doesn't look so different from a regular passive switch, and yet it offers potentially 100s of different wiring options.
Out of phase, split-coils, parallel wiring, all are achievable and more. And your signal path remains 100 per cent analogue - the digital bit lies in how your smartphone communicates this information to the guitar.
Time will tell whether the HyperSwitch will revolutionise how we mod our guitars and think about things such as pickup selection, or whether it will go the way of the notorious Gibson Robot Guitar. But where that failed was because it was the solution to a problem that never really existed, and HyperSwitch is offering something altogether new.
It's available now, priced £209/$149. For more details, pop on over to Seymour Duncan.
Endlesss Beat Machine
Yes, your eyes aren't deceiving you. It's an arcade machine. And it makes beats.
Endlesss has announced the release of its full-sized music-making arcade machine, and it's called the Beat Machine.
It houses a 24-inch touchscreen and is controlled using retro-style arcade buttons, a joystick and a 5-inch touch pad XY controller. The arcade machine runs custom-designed software that's based on Endlesss, a collaborative music-making app developed by the company of the same name.
The machine operates using three modes: Studio, Open Mic, and Arcade. Studio mode allows the Beat Machine to be integrated into a music-making set-up, allowing the user to host VST3 plugins, record instruments, map MIDI controllers and import and export audio through companion apps.
Open Mic mode enables a user to log in using their smartphone and connect their session to the Endlesss social network, before jamming away using the machine's music creation tools. Arcade mode features a suite of gamified music-making missions.
Each Beat Machine is outfitted with its own speaker system, but audio can be routed elsewhere using built-in outputs. They're also equipped with a Neutrik XLR/jack instrument input and two USB-C ports for hooking up external controllers.
"As creativity is set to be disrupted by AI, real-world experiences that bring us together and prove our humanity will become more and more important," Endlesss founder Tim Exile says. "The 21st century needs its answer to the piano in the living room or local bar, the instrument that brings everyone together whether you can play Chopin or Chopsticks or are just there to enjoy the masters at work."
"Right now each Beat Machine is hand-made with a lot of love and bespoke componentry, which is why we're introducing a small number of units as premium collector's items. It's an opportunity for 25 people to receive the first ever Beat Machines, be part of the genesis story and support us in our mission to transform music from a product we consume alone to an activity we gather to do - online, in real life, in real time."
The first 25 Beat Machines are available for pre-order now at $9,999.
Find out more on the Endlesss website.
Audialab Emergent Drums
Need a few more drum samples? You've come to the right place.
Emergent Drums is an AI-powered drum machine plugin from Audialab that's capable of generating infinite amount of unique drum samples using machine learning technology.
Using a deep neural network that's been trained on an extensive database of existing drum sounds, Emergent Drums creates new, royalty-free and totally original drum samples from scratch. The plugin's capable of generating entirely novel sounds that can be sculpted within the plugin or exported for use elsewhere.
The latest version of Emergent Drums has multi-output functionality, so each drum can be shaped on its own channel. Version 1.5 also benefits from a new generative model that produces drum sounds with a crisper, cleaner feel. Users can now choose between Creamy, the new model, and Crunchy, the original model.
Emergent Drums' interface is based around 12 drum pads that include the usual sounds you'd expect in a drum machine - kick, snares, claps, toms and hi-hats - along with slots for glitchy, noise-based percussive sounds. Each slot contains an AI-generated drum sample, that can be re-generated by hitting the Generate button.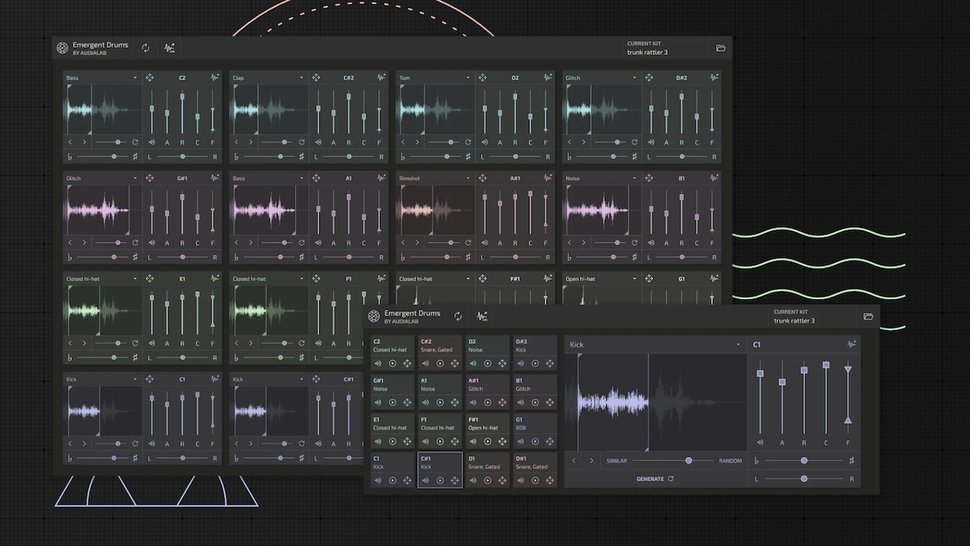 Using the slider above the button, the user can determine how similar the new sample will be to the previous one, creating a slight alternative, or an entirely dissimilar, randomly generated new sample. Each sample can be shaped using an individual envelope, along with an onboard filter, and controls for pitch and panning. The user can group the best samples they've generated into new kits made up of their favourite sounds.
We spoke with Audialab's co-founder, Berkeley Malagon, about his plans for the development of the technology behind Emergent Drums. We're told that soon, producers will be able to drag in any sound they like into the plugin, and have it create hundreds of different variations that are similar to their chosen sound.
Further down the line, the company's plan is to create a tool that can generate sounds in response to text-based input. For instance, the user would be able to describe in words the exact type of sounds they're looking for, or ask the plugin to generate samples that are similar to a given artist's work.
The technology is set to expand beyond drums, too. "We're currently working on a model that will generate instrument sounds, vocal chops, and things like that." Berkeley told us. "We're working towards building the DALL-E for sound design. This is a paradigm shift in sound design and music production - a fundamentally new way to create."
"Music producers often spend hundreds of dollars per year on sound packs and subscriptions to get the sounds they need to create their music," Berkeley continued. "But what if you could buy one tool and have all the sounds you ever need? That's the idea behind Emergent Drums. And drums are just the beginning."
Emergent Drums is available now for Mac and PC in AU, VST2 and VST3 formats. The plugin is priced at $149.
Find out more on Audialab's website.
Roland 50th anniversary drone piano
Last, but most definitely not least, comes news of a piano… with drones.
We briefed you on Roland's stunning 50th anniversary piano last year, but now the additions to it are drones. Or, more specifically, drone speakers.
Stuffed with Roland's latest piano tech and promising a supremely natural-feeling and responsive keyboard, we originally thought that the most striking thing about this trad-futuristic keyboard was its one-piece moulded wooden body, made of Japanese oak, but the flying-speaker reveal changes all that.
These audio-enabled drones are designed to float around the piano and augment its built-in internal 360-degree, 14-speaker system. They communicate with the instrument on a low-latency channel - Roland had to develop its own platform for this, as Bluetooth audio has too much latency - and players can control their positioning as they perform. Of course they can.
The ultimate aim was to create a speaker system that can replicate the immersive sound of an acoustic piano. To achieve this, Roland created a 'speaker ball' to sit within the piano - these balls are positioned in the lid and on the left and right top edges. The sound field changes depending on the type of piano you're playing, so you should get a different experience for grands and uprights.
The drones take things a stage further, being designed to recreate the reverberant reflections that you hear when playing an acoustic piano. These promise to "bathe the player in a sound shower".
On the downside, Roland concedes that the drones' propellers are currently "somewhat noisy", but there are plans to implement quiet drone technology as and when it becomes available.
Despite saying that the 50th anniversary piano is designed to "fill a gap in the industry" - a pretty expensive gap, we suspect - it won't actually be going on sale.
However, you can read more about the piano's development on the Roland website.
---
Looking for more great new gear? Get all our roundup, news, features, tutorials, tips and more at our Gear Expo hub page.