Synthmaster 2.9.9 is a free update to existing users
KV331 Audio has been established in 2012 by a dedicated team of engineers, musicians, and sound designers with the sole purpose of providing high quality virtual instruments for the global musician.
Their flagship software synthesizer SynthMaster has received numerous awards from prestigious music technology magazines. It has been voted "The Best Software Synthesizer" of 2016 and 2019 by MusicRadar readers and received "Gold Award" from MusicTech Magazine for "Best Software Instrument" category in 2016.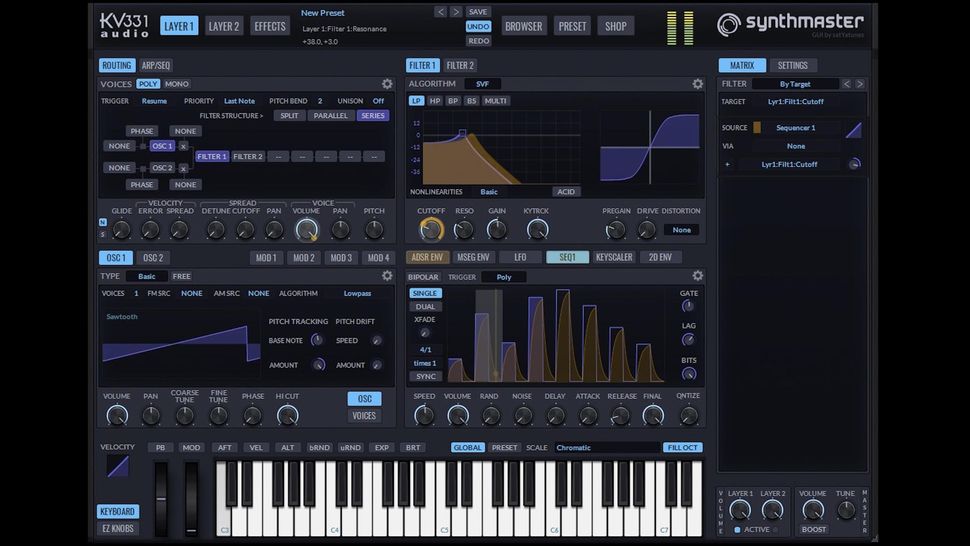 KV331 Audio has recently released version 2.9.9 update for their SynthMaster software synthesizer, bringing major usability improvements and critical bug fixes as a free update for existing users.
It is almost 2 years since KV331 Audio last updated SynthMaster, and this small version increment from 2.9.8 to 2.9.9 might look insignificant. However, there have been massive changes under the hood since KV331 Audio has reengineered their internal framework towards their efforts for SynthMaster 3 development.
New Features
• New / Updated Skins with larger layout: Satyatunes created a new Dark skin for SynthMaster and updated the existing Tranquil Blue skin as well. Extended versions of the skins are provided as well, which include two tabs with pitch/mod wheels, piano keyboard, MIDI Modulation Sources, EZ knobs and XY Pads.
• Realtime Visual Feedback for Modulation Sources and Targets: Now users can clearly see how modulation sources and targets are changing when they play a note.
• Resize Skins Easily: Skins can now be resized by dragging the triangle arrows at the bottom right corner of the plugin user interface. Each skin comes with the following sizes: 100%, 120%, 140%, 160%, 180% and 200%.
• Better Support for Microtuning: SynthMaster 2.9.9 comes with 300+ scales ranging from 5 note to 12 note, in equal or alternate temperaments. Root note of the scale can be set globally.
• MIDI Learn for discrete controls: MIDI learn now works for all controls, including discrete controls and modulation matrix controls.
• Dynamic Effect Allocation: Insert effects can now be instantiated multiple times on multiple insert FX slots.
• New Modulation Sources: Each layer in SynthMaster now has 4 ADSR envelopes, 4 Multisegmented envelopes, 4 LFOs, 4 Sequencers, 4 Keyscalers and 2 2D Envelopes.
• Preset Browser Improvements
Instrument categories are now listed based on Native Instruments NKS standard. Favorite presets can be added/removed easily by clicking on the star icon next to the preset name.
Users can upload their presets to the Public User Library that's hosted on the cloud
Users can download presets from the Public User Library by clicking on the Online button.
• Waveform/Sample Import Improvements: SynthMaster now differentiates between waveforms, wavetables or samples in a much better way, and imports them correctly. If it detects samples that are part of a multisample or drumkit, the sfz multisample definition is created automatically.
• QWERTY Keyboard Input: SynthMaster now supports MIDI input by pressing keys on computer QWERT keyboard. This allows the user to play notes or record arp steps without having a MIDI controller. Left/Right arrows are used to change the octave while Up/Right arrows are reserved for changing the current preset.
• MPE Mode: SynthMaster now conforms to MPE standard much better: When MIDI Channel is set to "MPE" mode, MIDI Channel 1 is used as the Global channel as per the standard. Mono presets in SynthMaster now behave correctly (they play polyphonic since MPE sends MIDI in multiple channels).
And don't forget Synthmaster One, our easy to use synth based on the full version of Synthmaster and voted "The Best New Synth of 2017" by MusicRadar readers.
And on Instagram @kv331.audio