In pictures: highlights of David Gilmour's astonishing guitar auction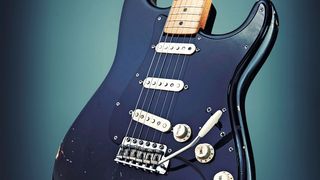 Pink Floyd guitarist David Gilmour has announced plans to sell-off 120 instruments from his astonishing guitar collection, including his fabled Black Strat, some incredible acoustics and his #0001 serial-number 1954 Strat. It is a once-in-a-lifetime event for fans and guitar obsessives alike.
Here, we take a closer look at some of the instruments entering the auction at Christie's in New York on 20 June, with input from longtime Gilmour guitar tech Phil Taylor and Kerry Keane of Christie's New York.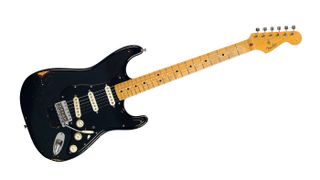 The Black Strat
No prizes for which guitar is the star of the show, even in as prestigious an auction as this.
Gilmour's Black Strat is one of the most iconic and meticulously documented guitars in history, thanks to the careful work of Gilmour's guitar tech of many years, Phil Taylor, who wrote a book on it entitled The Black Strat: A History Of David Gilmour's Black Fender Stratocaster, which is the standard reference on its varied and illustrious life.
As a close-up examination of the original black Strat attests, it is a much-modded guitar. It was originally a Fender 1968 to '69 alder-body Strat with black painted over the original Sunburst. It had a Fender late-60s maple neck (large headstock) and 21 frets, but a rosewood-necked version features on The Dark Side Of The Moon and Wish You Were Here. To muddy the waters still further, it later had a Charvel neck fitted! When it came back from a spell at the Hard Rock Cafe, it was damaged and with knobs missing, so the mods have continued since then.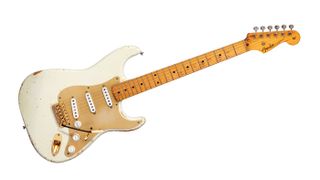 #0001 1954 Fender Stratocaster
"What's most interesting about this guitar is its manufacture date," says Kerry Keane of Christie's New York. "1954 is the first year of production for the Fender Stratocaster, but this guitar is white, not Sunburst as '54s normally are, and it has a gold anodised pickguard and gold hardware.
"We know that this is not the very first Fender Stratocaster. But what we do know is that Leo Fender, in 1954 and 1955 and afterwards, when a musician helped him in the design or the promotion of his instruments, he would often have a fancy custommade guitar built for them and put that Number One serial plate on the back. And this is what the story is with this guitar.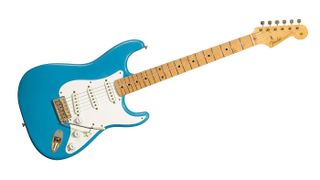 1957 Fender Stratocaster in Lake Placid Blue
"We're always under the impression that in those very first years, Strats really were all Sunburst," comments Kerry Keane of Christie's.
"But we know that there is a photograph showing a young player picking up a red Stratocaster from Leo in Fullerton 1954. So, in fact, he was doing custom colours even then. Nonetheless, this is very early for a Lake Placid Blue Strat, without a doubt - and again, like the #0001 Stratocaster, it has gold hardware.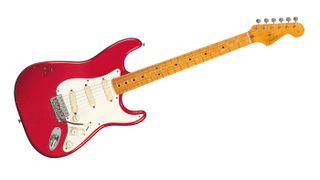 1984 '57 Reissue Fender Stratocaster
This Candy Apple Red '57-spec Strat from the early 80s is arguably the second-most recognisable Gilmour Strat after the Black Strat, which it replaced.
This example was, of course, heavily modded from stock to meet Gilmour's stage needs. Gilmour eventually replaced the single coils on his main Red with active EMG pickups - 1979-made forerunners of what became the signature DG20s (DG still employs the originals).
The EMGs feature an EXP control boosting treble and bass, and an SPC control, boosting the midrange for a humbucker-esque tone. Gilmour also added his 'custom' 4.25-inch vibrato arm. The red Strat featured extensively on A Momentary Lapse Of Reason and The Division Bell albums and tours, The Endless River, plus some of Gilmour's On An Island solo album.
Gilmour also made very wide use of a '62-spec Candy Apple Red Strat from the same series of early 80s reissues, which featured a rosewood 'board and white 60s-style scratchguard.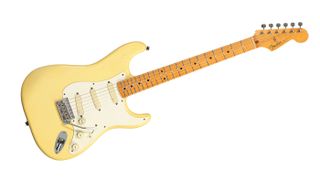 1983 '57 Reissue Fender Stratocaster
"The cream colour Strat, actually Olympic White, that's from 1983," says Kerry Keane of Christie's New York of the white '83 Strat that is the stablemate of the better-known Candy Apple Red '84 Strat.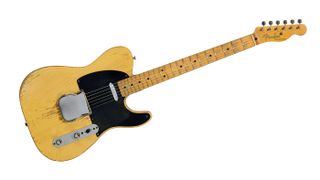 1950 Fender Broadcaster
"David's first Fender was a Telecaster that got stolen, so I think he always had this love of Teles, though he found Strats more conducive to his playing.
"This was a guitar that he purchased for collecting. And it is in exquisite condition: original case, unadulterated. It's just a classic Blackguard Broadcaster. Wonderful thing. Purchased it in 1979 from California Guitars, along with numerous other vintage instruments that he found on trips to LA.
"And, again 1979: this is an early time period to be excited about early Fender Broadcasters, without a doubt. But he knew it was the first year of production and he knew it was in great condition - and acquired it, strictly for collecting. He said he'd love to sit with this and play it alone, play it in the studio. He doesn't bring it on the road. Again, it illustrates his connoisseurship of great electric guitars."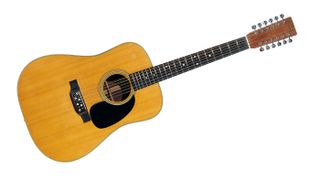 1971 Martin D-12-28
"So, the 1971 12-string was purchased in 1973 and it is the primary 12-string used in the studio since then and it was, of course, used to record Wish You Were Here. David never took this on the road, never performed with it on tour. At this point of time, he was turning to Ovations for touring guitars because they're tough and they can take a lot of abuse. He acquired this from Alan 'Dreamy' Lee.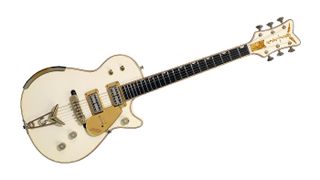 1958 Gretsch 6134 White Penguin
"What to say about White Penguins?" says Kerry Keane of this rocking-horse-teeth rare Gretsch. "Well, I always say: find me another one. They're extremely rare. No-one knows truly how many were made. Extrapolating from [official] production numbers, there were probably 50 and not a penny more.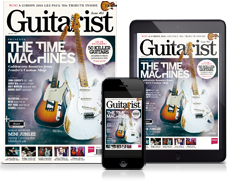 The magazine for serious players
Subscribe and save today!