Are your mixes sounding a little flat? Is your latest track missing the polish and pizzazz of those professional radio bangers? Well, IK Multimedia may have the deal for you. For a limited time, IK Multimedia is offering budding producers and recording artists the ability to choose their own bundle of T-RackS 5 studio processors. Better yet, the more plugins you add to your collection, the more you save!
Whether you're looking to mix or master your songs, T-RackS 5 is the ideal option. Beloved for its insane versatility, this series of plugins has every sonic possibility covered. With recreations of iconic vintage compressors, powerful EQ plugins, mind-blowing reverb, and warm tape machine emulators, you'll gain the ability to transform your mixes completely.
As we said above, the more plugins you add to your bundle, the more money you save. If you are looking to add the essentials to your setup, then you can have your choice of 5 plugins for €49.99. If you require a little more, then 10 plugins will set you back €79.99, 20 plugins will cost you €119.99 and the 30 plugin bundle is €149.99. Of course, if you want to grab the entire T-RackS 5 suite, then you can score all 53 plugins for only €199.99.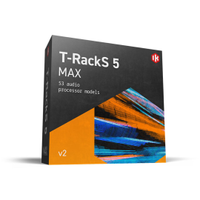 Mix Your Own T-RackS Bundle: Starts from €49.99
Design your ideal mixing suite with your personal choice of IK Multimedia's celebrated T-RackS 5 plugins. Regardless of how many plugins your setup is missing, you can find a bundle here for you. Choose from 5, 10, 20, 30, or the full 53 plugins and gain extra savings with the more plugins you add.
To redeem your plugins, simply purchase and register the bundle of your choice, and then you can choose your favourite T-RackS plugins. Once you've selected your processors, head to the IK Product Manager to install your new plugins. You can read more about the process on the IK Multimedia website.
Looking for more plugins and recording gear? Our expert buyer's guides are here to help